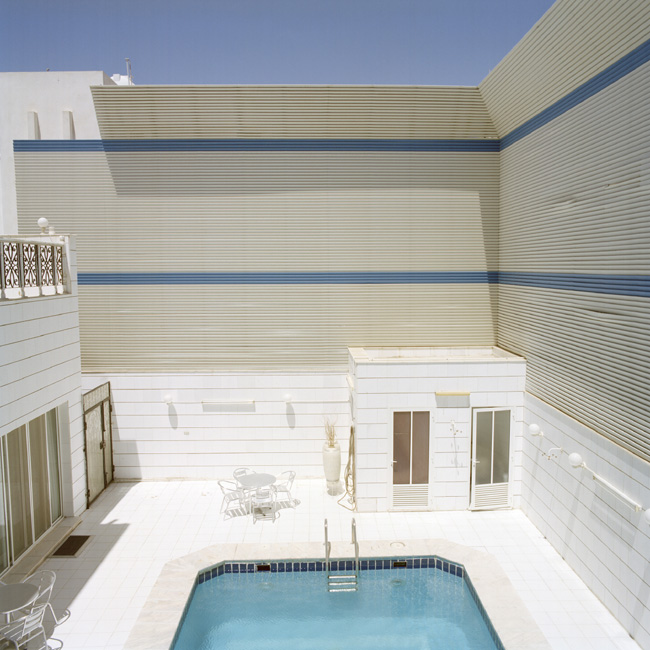 Olivia Arthur, Jeddah Diary, 2012
Olivia Arthur's photobook Jeddah Diary is a fascinating insight into the role of women in Saudi society. Photographed over a period of two years, Arthur reveals aspects of this culture which usually remain hidden from the West and indeed within Saudi Arabia as well. In that regard, the first image immediately sets the tone for the rest of the book. It shows a huge wall built next to a swimming pool of a private property. In the accompanying text Arthur writes: 'The first thing I saw in Saudi were the big empty roads and houses with impossibly high walls. Everything seemed to be happening somewhere else, out of sight, behind closed doors.' In the book Arthur thus metaphorically climbed behind this wall to depict lives that would otherwise remain out of sight.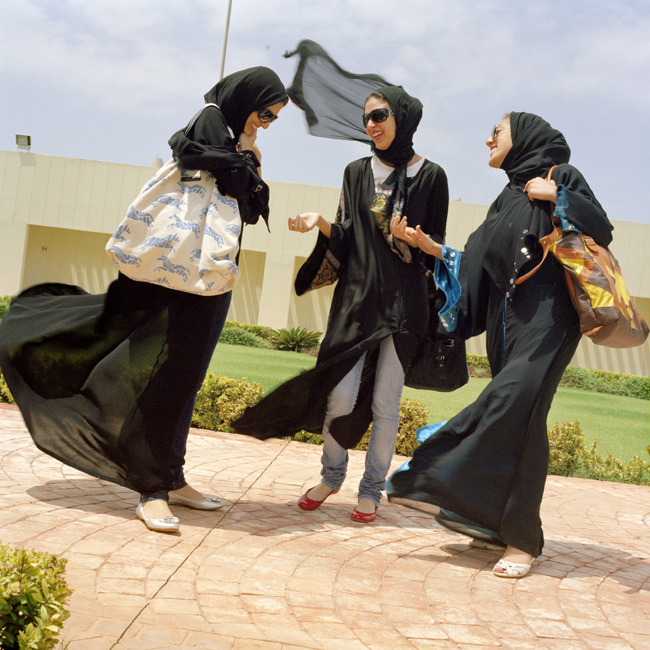 Olivia Arthur, Jeddah Diary, 2012
In the first instance, Arthur photographs women, sometimes by themselves, sometimes in a group with other women who mostly wear variations of the abaya, the black cloth that covers the body, and the hijab which covers the face. In these photographs, their individuality is signified by various fashion accessories that are visible: sunglasses, handbags, or perhaps the shoes. The marginalized role of women is dramatically symbolized in a photograph that shows the packaging of an inflatable swimming pool. The package design, aimed at a Western market, depicts a white middle class couple happily playing with their children. Yet on the shelf of a Saudi store, the woman (bikini-clad one must assume) has been painted over with thick black paint. The recent scandal in which all women featured in an Ikea catalogue were digitally erased is part of this complex discourse.

Olivia Arthur, Jeddah Diary, 2012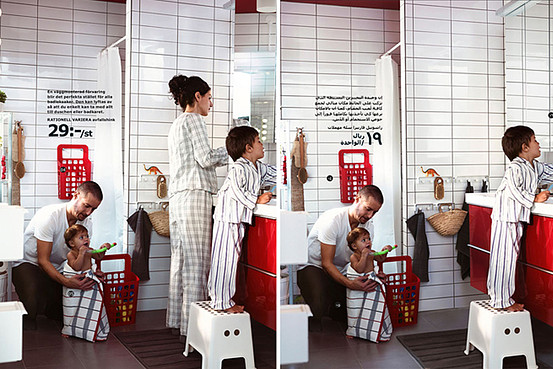 A conventional Ikea catalogue on the left and the Saudi version on the right, 2012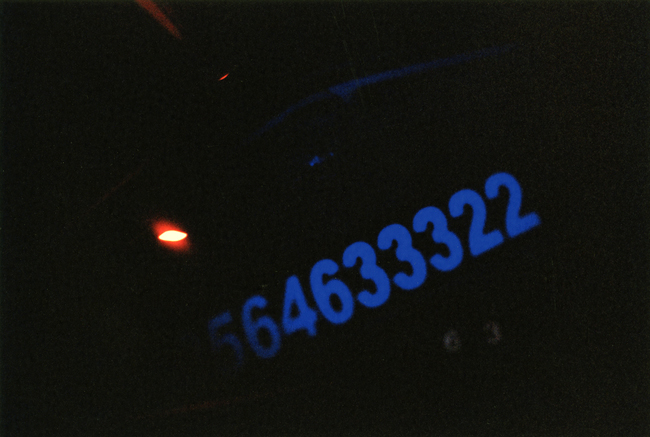 Olivia Arthur, Jeddah Diary, 2012
Beneath the veneer of strict laws that seek to socially and physically separate men and women, Arthur equally represents a culture that creatively adapts to these laws. As the accompanying text explains, one photograph shows the digits of a phone number flashing in the window of a car. Whenever the male driver passes a car driven by a woman, the digits light up, encouraging total strangers to call the number and meet up. Behind the tall walls of private properties, Arthur is thus witness to parties and social gatherings were women wear Western-style clothes for a night out, dance and socialize with their friends from both genders. The colourful lights from a disco ball and the bare legs of a woman dancing stand in complete contrast to the mythical conception that these things do not exist in this culture.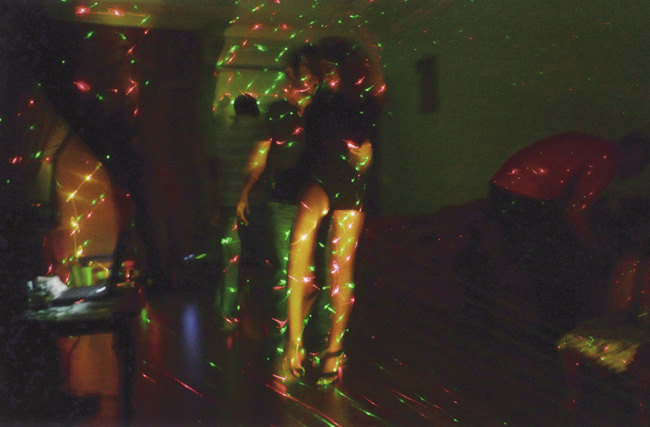 Olivia Arthur, Jeddah Diary, 2012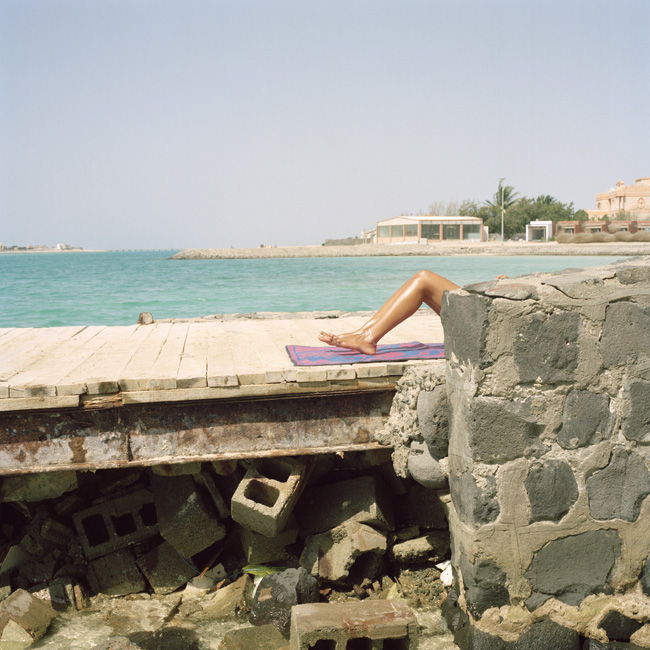 Olivia Arthur, Jeddah Diary, 2012
Arthur's role as photographer becomes that of an agent: switching between a medium format and a small format camera (depending on the accessibility of the subject), she frequents exclusive parties, girls' bedrooms, social gatherings or private beaches. Inasmuch as Arthur reveals elements that would otherwise remain hidden, she is extremely careful in protecting people's identities. While photographing sometimes-spontaneous reactions and perhaps revealing a little too much of a subject's face, a number of photographs are actually re-photographed at a slight angle.

Olivia Arthur, Jeddah Diary, 2012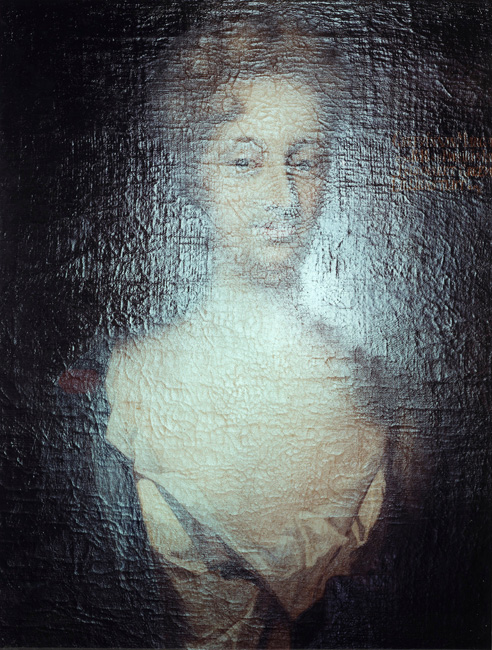 Jorma Puranen, Shadows, reflections and all that sort of thing #3, 1997
Similar to Jorma Puranen's series Shadows and Reflections, the light reflecting on the surface of the re-photographed print neatly disguises the female subject's face. Yet here the subjects are not hidden or metaphorically painted over, but rather, their physical presence and their individualistic identify constitute the very subject of the photograph. III Originally published on photomonitor.co.uk.
Support this blog to help us keep going, and going, and going …
Like this Article? Subscribe to Our Feed!