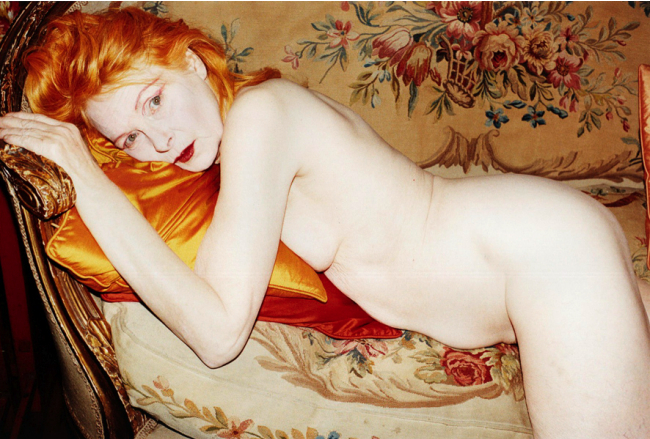 Juergen Teller, Vivienne Westwood No. 3, London, 2009
Juergen Teller's exhibition, simply titled Woo! is currently on display at the ICA in London. The photographs span a period of over 20 years, giving the exhibition a feeling of a retrospective. The German photographer is best-known for his controversial fashion photography which often features his subjects (and himself) in the nude. In fact, Teller's photographic methods have virtually become synonymous with nudity and as such, the exhibition delivers precisely on that point. A super-large photograph depicts the British fashion designer Vivienne Westwood in the nude as she parts her legs on a sofa – the decadent textile design of which stands in stark contrast to her pale white skin. Her genital area is in the very centre of the photograph, and, flanked by two more Westwood nudes, the photograph is in the very centre of the room. It quickly becomes clear that the perspective of the photographer is dominated by varying degrees of the nude, and more precisely, by the celebrity in the nude.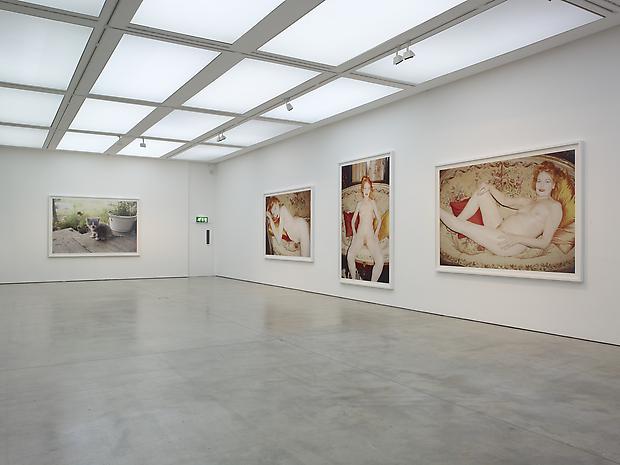 Juergen Teller, Woo!, Installation View, ICA, London, 2013
The non-nudes in the exhibition thus align themselves in unusual patterns amongst the reclining and contorting bodies. At one end of the 'Westwood room' is a huge photograph of a little kitten looking innocently into the camera, while on the other end is a black and white image of the American musician Kurt Cobain, his face turned away from the camera, strumming his guitar. The juxtaposition establishes a binary of extremes: soft vs. hard, beauty vs. beast, innocent vs. guilty, life vs. death (Cobain took his own life three years after the image was taken). As other photographs in the exhibition vividly illustrate, Teller's work constantly navigates in between these extremes.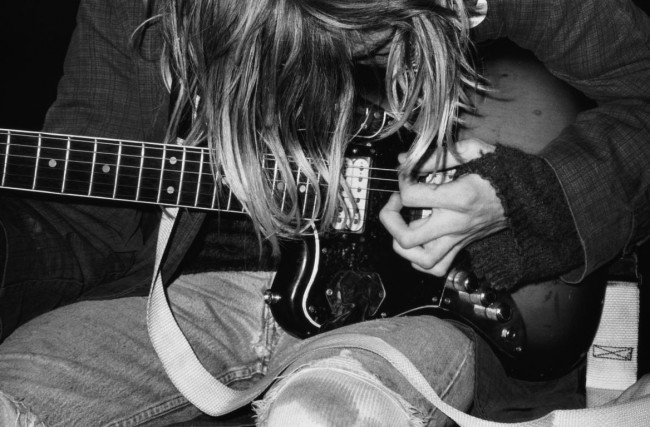 Juergen Teller, Kurt Cobain, Berlin, 1991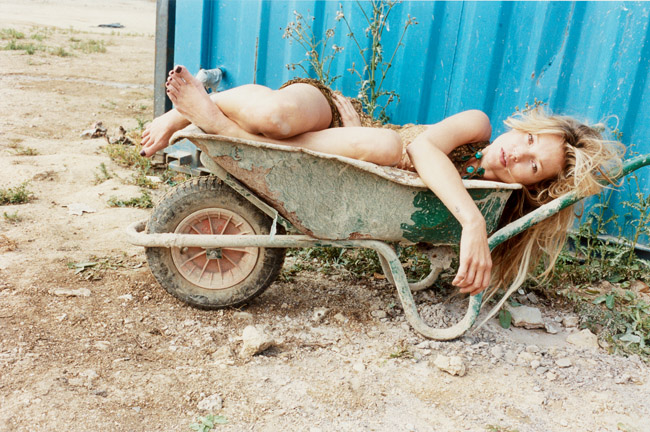 Juergen Teller, Kate Moss No. 12, Gloucesterhsire, 2012
The title of the exhibition perhaps applies to Teller 'wooing' his subjects, trying to gain their attention and trying to seduce them with his camera. This impression is reinforced by the perceived celebrity status of the people Teller photographs: Kate Moss, Lily Cole, Björk or Charlotte Rampling to name just a few. These are women that need to be 'wooed'. Instead, perhaps it is actually the viewer of the photographs who is supposed to be 'wooed' by these celebrities and Teller's ability to gain access into their world. Many photographs read like a record of a brief encounter which Teller was privileged to be part of. As if this exclusive world of models, fashion designers, musicians and other celebrities would not suffice for gaining the viewer's attention, the work is blown up to extreme proportions. Teller's work is big, it's colourful, it sparkles, it dazzles, it says 'look at me'.

Juergen Teller, Cerith, Suffolk, 2011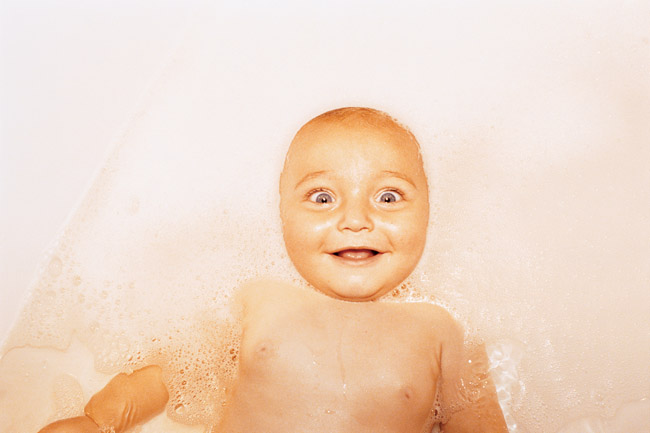 Juergen Teller, Smiling Ed, London, 2005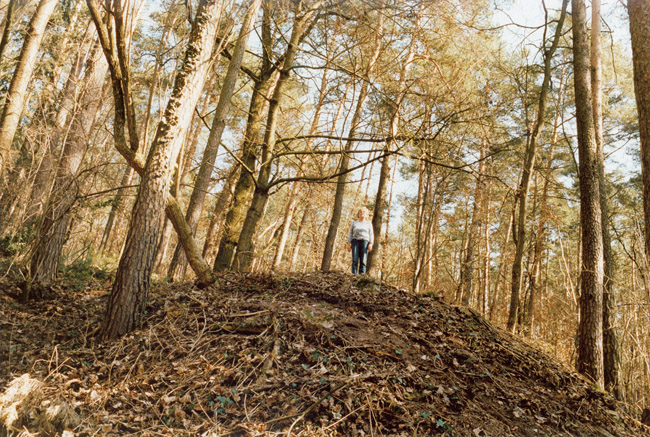 Juergen Teller, No. 1 of the series Irene im Wald, 2012
Teller's more personal projects such as 'Irene im Wald' – a set of photographs which literally follows his mother 'Irene into the Woods' – are drowned out by the 'loud' world of celebrity culture. Here, Teller tries something completely different as his mother (a banal subject) is simply depicted taking a walk with some of her friends in the woods (a banal activity). The images stand in such contrast to the rest of the exhibition that one could be forgiven for not noticing them at all. Yet with 'Irene im Wald', Teller does not necessarily communicate via images, but rather, he tells a story via a number of captions. The story paints a surprisingly frank image of Teller as a young boy, transfixed by Nastassja Kinski's seductive appearance on a popular German crime TV show called Tatort. As if to revisit Kinski's highly erotic appearance on German TV over and over again, Teller's photographs provide a frank, intimate and often controversial window into a world that would otherwise remain hidden. III Originally published on photomonitor.co.uk.
Pictures and Words by Juergen Teller is available as a book.
Become a supporter of this blog.
Like this Article? Subscribe to Our Feed!