As part of the exhibition 10×10 Japanese Photobooks, on show from the 28th to the 30th of September in New York, I have been invited to select ten Japanese photobooks which will be featured in an online space in the run-up to the exhibition. This list was selected in relation to my PhD research on Japanese photography of the 1990s. The so called post-bubble era witnessed the emergence of a number of iconoclastic female photographers whose work has had a major cultural impact in Japan at the time.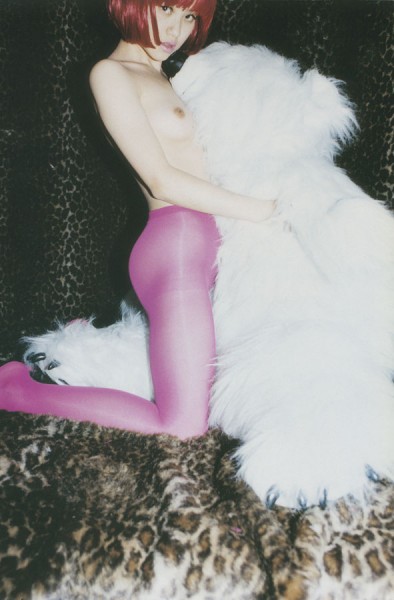 Yurie Nagashima, Yurie Nagashima (Tokyo: Fuga Shobo, 1995)
Pushing against cultural taboos and strict censorship laws in Japan, Yurie Nagashima's provocative photo book heralded the emergence of Japanese female photographers in the mid-1990s. As Nagashima photographs herself in various sexually suggestive roles, the book functions as powerful allegory on the relationship between performance and gender identity.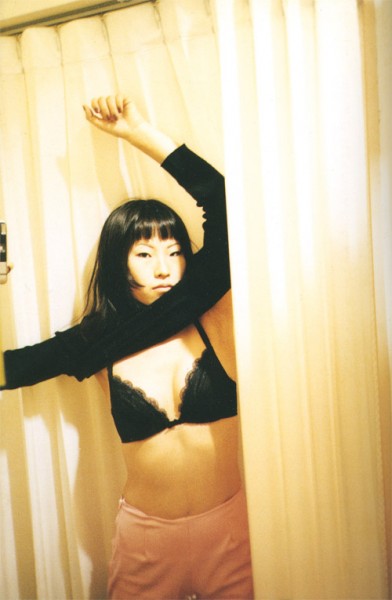 Hiromix, Girls Blue (Tokyo: Rockin'On, 1996)
After her sensational debut at Canon's New Cosmos of Photography award in 1995, Hiromix's first book Girl's Blue became a national bestseller when it was published in 1996. Vaguely referencing 'snapshot' style photography such as by Nan Goldin and Araki, the book encapsulates the optimism and youthfulness of a new generation of photographers at the forefront of social and cultural change in Japan.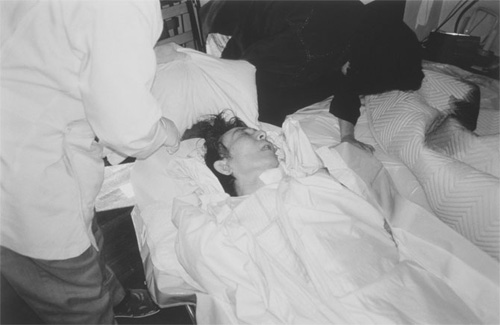 Jin Ohashi, Me No Mae No Tsuzuki (Tokyo: Seigensha, 1999)
In this book, intriguingly titled 'What's happening before your eyes' in translation, Ohashi seeks to represent the trauma of his father's failed suicide attempt. The images of the father being carried away by paramedics and later recovering in the fluorescent lit hospital room are nothing other than haunting. Yet Ohashi also sees beauty in his father's recovery who is depicted looking through a pair of binoculars, metaphorically looking into the future. The book is a gripping and surreal homage to the fragility yet also the beauty of life.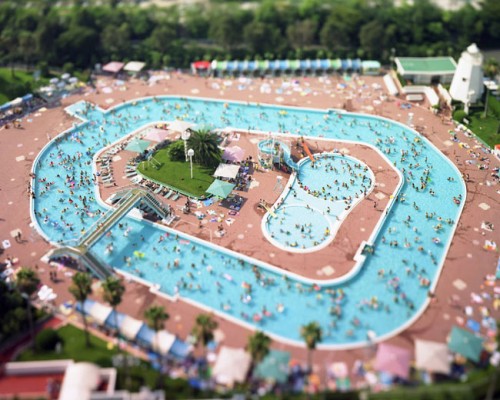 Naoki Honjo, Small Planet (Tokyo: Little More, 2006)
Naoki Honjo photographs with a tilt-shift mechanism which makes the world beneath look like a miniature version of reality. A thin plane of focus, precisely trained on tiny people and objects below, creates a fantastical and surreal depiction of the urban environment.
Rika Noguchi, Seeing Birds (Tokyo: P3 Art and Environment, 2001)
Seeing Birds is a collection of Rika Noguchi's eclectic and evocative photography projects. Her work differs from her contemporaries as it is usually driven by a very precise and seemingly predetermined aesthetic as well as conceptual photographic methodology. Divers photographed underwater, climbers on Mount Fuji – with this book Noguchi explores essentially liminal spaces.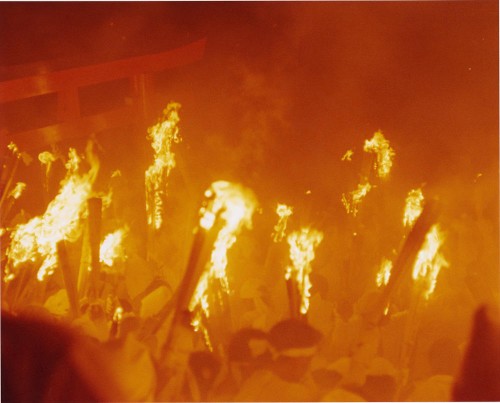 Risaku Suzuki, Kumano (Tokyo: Korinsha, 1998)
The book consists of a series of photographs that depict the ancient pilgrimage trail to Kumano – a place that exemplifies the Buddhist and Shinto influences in Japan. If perhaps inadvertently nationalistic, the book appears to search for a cultural and religious 'origin'.
Rinko Kawauchi, Utatane (Tokyo: Little More, 2001)
Published along two other titles, Hanabi and Hanako, Utatane explores Rinko Kawauchi's recognisable photographic style of a narrowly defined focal plane and close up shots in square format. Photographing anything from a half-eaten watermelon to a spoonful of salmon roe, Kawauchi's distinct style lends everyday subjects a sense of beauty and belonging.\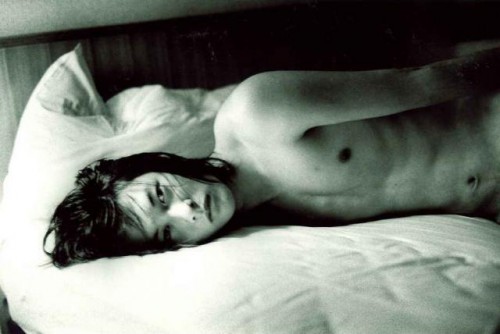 Sakiko Nomura, Ai no Jikan (Tokyo: Senkosha, 2000)
Sakiko Nomura's Ai No Jikan, or 'Time for Love', is a collection of grainy and dark photographs of her friends, both male and female, in the nude. The work deconstructs assumptions about sexuality, nakedness and representations of the nude.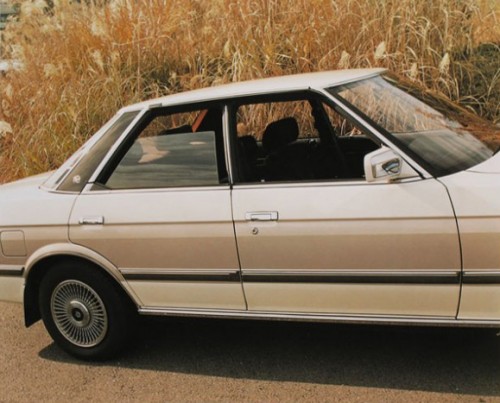 Masafumi Sanai, Wakaranai (Tokyo: Korinsha, 1998)
Masafumi Sanai's Wakaranai, 'I don't know' in translation, is a slightly surreal even humorous take on seemingly banal objects. Sanai's apparent obsession with cars, cloud formations, discarded objects and the streets would become a reoccurring theme in his later works.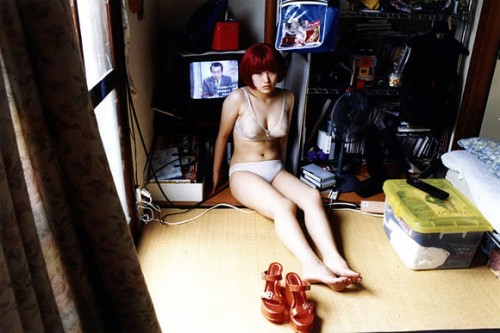 Maki Miyashita, Heya To Shitagi (Tokyo: Shogakukan, 2000)
In this series, 'Rooms and Underwear' in translation, Maki Miyashita has photographed different women from all walks of life at home in their underwear. The photographs are a reflection of the growing genre of so-called 'private photography' emerging in Japan during the 1990s. Ironically, it is often the objects in the room that tell us more about the person being photographed.
Here is the full list of contributors for the 10×10 Japanese Photobooks online space:
Ken Iseki / My New Notebook
Lilian Froger / 748= photobooks
Microcord
Kohei Oyama / Parapera
Nicolas Codron / A Japanese Book
Victor Sira and Shiori Kawasaki / Book Dummy Press
Laurence Vecten / One year of books
Marco Bohr / Visual Culture Blog
Rémi Coignet + Nina Poppe / Des Livres et des photos
Marc Feustel / Eyecurious
If you are interested in Japanese photography from the 1960s, please download my essay:
Marco Bohr (2011). 'Are-Bure-Boke: Distortions in Late 1960s Japanese Cinema and Photography'. Dandelion Journal. Vol. 2, No. 2.
Become a supporter of this blog.
Like this Article? Subscribe to Our Feed!