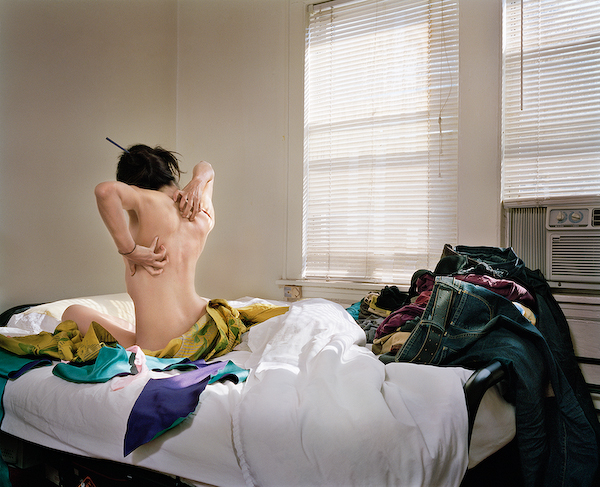 Satomi Shirai, untitled
We all know this feeling: you need to scratch your back but neither your left nor your right hand can reach the itchy spot. In an attempt to soothe the itching, you are involuntarily contorting your body into a position that is appears desperate and awkward. Such acts of corporal contortionism are running throughout the work of the Japanese photographer based in New York Satomi Shirai. Shirai's references to bodies in a twisted position draws comparisons to the American photographer Bill Durgin. Both Shirai and Durgin appear to break from traditions of representation in their unusual, sometimes comical, depiction of the human form. While Shirai photographs her subjects (quite possibly herself) in the familiar environment of her New York apartment, Durgin, on the other hand, choses the clinical space of a studio. It is due to the barren surroundings that Durgin's representation of the body appears almost pseudo-scientific, as if to test what is photographically and humanly possible. Durgin's photographs are a visual continuation of a small but distinct photographic project that began with John Coplans, Joel Peter Witkin, or maybe even Andre Kertesz.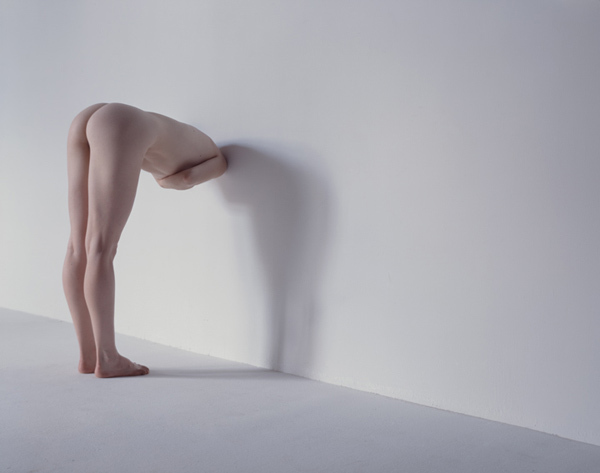 Bill Durgin, untitled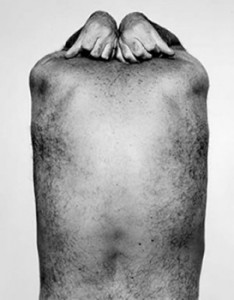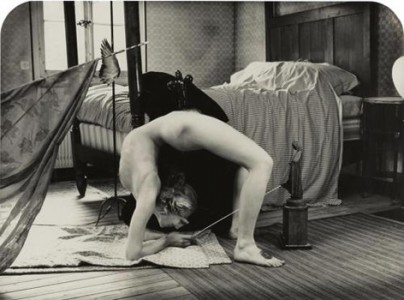 John Coplans, Back with Arms Above, 1984 and Joel Peter Witkin, History of The (White) World – Venus and The Magdalen, Paris, 1994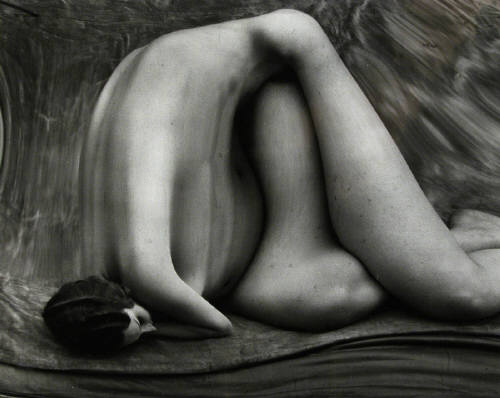 Andre Kertesz, Distortion 147, 1933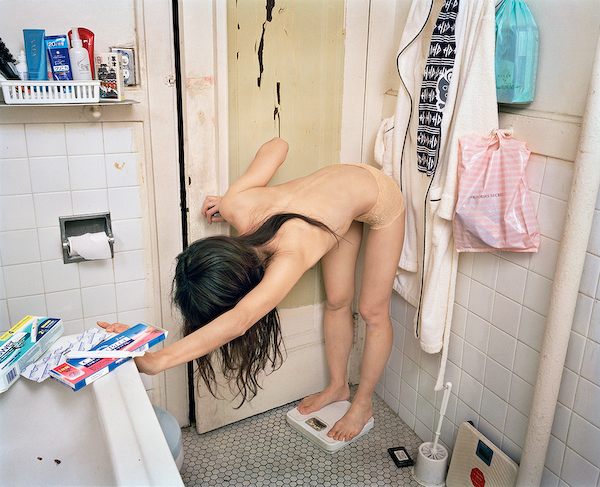 Satomi Shirai, untitled
Beyond the confines of the studio, Shirai's representation of the body tells a larger narrative that also incorporates aspects of gender identification. In one photograph a young women can be seen on weighing scales, her body leaning forward as she holds on to a sink and a door knob. The resulting effect of this contortion is that the subject's weight is partially suspended. The pink and the baby blue plastic bag hanging off the wall are neatly mirrored by, what appears to be, two pregnancy test packs in the same colour next to the sink. Is the subject weighing herself after realizing that she is pregnant? Is she disavowing her bodily transformation by suspending her increased weight? Unlike the male photographers before her, Shirai confronts us with a complex narrative that also addresses the politics of a representation of gender.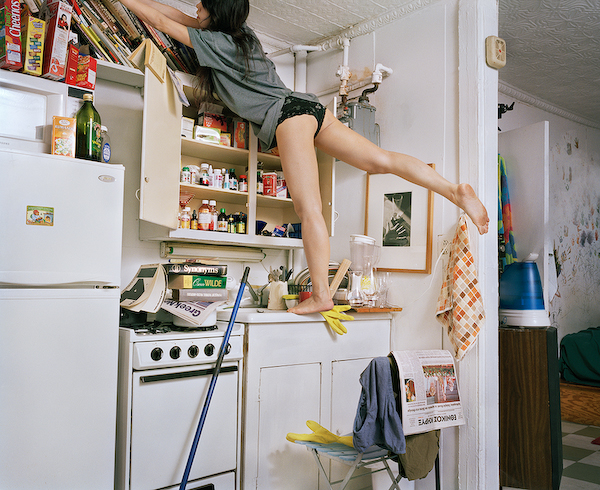 Satomi Shirai, untitled
Above all, Shirai's photographs are about her own experience as a Japanese expat living in New York. Here, the contorting body signifies the struggle of fitting into a vastly different culture. In one photograph this struggle is represented in a balancing act in a kitchen interior. The books leaning over to one side on the top shelf in the kitchen are reminiscent of the movement in a ship. In a sense, the subject fails to control the environment around herself.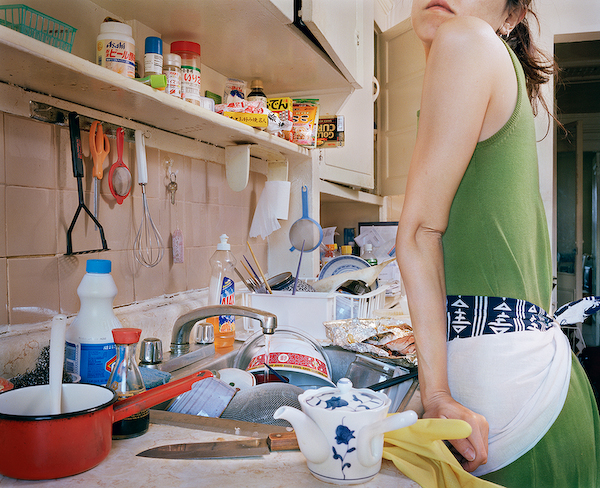 Another photograph depicts in an almost violent matter a topsy turvy world of visual paradoxes. Only on closer inspection does it become apparent that the subject's elbow is actually bent in the opposite direction of what the viewer might first assume. The dichotomy between appearance and actuality referred to in Shirai's photographs of the body signifies a type of cultural contortionism only an outsider could identify with.
If you are interested in Japanese photography, please download my essay:
Marco Bohr (2011). 'Are-Bure-Boke: Distortions in Late 1960s Japanese Cinema and Photography'. Dandelion Journal. Vol. 2, No. 2. Other recommendations can be found in our online bookshop.
Become a supporter of this blog.
Like this Article? Subscribe to Our Feed!