The noughties are commonly described as a decade in which celebrity culture proliferated, a decade which saw a massive increase in the commodification of sexualized imagery, also the decade of voyeurism via TV shows such as Big Brother. The American video artist and photographer Laurel Nakadate, born in 1975 and raised in Iowa, is an artist of the noughties. Seemingly engrossed with artifacts of popular culture, her earliest work Oops! from 2000 is a witty homage to Britney Spears' classic hit Oops! I did it again – the music video of which caused a huge scandal for depicting Spears as not-so-innocent school girl. Nakadate meanwhile practiced and memorized Spears' dance moves from the video and re-enacted them while filming herself with complete strangers – all of whom are single, white, middle-aged and rather unkept looking men. Crucially, the filming took place in the men's homes while Nakadate appears to have deliberately positioned herself as vulnerable subject in their company. While Nakadate dances away to Britney Spears in a tight pink top, one men stand still, another awkwardly wiggles to the music, while another man mimics the artist's movement. The resulting artwork split on three video screens makes for uncomfortable viewing.
Nakadate clearly lays out a powerful set of dichotomies in this work: the young, female artist, blessed with youthfully good looks, juxtaposes herself (and her body) against older men, apparently drifters or social outcast as the smudgy looking interiors of their homes might indicate. Nakadate's well-practiced dance moves also clash with the men's awkward bodies – an awkwardness further emphasized by the presence of the camera. Another important dichotomy in Oops!, and in much of Nakadate's later work, is the notion of control: who is controlling whom, who is dominating whom, even, who is exploiting whom? It appears that despite purposefully situating herself and her body into a vulnerable position, emulating stereotypical depictions of gender such as Lolita, Nakadate is fully in charge of what is happening. She is the one with the camera thus ultimately in control what is being filmed and edited, she is the visual artist who is trained in what 'type' of imagery she is looking for, and lastly, despite depending on the understanding and hospitality of complete strangers, she is ultimately also in control of what subjects she wishes to perform her video with. As a result of deconstructing and inversing this complex power dynamic, the viewer, too, is asked to submit him or herself to Nakadate's visual game.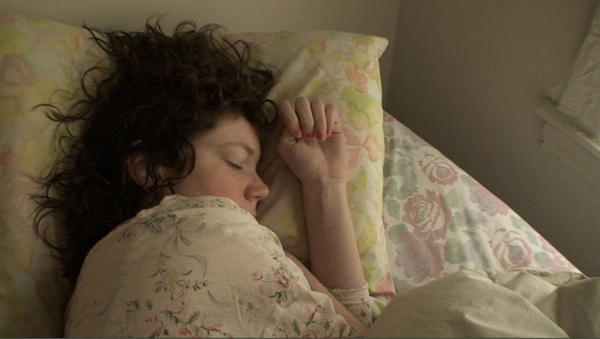 Laurel Nakadate, Good Morning Sunshine, 2009
In more recent works, Nakadate continues to explore notions of gender, voyeurism and control. With the help of the internet and social networking (another byproduct of the noughties) Nakadate posted an open casting call for young women in Syracuse, New York. The purposefully crude and shaky video footage in Good Morning Sunshine again makes for uncomfortable viewing as Nakadate's intrusive camera enters the young women's bedrooms who responded to the casting call. Like the men in Oops!, the women appear to have been, in one way or the other, quite carefully selected as they encapsulate a melange of teenage anxiety and innocence.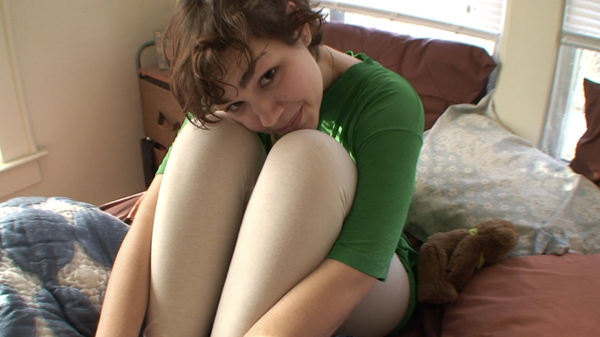 Laurel Nakadate, Good Morning Sunshine, 2009
Nakadate further heightens the sense of anxiety by intruding on the girls' personal space and giving them instructions as to what to do in front of the camera. Totally submitting themselves to Nakadate's demands, the filming ends as each of the girls undress to their underwear. A teddy bear in one of the girl's beds acts as a sign that Nakadate is trodding on dangerous territory in this work. While, on one hand, her subject's appear innocent, on the other hand, the intrusion of the camera, the verbal instructions and the crude video footage situate Good Morning Sunshine in a visual aesthetic more commonly found in amateur pornography. Here too, despite not actually being in the frame itself, Nakadate's body is part of the work as the shaky handheld camera refers to a corporeality beyond the frame of the video.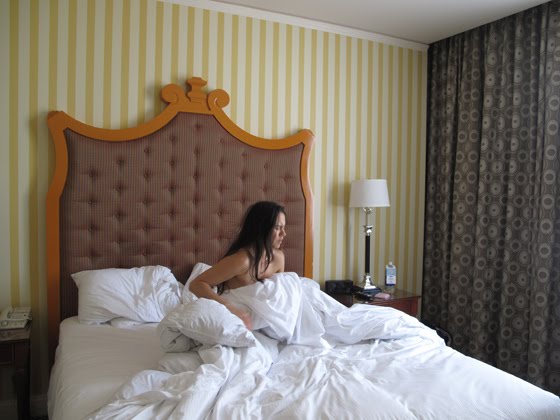 Laurel Nakadate, 365 Days, A Catalogue of Tears, 2010
In 365 Days, A Catalogue of Tears, Nakadate photographed herself crying for every day in 2010. The photographs are displayed in grid formation creating a large montage of imagery that usually needs to be separated on several walls. Despite the large and potentially overwhelming amount of images, a browse through the work reveals a number of elements fairly quickly: in every photograph Nakadate is alone, in most of the photographs she occupies a private space, while her solitude and withdrawal from society is emphasized by dark and sometimes grainy printing techniques. On closer inspection it also becomes apparent that many photographs were taken in anonymous and alienating spaces. A courtesy bottle of water in a hotel room, a sign that indicates where the towels are located in an airplane toilet, the clinical interior of a waiting room – these are the signifiers of a transient existence. Nakadate's 'catalogue of tears' is thus also a catalogue of America as she seemingly traverses the country in the pursuit of her art.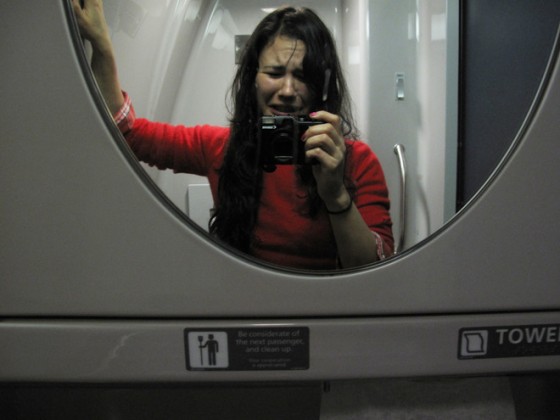 Laurel Nakadate, 365 Days, A Catalogue of Tears, 2010
While Nakadate stopped short in asking her subjects to completely undress for the camera in Good Morning Sunshine, in 365 Days she routinely exhibits her naked body. By integrating windows, reflections and mirrors in her self-portraits, Nakadate is also referencing the very act of looking: that she is looking at herself and that the viewer is looking at her. Here, Nakadate also appears to borrow techniques from cinema, not only in the aesthetic construction of the image but also in the way the images are consumed: the hundreds of photographs viewed at a quick browse evokes the crude viewing experience of flicking through a thumb cinema. To a degree, by turning the camera on herself, Nakadate's voyeuristic and investigative gaze functions as a commentary on the unyielding search for identity in an age that is over-saturated with images.
Laurel Nakadate: 365 Days: A Catalogue of Tears is available as book. Other recommendations can be found in our online bookshop.
Become a supporter of this blog.
Like this Article? Subscribe to Our Feed!