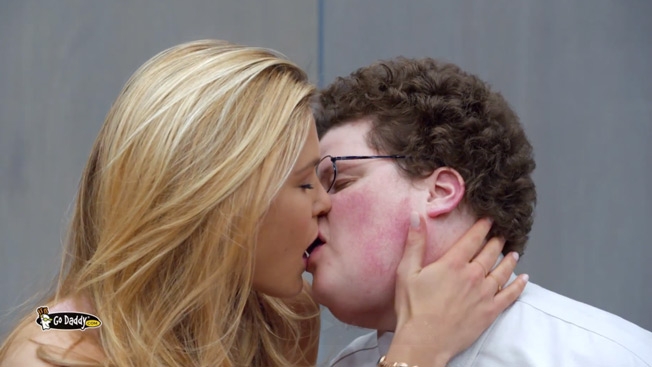 Much like the half-time show, or the mandatory dosage of American patriotism, the commercial ad break has become a highly anticipated ritual in the proceedings of the Super Bowl. While the opposing teams fight against each other in the stadium, international conglomerates and some of the best-known brands in the world fight the battle of who will have produced the most memorable Super Bowl commercial. It is, by all means, a serious business considering the $4 million it costs to air a commercial in the much coveted breaks. Amongst major US and international companies such as Budweiser, Coca-Cola, VW or Samsung, is a much less known company called GoDaddy.com which provides provocative Super Bowl commercials since 2008. GoDaddy.com is a domain name retailer and web hosting provider and unlike Coca-Cola or Samsung, a very small minority of Super Bowl viewers will ever use their services. In spite of this discrepancy, GoDaddy.com seems to relish the competition with major corporations as it habitually provides some of the most sexually suggestive ads. This year it was no exception. As much as the commercial break has become a Super Bowl ritual, the GoDaddy.com ad has become a ritual within the ritual.
This year's GoDaddy.com commercial opens with the presenter Danica Patrick, a well-known racing car driver in the US, introducing the two main subjects in the ad as she says: 'There are two sides to GoDaddy.com: there is the sexy side represented by Bar Refaeli and the smart side that creates a killer website for your small business represented by Walter. Together they're perfect.' The 'sexy' Israeli supermodel Bar Refaeli sits next to an archetypal 'smart' kid in a suit, presumably performing 'smart' things on his laptop. The contrast between Bar and Walter could not be greater: Bar smiles and waves confidently into the camera, Walter appears distracted by his computer. Bar's long blond hair stands in contrast to Walter's curly and frizzy brown hair. Yet above all, Bar is beautiful and Walter, as the ad clearly suggests, is not. Right from the start, the commercial thus establishes an age-old binary between beauty and the beast: a common trope in a whole range of literature, cinema and popular culture. Victor Hugo's 1831 novel The Hunchback of Notre-Dame is perhaps the best-known example of this trope.
Yet by setting out this binary, the makers of the GoDaddy.com commercial reveal a number of important aspects. In the first instance, it gives an indication of what they deem to be 'sexy'. Bar Refaeli's looks thus appear to fit in with a long list of other so-called 'Go Daddy Girls' made famous through the Super Bowl ads. Here, 'sexy' is symbolized by someone – someone famous, someone gorgeous, someone with an exotic name. 'Smart' on the other hand is symbolized by a worn out stereotype: freckled, bespeckled, curly-haired and slightly chubby. Walter is purposefully represented as a nobody, not even in possession of a last name. It seems that 'sexy' and 'smart' are biologically so far apart that they need to be mutually exclusive. In other words, 'sexy' can't be 'smart' and 'smart' can't be 'sexy' (the fallacy of this common perception can be found in the hit TV show 'The Beauty and the Geek'). By implication the ad also explores an extremely simplistic gender stereotype: 'sexy' is female and 'smart' is male.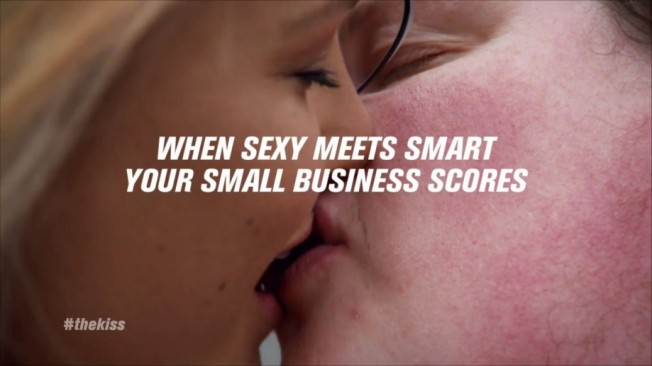 Yet the provocation does not lie in establishing these tired and outdated stereotypes more commonly associated with the 1950s, but rather, the provocation lies in Bar and Walter kissing each other. The camera zooms in on their mouthes. The smacking sound of their lips and tongues touching is clearly audible. Towards the end of this long and intense kiss, the commercial shows the following text: 'When sexy meets smart, your small business scores'. Yet who 'scores' here (the sports terminology uncannily fits the context of the ad)? In reality, perhaps Bar Refaeli has scored: some suggest that she was paid as much as it costs to air the commercial. Or is it the 'smart' kid Walter who 'scored' kissing a supermodel in one of the most-broadcast TV events in history? Or is it GoDaddy.com that really 'scores', purposefully producing stereotypical and provocative ads that people will talk or complain about on social media? For long periods of the Super Bowl game, the terms GoDaddy and TheKiss were trending on Twitter. It is quite possible that the strategy has worked and more people will end up using GoDaddy.com. This does, however, seem entirely irrelevant considering that the commercial not only reproduces stereotypes about beauty and technological acumen, but also, it suggests that one can only be fully complete with the other. What's an 'own goal' called in American Football?
If you enjoyed reading this, feel free to support this blog.
Like this Article? Subscribe to Our Feed!