Chris Hondros, Samar Hassan crying
In my last blog post, I wrote about a photograph by photojournalist Chris Hondros which shows an Iraqi girl crouching on the ground and crying. Minutes before the image was taken, Samar Hassan's parents were shot dead by American troops in a tragic accident as they failed to stop at a checkpoint. Another photograph from Hondros' series shows the traumatic effects this event had on the children who were also in the car. Samar is crying while her youngest brother appears totally dazed by what has happened. In this blog post I want to unravel the story further, and show that Hondros' iconic photograph of Samar Hassan's immeasurable grief has an unsuspecting afterlife which is directly related to the complex relationship between photojournalism, ethics and empathy.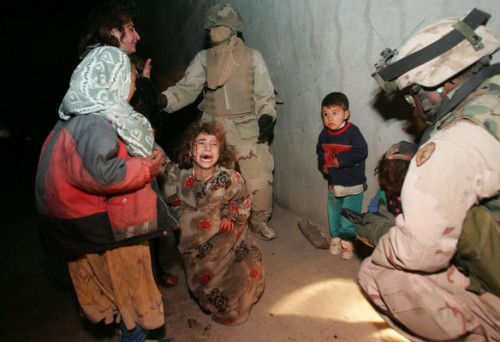 Chris Hondros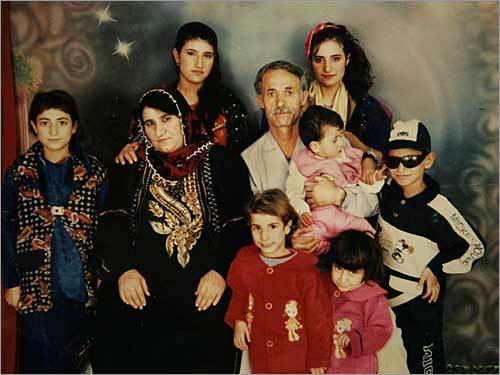 The Hassan Family, Iraq, ca. 2004
On that day, six children were huddling in the back seat as the family, seen in above family photograph, was on their way home. Whereas all the children survived, the parents were killed instantly. In this radio interview from 2007, Chris Hondros recalls the tragic sequence of events unfolding. In the accompanying slideshow to the interview, the sheer horror is clearly detectable on the children's faces as they emerge from the car. What is not mentioned in the interview is that, apart from photographing Samar Hassan crouching on the floor as she cries in grief, Chris Hondros photographed Samar's brother Rakan who was injured in the shooting. It wasn't clear at the time, but a bullet hit Rakan's spine, paralyzing him from the waist down. In one photograph, Rakan can be seen lying on the ground in front of the car as he is unable to move. Another image shows him pressed against a wall clearly in a state of shock. Hondros' last photograph of Rakan shows him being rushed to the hospital.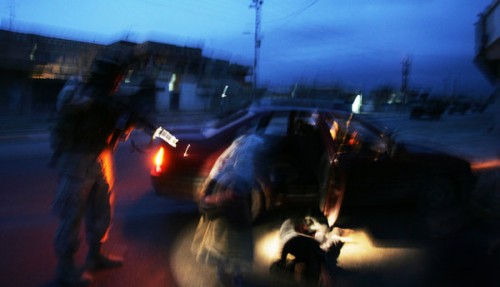 Chris Hondros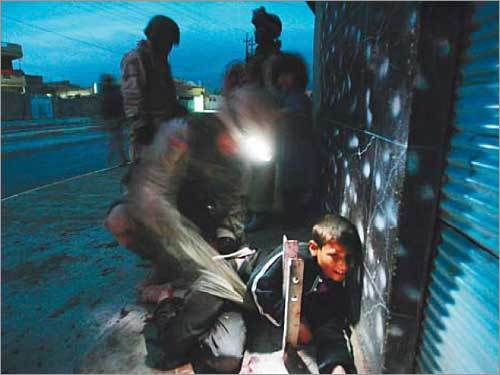 Chris Hondros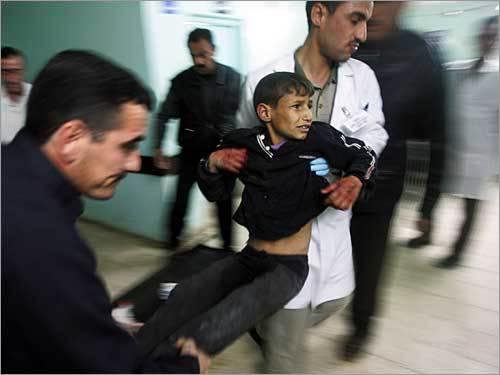 Chris Hondros
This is where Chris Hondros' series of photograph ends, and a new story begins. As Samar Hassan's cry was echoing around the world each time the horrific photograph of her was published, a team led by US Senator Edward M. Kennedy sought to help her paralyzed brother. The motivation for this is clear. The parents were killed at the hands of American troops, but Rakan's life could still be saved. In September 2005, Rakan was flown to the US via Germany to begin medical treatment at the Mass. General Hospital in Boston. Rakan's arrival at the hospital instantly became a story of hope, redemption and ethics in an otherwise messy war in distant Iraq. The Boston Globe picked up on the story and ran a long series of photographs called Rakan's Life.

Michele McDonald, Rakan in Boston

Michele McDonald, Rakan in Boston
The brief for Michele McDonald, the Boston Globe staff photographer assigned with photographing Rakan's five months stay in Boston, appears to have been to produce the visual antithesis to Chris Hondros horrific war photography from Iraq. If Hondros' photographs might raise concerns over ethics in photojournalism, such as photographing vulnerable subjects in a moment of tragedy, McDonald's photographs apparently seek to portray a more positive story. Rakan, so it appears in the series of photographs, is now in safe and capable hands. At first Rakan seems overwhelmed and timid in his new environment, but as his health is improving, he can be seen smiling, and also, importantly, making others smile. After all, this is not only the story about Rakan, but also, it is the story about American mass media desperately seeking for a positive take on the war in Iraq.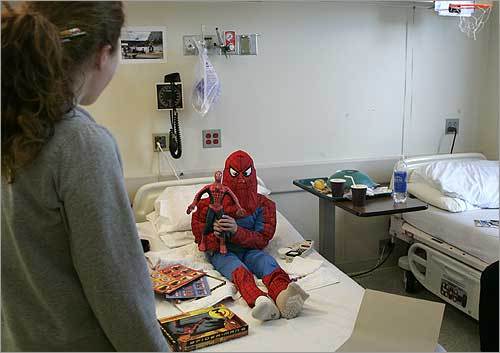 Michele McDonald, Rakan in Boston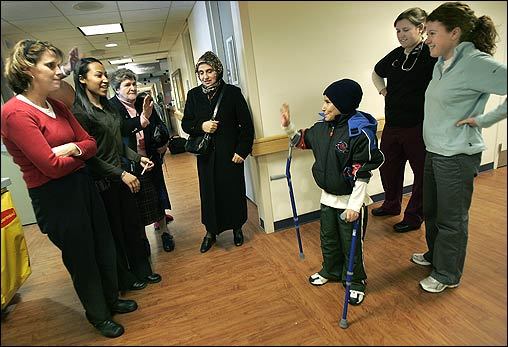 Michele McDonald, Rakan in Boston
For it's tragic irony, one photograph in particular stands out. Rakan sits in his hospital bed wearing a Spiderman suit which he received from the hospital staff for Halloween (apparently Rakan always liked Spiderman). Not only does this image represent a clash between cultures, the image also represents the contrast between Spiderman's imagined superpowers and Rakan's actual disabilities. Under the disguise of Spiderman's suit, Rakan turns, for a brief moment, into an all American boy. The hospital staff have clearly taken to Rakan. By the time his visit comes to an end, he is wearing a Boston Red Sox jacket and hat. To the readers of the Boston Globe, this association with Boston's baseball team clearly signifies that Rakan is now one of them.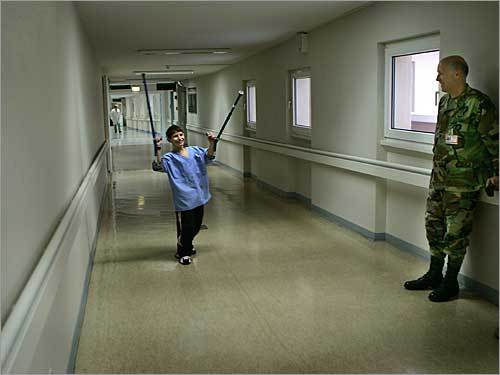 Michele McDonald, Rakan in military hospital in Germany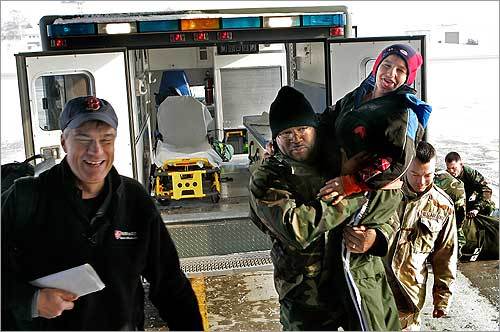 Michele McDonald, Rakan arriving in Iraq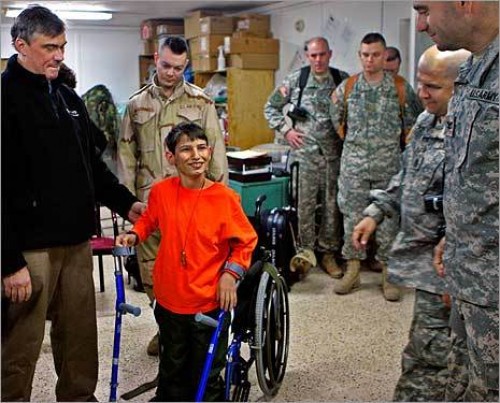 Michele McDonald, Rakan welcomed by US troops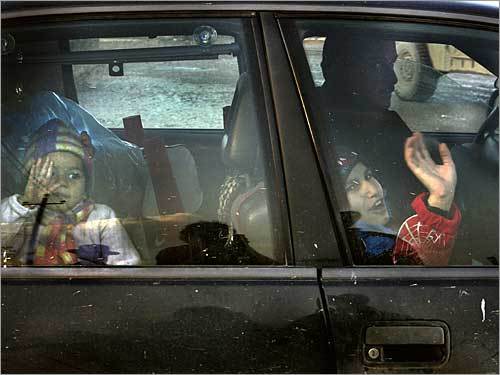 Michele McDonald, Rakan waving goodbye
Rakan then returned to Iraq via Germany. The fact that he could walk with crutches was celebrated as a huge success story. Here too, the Boston Globe was there to photograph the events. The last photograph in the series shows Rakan waving from a car driven by his brother-in-law. It's his family that now care for Rakan and his siblings, including Samar who was the subject of Chris Hondros iconic image. While it was Hondros' photograph of Samar that raised public awareness about one of the many injustices of war, it was also Hondros' photograph that instigated the photographic series on Rakan's rehabilitation in America. Ideologically the two set of images are on opposite sides of the spectrum: one showed the horrors of war, and the other sought to depict that there are also ethical decisions to be made in a war. I don't mean the ethical decision of the photographer, but rather, as I have pointed out in my last blog post, the ethical decision by the viewer of the photograph.
Hondros' photograph effectuated a cycle of photographic representation that sought to signify, not only the hopes of an Iraqi boy, but the hope of redemption in an act of goodwill. Sadly, this is not how the story ended. On June 16th 2008, Rakan was killed by a bomb placed by insurgents next to his new home. It is believed that Rakan and his family might have been targeted for accepting medical treatment in America.
For more on this topic, please read Susan Sontag's Regarding the Pain of Others and Susie Linfield's The Cruel Radiance: Photography and Political Violence. Other recommendations can be found in our online bookshop.
Become a supporter of this blog.
Like this Article? Subscribe to Our Feed!