Archive for the 'Contemporary Japanese Photography' tag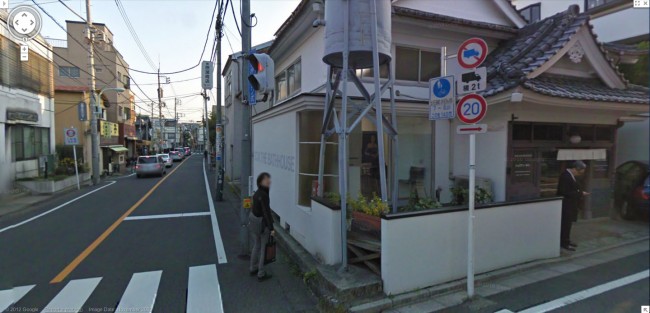 SCAI the Bathhouse Gallery as listed on the Tokyo Photography Map
After launching our popular London Photography Map, I am pleased to introduce the Tokyo Photography Map which lists photobook stores, libraries, museums, public and private galleries in one virtual resource. As announced in the previous post, I am expanding the photography map concept to other major cities in the world. If you are knowledgable of the photography scene in any major city in the world, I would be delighted to host your photography map on this blog. Photography map administrators have independent control to create and update the maps themselves. As acknowledgement of their contribution, administrators will be provided with a link to their own website or blog, as well as email address so that others can provide feedback. Feel free to get in touch (marcus.bohr (at) network.rca.ac.uk) if you are interested in launching a photography map of your city. I would be delighted to hear from you.

View Tokyo Photography Map in a larger map
Support this blog to help us keep going, and going, and going ….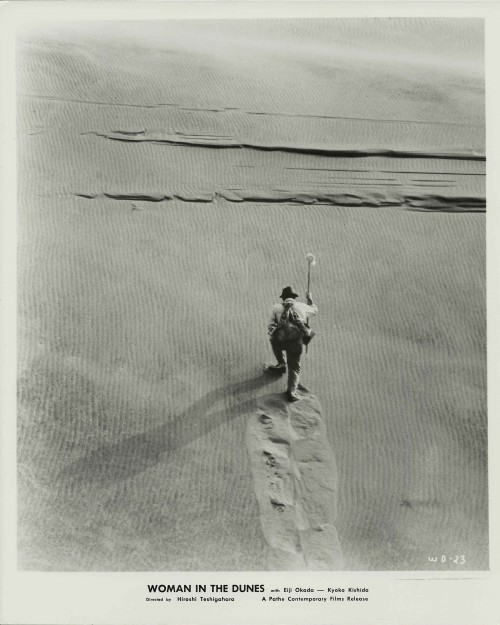 Woman in the Dunes, Hiroshi Teshigahara, 1964
The history of Japanese cinema and photography is, as in most cultural contexts, deeply interconnected and related. In the post-war period a number of important films make direct or indirect reference to photographic movements. For instance, the existential meditation on sand and desire in Hiroshi Teshigahara's classic Woman in the Dunes (Suna no onna, 1964) is strongly reminiscent of the surrealist photographs taken in the Tottori sand dunes by Shoji Ueda in the 1950s; Woman in the Dunes would be filmed in the Tottori sand dunes, not far from Ueda's childhood home, as the location was the perfect backdrop for Teshigahara's study of man's confrontation with the elements.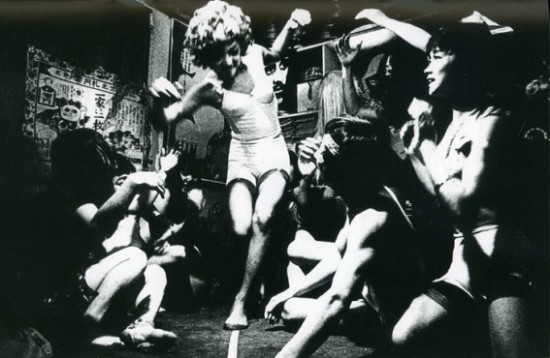 Funeral Parade of Roses, Toshio Matsumoto, 1969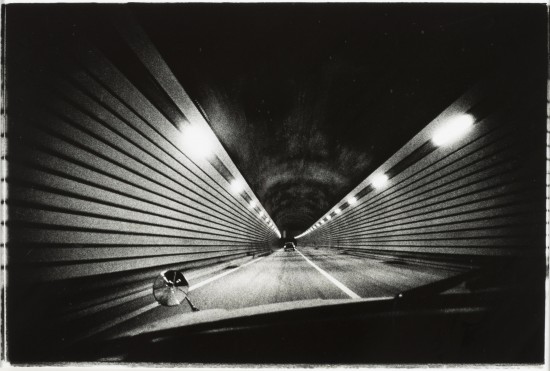 Daido Moriyama, from Mayfly, 1972
Similarly, the fast camera movements and improvised cinematography in Toshio Matsumoto's avant-garde Funeral Parade of Roses (Bara no sôretsu, 1969) appear to be linked to the photographic style 'are, bure, boke' (rough, blurry, out-of-focus) that was popular among photographers such as Daido Moriyama in the late 1960s. Moriyama himself worked as a stills photographer on the set for Funeral Parade of Roses and a number of his subsequent photographs reference Matsumoto's eclectic cinematic style (I have written about this elsewhere). From the many occasions throughout modern Japanese history in which a relationship between cinema and photography can be established, this essay will focus on more recent films which, like Woman in the Dunes and Funeral Parade of Roses before them, make distinct references to photographic trends.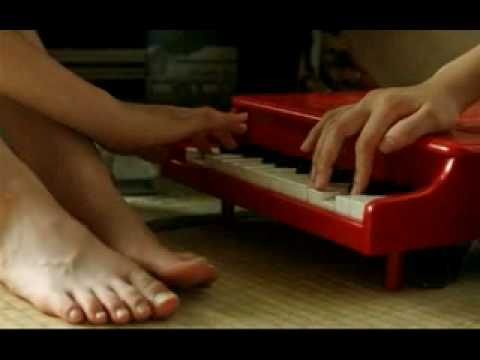 Nobody Knows, Hirokazu Kore-eda, 2004
Hirokazu Kore-eda's Nobody Knows (Dare mo shiranai, 2004) depicts the lives of four children abandoned by their mother in a Tokyo apartment, with Kore-eda's employing dreamlike cinematography to underline the highly-subjective experience of childhood trauma. Long segments are shot at close-up range, with a macro lens and wide open aperture, creating a narrow depth of field. The result of this technique is that the camera focuses only on a small part within the frame while the rest falls out of focus. The effect is comparable to the visual experience of focusing on an object closely held in front of the eyes. Similar to the tatami perspective employed by Yasujiro Ozu, Nobody Knows is consistently filmed from a low vantage point mirroring the height of the abandoned child coping with alienation. Kore-eda's highly subjective cinematography functions as a visual allegory for the plot itself: the world is represented from the perspective of a child focusing on small details which, in sum, creates a rich variety of visual layering and textures throughout the film.
The cinematic technique of tight framing and selective focusing appears to be borrowed from the photographer Rinko Kawauchi, who also worked on the set of Nobody Knows as stills photographer. Born in 1972 and initially operating as a commercial photographer, Kawauchi's emergence as art photographer began in 2001 when she published, in parallel, three celebrated photography books, Utatane, Hanabi and Hanako . In all these works, Kawauchi employs a highly imaginative viewpoint to scenes of the everyday. Photographing in square format, Kawauchi's vision turns seemingly insignificant details into visually appealing and abstract observations: a dead wasp lies on a windowsill, a half-eaten watermelon rests on a plate, and a spoonful of salmon roe is photographed from a low vantage point. Part of the attraction of Kawauchi's work is that she photographs subjects that might otherwise be overlooked.
It is precisely this focus on mostly ignored details that has also been employed in Nobody Knows: the camera focuses in tightly on the children playing on a miniature piano, painting their nails with varnish, or nurturing plants that are growing on the balcony of the apartment. The visual similarities of selective focus and tight framing in Kawauchi's photography and Kore-eda's Nobody Knows fulfil the function of fragmenting the environment into neatly divided narratives. In both cases, an emphasis is placed on experiences of the everyday: while Kawauchi focuses on representations of the natural world, Kore-eda focuses on the children growing older in the course of the movie. Photography and film act as technological devices to arrest an unstoppable process dictated by nature. Although it might appear that Kawauchi and Kore-eda work in the tradition of documentary practices, it can be argued that their representations of the everyday are more closely situated within a desire to create visual abstractions of an easily overlooked and subjective experience. The optical characteristics of the camera are consciously utilized to further underline a narrative that thrives on subtleties and quiet observation.
Another photographer whose work greatly impacted cinematic conventions is Mika Ninagawa. Born in 1972, Ninagawa was at the forefront of a new generation of female photographers, which included Yurie Nagashima and Hiromix, emerging in Japan during the 1990s. For their contributions to photographic discourse, Ninagawa, Nagashima and Hiromix received the Kimura Ihee award – Japan's most prestigious photography award in 2000. To an extent, the combined impact of the so-called 'girl photographers' paved the way for female photographers such as Kawauchi herself. After publishing numerous celebrated photography books (the preferred method of photographic dissemination in Japan), Ninagawa directed Sakuran (2007). Based on the manga series by Moyocco Anno, Sakuran tells the story of a young courtesan battling for supremacy in the red light district Yoshiwara. Set in the latter part of the Edo period, Sakuran enters a well established genre of Japanese period dramas and movies concerned with the frivolity and promiscuity of a bygone era. Ninagawa's take on the Yoshiwara, however, comes with an intriguing even confusing modern twist as historical accuracy is completely sidelined for an eclectic mix of rock music, derogatory language and cultural attributes associated with the Japanese idol system. In other words, Sakuran functions as a pastiche of the Yoshiwara.
Like Ninagawa's photographs, Sakuran is filmed in rich colours, high contrast, flowery textures and sometimes comical excess. Goldfish are a recurring motif in Sakuran signifying the courtesans' beauty and colourful appearance while, at the same time, signifying the courtesans' condition of being trapped in a tightly-controlled environment. Like the goldfish – as Ninagawa explores in her visually rich cinematography – the courtesans are predominantly subjects to be visually consumed. The excessive colour in Sakuran also aids to highlight the flamboyant fashion and character of the main protagonist, Kiyohada. Like Kiyohada's voice, the colours are 'loud'. The cinematography thus informs the main plot of the movie based on Kiyohada's continuous subversity and (sexual) aggression. The high contrast signifies, literally, Kiyohada standing out from everyone else in the Yoshiwara.
Often seen in the context of fashion or celebrity photography, Ninagawa's photographic work does not initially attract a conceptually dense interpretation: the viewer's experience appears to be based on looking at a subject deemed beautiful, cute, exotic and colourful. The conceptual void left by a lack of narrative in Ninagawa's photographs is filled in Sakuran, which, seen alongside her photographs, lifts her body of work as a whole. Rather than giving into the codes of beauty, extreme colour and high contrast become signifiers for the subversion a dominant culture. In that sense, Sakuran is far more a reflection of modern life than it is a representation of the Yoshiwara. In this context, it is important to mention that the main protagonist is played by Anna Tsuchiya, a former model renowned for her controversial behaviour and a so-called hafu – of half- Japanese and half-Caucasian descent. The protagonist's battle for recognition in Sakuran is thus mirrored in Tsuchiya's own experience of working as a model/singer/actress endlessly touring various TV shows. Kiyohada's battle to become a high-class Oiran courtesan is reflected in Tsuchiya's own experience as idol situated within a patriarchal sign economy. Ninagawa's exaggerated colours and visually rich cinematography underlines the fact that this sign economy is driven by a curiosity for the young, the exotic, the one that stands out from all the others.
What Nobody Knows and Sakuran have in common is that they employ a very specific visual strategy that supports the narrative of the film. This visual strategy, in both cases, is derived from a strong affinity with the medium of photography. While Nobody Knows openly references Rinko Kawauchi's photographic methodology of fragmenting the world, Mika Ninagawa uses her own approach of depicting the world in an exaggerated culmination of colour and contrast. The result of this photographic approach is that in both cases the optical characteristics of the camera support the narrative of the film as a whole. The examples also point to the fact that film and photography, as being such related mediums, are best viewed not as distinctly autonomous creative economies but, rather, that they constitute regimes of representation that continuously feed off each other and create new spaces for exploration.
This essay was originally published in Directory of World Cinema: Japan Vol. 2 edited by John Berra. Other recommendations can be found in our online bookshop.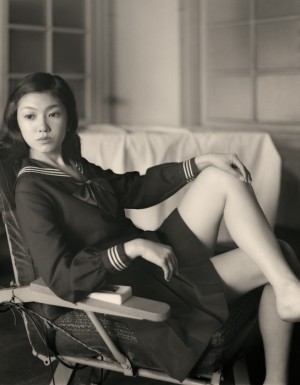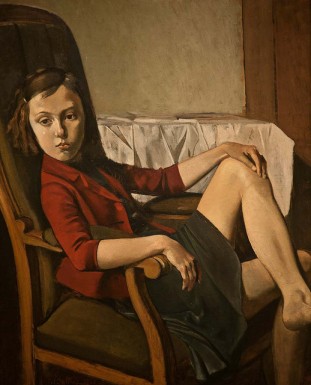 Hisaji Hara, A Study of 'Therese', 2009 and Balthus, Therese, 1938
The provocative paintings of the French-Polish artist Balthus are the starting point for Japanese photographer Hisaji Hara's visually arresting photographs currently on display at the Michael Hoppen Gallery. Like in Balthus' work, the photographs are deeply voyeuristic, sexually suggestive, and fetishistic. As their titles indicate, the photographs are a study of' well-known Balthus paintings that Hara generously appropriated from. Here, particularly in the context of Japanese photography, Hara appears to walk on well-trodden territory. In his acclaimed series Self-portrait as Art History, Yasumasa Morimura similarly appropriated iconic images from Western culture in his photographic montages. Rather than trying to match the original image as closely as possible however, Hara used Balthus' work as a template, or a source, to produce photographs that are visually complex and culturally loaded in their own right.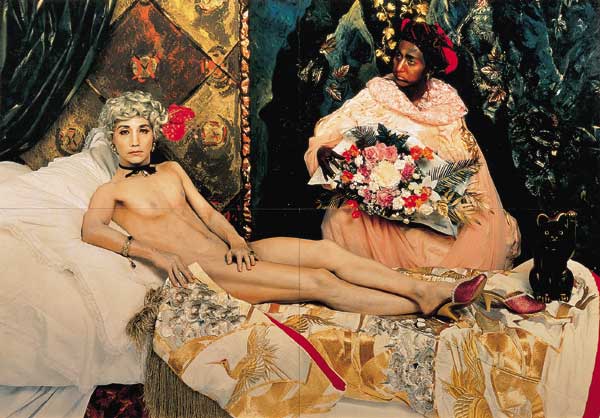 Yasumasa Morimura, Futago, 1988
The re-occurring motif of the Japanese schoolgirl in Hara's work is less a reference to Balthus' preference for young girls in his paintings, but rather, it more likely refers to the fetishistic value ascribed to the schoolgirl (and her uniform) in the context of Japanese culture. While this fetish is historically located in Japan's troubled transition to a modern nation-state, it is intriguing to note that Hara's photographs, in spite of being produced within the last two years, purposefully look aged.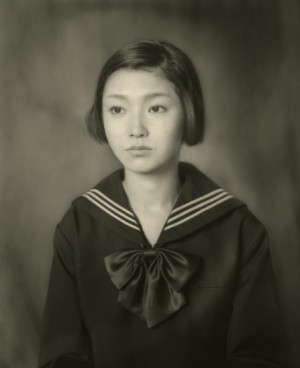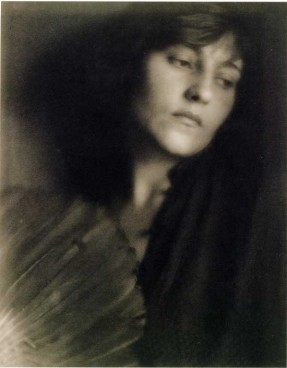 Hisaji Hara, A Study of the 'Portrait of Therese', 2009 and Margrethe Mather, Florence Deshon with Fan, 1921
The vintage quality of the photograph is achieved in a number of ways. Firstly, the prints are black and white pigment prints which have a brown tinge to them. The location for Hara's photographs too, a derelict privately run Japanese medical clinic from the 1940s and 1950s, creates the atmosphere of a bygone era. In addition to that, Hara's portraits are produced with a large format camera, which inevitably has a more narrow depth of field and subjects fall out of focus more easily. The soft focus in Hara's photographs immediately brings to mind Pictorialism – an aesthetic movement that dominated photography in the late 19th and early 20th century.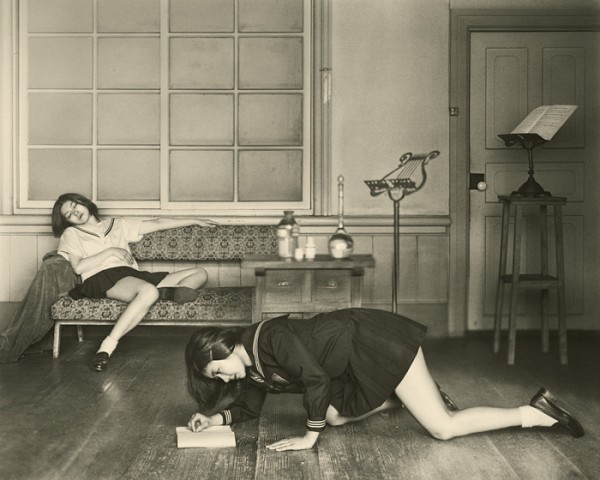 Hisaji Hara, A Study of 'The Salon', 2009
Apart from creating images that look purposefully aged, the optical devices applied by Hara also contribute to the voyeuristic dimension of his gaze. In A study of 'The Salon', Hara appears to change the focus of the camera, comparable to the cinematic technique of split-focussing, by using multiple exposures. Like the masculine gaze naturalized by the cinematic apparatus, Hara's focus is highly selective, voyeuristic, even intrusive.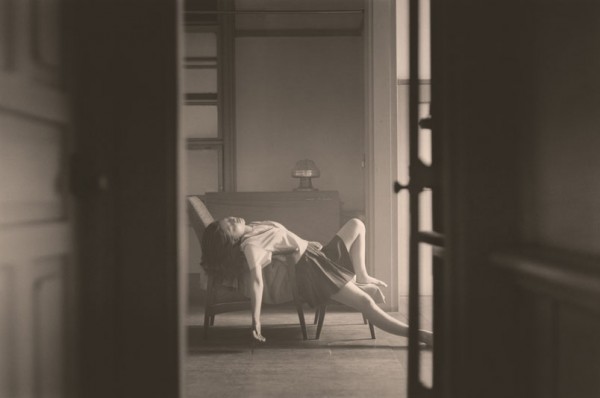 Hisaji Hara, A Study of 'The Room', 2009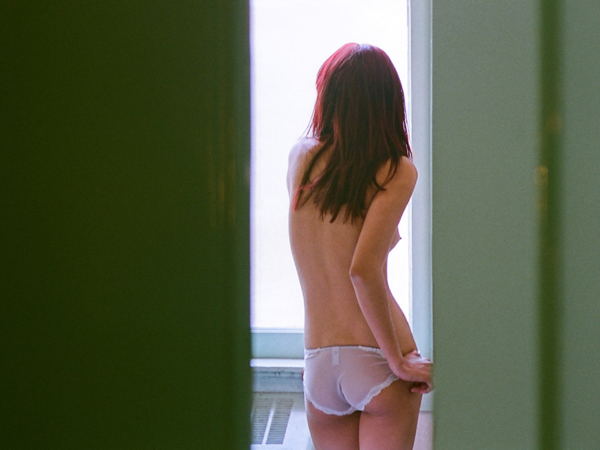 Noritoshi Hirakawa, Angel in El Paso, Texas, undated
The apparent voyeurism is further emphasized by photographing his subjects from low vantage points, from a distance, or through open doors and windows. The door or window frame at the edge of some of Hara's photograph are poignant references to the framing of the photograph: a process in which visual information is not only included, but also excluded. In other words, the door and window frames function as an allegory for the dialectical relationship between inclusion and exclusion so elemental to the act of photographing. Hara's photographs are however less about the process of photography than they are about the process of looking. Here, Hara appears to tap into a lineage of photographers such as Kiyoshi Yoshiyuki or, more recently, Noritoshi Hirakawa, whose work deconstructs and problematizes the act of looking itself.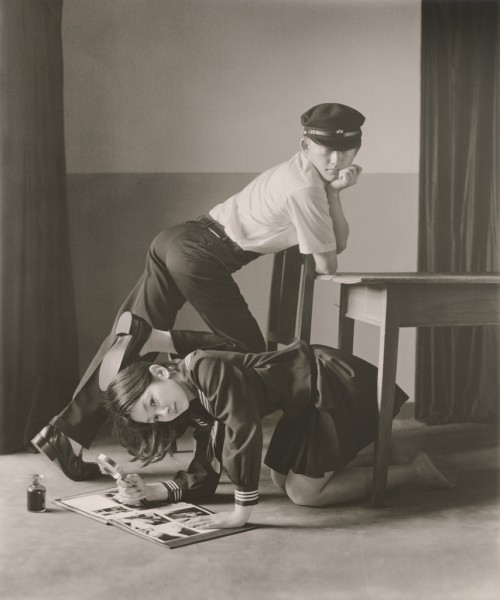 Hisaji Hara, A Study of 'Because Cathy taught him what she learnt', 2009
In A Study of 'Because Cathy taught him what she learnt', Hara thus sets out a complex scenario in which the apparent voyeuristic nature of the image comes to the fore: though his eyes are hidden by a hat, a young man can be seen looking at a girl kneeling on the floor. His downward gaze is emphasized by his body diagonally leaning forward on a chair. Hara meanwhile, the apparent stage master of this scenario, produces a photograph which is being looked at in context of the gallery. These multiple levels of looking are completed in the realization that the young woman – the clichéd object of the photographer's gaze – is knowingly looking straight back at us.
If you are interested in Japanese photography, please download my essay:
Marco Bohr (2011). 'Are-Bure-Boke: Distortions in Late 1960s Japanese Cinema and Photography'. Dandelion Journal. Vol. 2, No. 2. Other recommendations can be found in our online bookshop.