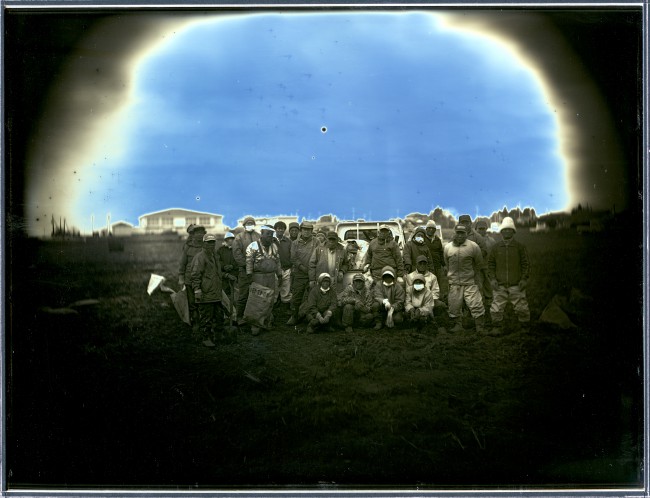 Farmers at decontamination site, Minamisoma, 2012
Since the tsunami hit Japan in March 2011, the Japanese photographer Takashi Arai has continuously ventured to Fukushima to photograph areas affected by nuclear radiation. Using a daguerreotype camera, the photographs in this project titled 'Here and There' are haunting representations of a land that has largely become uninhabitable. In spite of this, some images depict people attempting to save their land, their communities and their livelihood. It is a sad series of images that visually explores the ongoing pain caused by an avoidable ecological and humanitarian catastrophe.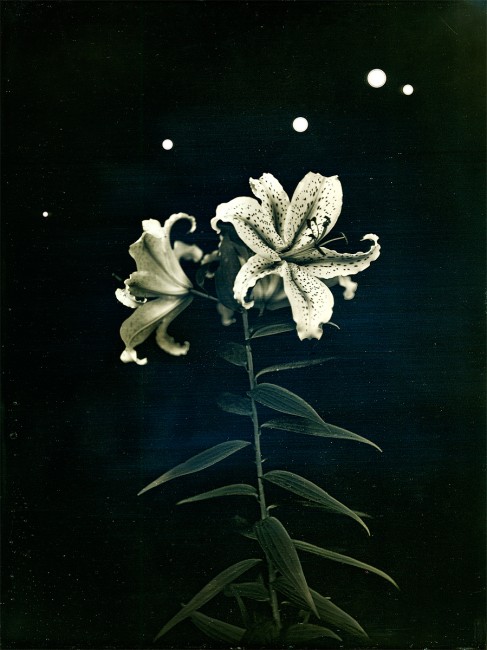 Radioactive Lilies, Iitate Village, 2011
Compared to the immediate damage caused by the earthquake and tsunami, Fukushima appears to be more a challenging environment to photograph since the damage caused by radiation is not visible as such. The question is: how is the artist to depict something that cannot be seen? In a photograph such as 'Radioactive Lilies, Iitate Village, 2011', Arai uses the caption to make explicit the damage caused by radiation. These lilies, evocative of the aestheticized botanical photography of Karl Blosfeldt, has now become toxic and poisonous. Arai appears to purposefully blend beauty with the ugly reality of a nuclear meltdown.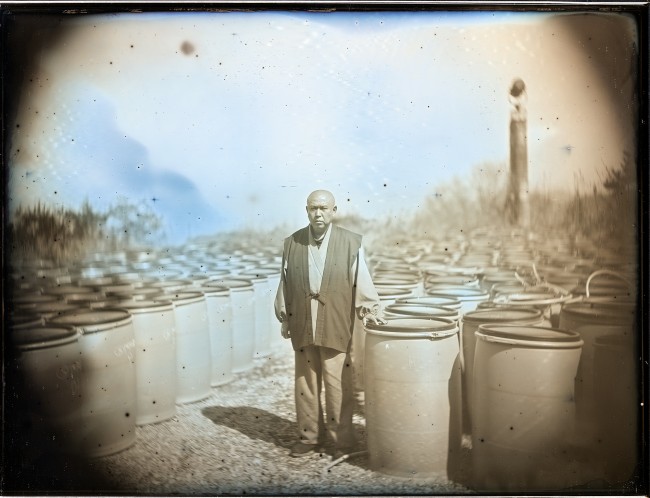 Koyu Abe and radioactive waste on his private property, 2013
In addition to these textual references to radiation, Arai also includes a variety of physical objects that allude to contamination and the painful process of decontamination. One photograph depicts a man standing next to dozens and dozens of plastic barrels containing radioactive waste on his property. With his left hand resting on one of the barrels, this photograph too creates a striking contrast: rather than distancing himself from this toxic waste, the man relates to the barrels almost with a sense of sentimentally – perhaps subconsciously trying to hold on to his land which has now been claimed by radiation.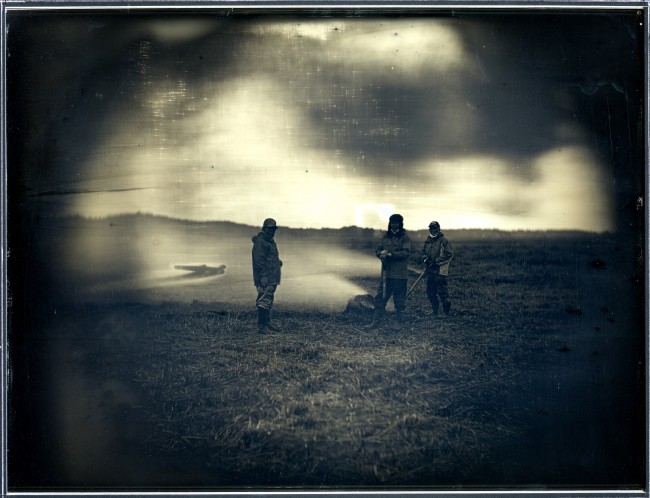 Grass fires and three farmers, Soma, Fukushima, 2012
Another image can be seen as a visual reference to the classic trope of the farmer in, for instance, Dutch landscape painting. Here, Arai taps into a highly romanticised form of representation that equated farming with honest labour and being in an equilibrium with nature. This sense of romanticism is created by the position of the farmers in the frame, the vignette effect of the lens as well as the blurred smoke which is caused by the long exposure time of the camera. These are proud men (as signified by their body language), yet the land that they stand on has become waste. Their lives are not as much dependent on nature as they have become hostage to the laws of nuclear science.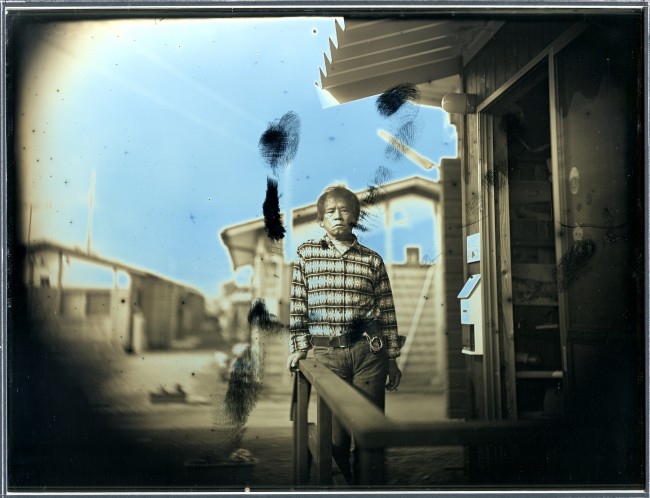 Temporary Housing, Date, Fukushima, 2012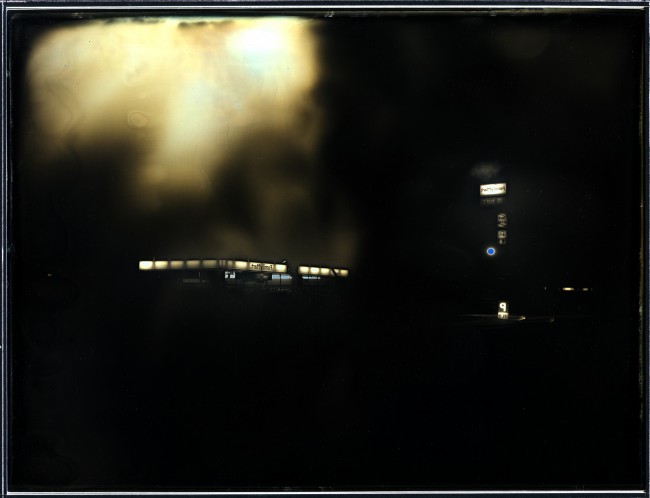 Family Mart, Soma, Fukushima, 2012
The most striking contrast in Arai's set of photographs is created through our perception of time. Even without a detailed knowledge of photographic processes or indeed the technology involved, the viewer instinctively associates Arai's images with the early history of photography. In these works Arai creates a visual trick that makes us believe that these images are from another era altogether. This sense of history is particularly apparent in a portrait, depicting a man in temporary housing, which is mostly devoid of signifiers of modernity. Other images, such as a nocturnal landscape which depicts a Family Mart convenience store, bring this series of photographs right back into the present. Yet the work also engages with the future: it reminds us that in the same way that we look at the past through photography, one day people will look back at these images with a similar historical distance. What happens between now and then, whether the area will ever be able to overcome the past, only future will tell.
I am looking for institutions in Japan that specialise in historical photographic processes. Please get in touch with me via email at marcus.bohr(at)network.rca.ac.uk if you know of any.
Like this Article? Subscribe to Our Feed!