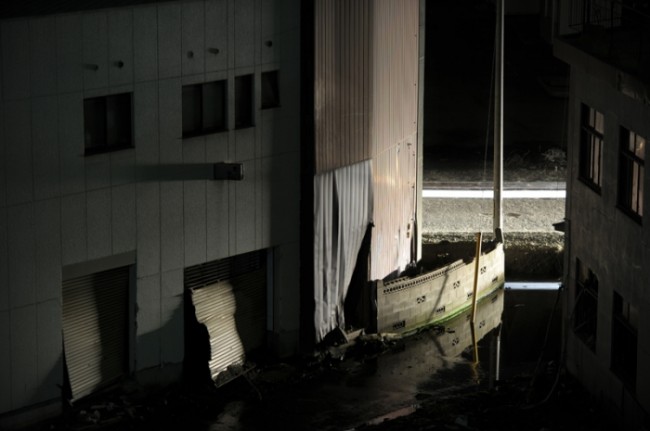 Tetsuya Higashikawa, New Moon, 2011
More than two years have passed since 3.11 – the most commonly used term to describe Japan's zero hour in March 2011. The media has had an important role to play in the aftermath of the tsunami and earthquake. Photography too was essential in 'exposing' the depth and scope of destruction. Images from Japan's ravished coastline in the news and print media allowed people to begin to understand the disaster even though a full understanding will never be entirely possible. Yet inasmuch photography, or more specifically photojournalism, was an important conduit for a better understanding of 3.11 at least from a visual point of view, there is also a point in which a disaster can be 'overexposed'. Photojournalistic images run the risk in concentrating too much on a certain type of image which I am purposefully not reproducing in this blog post. It is the kind of image that alludes to the extreme conditions created by the disaster. It is also the kind of image that seeks to stir emotions such as grief, sadness, helplessness, anger and so forth. Such image is, for the lack of a better word, didactic in that it expects the viewer to read it in certain ways. In other words, photographer, photoeditor and the public are caught up in a complex exchange based on delivering and supposedly also meeting expectations.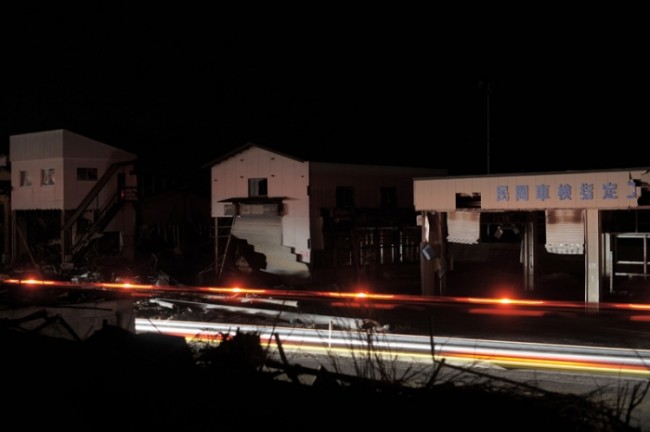 Tetsuya Higashikawa, New Moon, 2011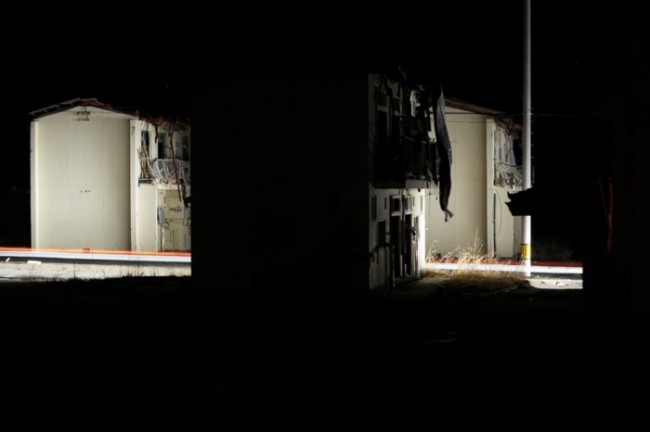 Tetsuya Higashikawa, New Moon, 2011
It should be noted that the Latin origins of the term 'expectation' specifically relates to the word 'spectacle'. Within this complex visual dynamic of expectations, some photographers produce work that decidedly goes against the grain of common representations of 3.11. Tetsuya Higashikawa's photographic series New Moon produces a visual antidote to the usual methodologies of press photographers. In this series, Higashikawa photographed buildings at nighttime on the coastline affected by the tsunami. The only light source for these images was produced by passing cars as the region's power supply was cut off in the aftermath to 3.11.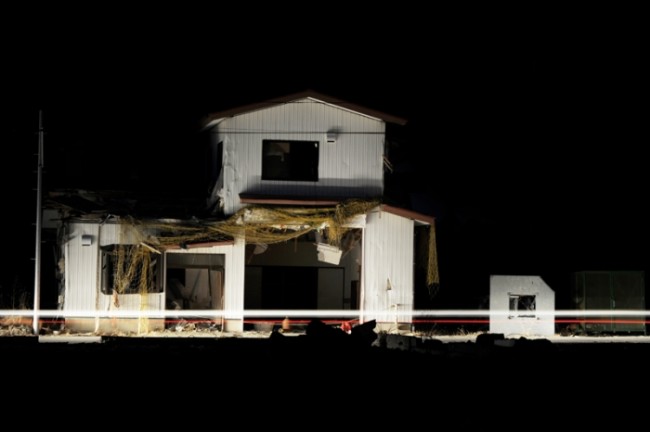 Tetsuya Higashikawa, New Moon, 2011
The title of the series New Moon refers to the astronomical phenomenon when the Moon is invisible from the Earth. Also referred to as the Dark Moon, it is the moment when the Earth is neither lit by Sun nor Moon and thus descends into complete darkness. In Higashikawa's series, this darkness is indeed emphasized by the pitch black skies above large parts of the country without power. Higashikawa's long exposures also reference, not only the passing of a vehicle, but also the passing of time. According to his artist statement, Higashikawa also wanted to photograph a landscape which he knew was changing very quickly as many houses were torn down due their damage.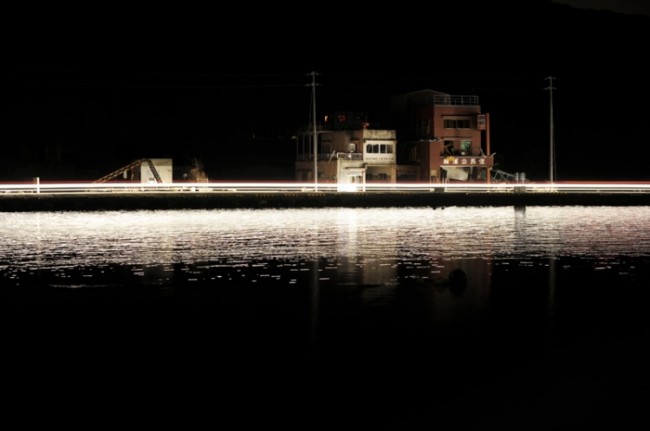 Tetsuya Higashikawa, New Moon, 2011
Higashikawa's nocturnal landscapes allude to a change that is yet to occur. Not only will the houses be demolished, fixed, or rebuilt, the entire landscape (invisible in the image) is transforming. Higashikawa's photographs allude to a quickly changing landscape, the future of which is yet to be conceived. Perhaps the long exposure of the camera also establishes that in many ways 3.11 is not just a fixed point in time, but rather, that it represents an ongoing process of reconstruction. The 'beauty' of this work is an unsuspecting lightness emerging in the darkness.
_______
Thank you to Ryosuke Kondo who pointed me to Tetsuya Higashikawa's project.
This post belongs to a series of articles I am writing on the photographic representation of post-tsunami landscapes. As I am preparing a journal article on this topic, please feel free to contact me if you know of any other photographers or important references on this topic. I am currently in Japan on a Japan Foundation Fellowship in order to conduct this research project.
Like this Article? Subscribe to Our Feed!