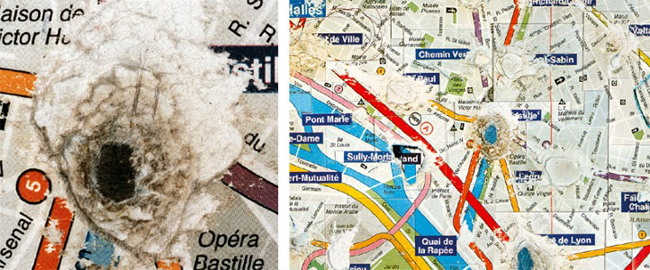 Paola Di Bello, La disparition, 1994
The Photography Map Project has reached a major milestone today as the all the maps combined now feature over 1000 photobook shops, museums, public as well as private galleries. From Amsterdam to Vancouver, I want to take this opportunity to thank the many dedicated map editors who have painstakingly collated the data and put it onto Google Maps. Thank you to Delphine Bedel (Amsterdam), Piero Bisello (Antwerp & Brussels), Ats Parve (Athens), Clare Veal (Bangkok), Markus Furgber (Barcelona), David Kregenow (Berlin), Gábor Arion Kudász (Budapest), Johan Brink (Gothenburg), Fatih Gökmen (Istanbul), Mirosław Mrozik (Kraków), Pedro Guimarães (Lisbon), Bonifacio Barrio Hijosa & Reina Toresano (Madrid), Andrea Fernandes & Philippe Calia (Mumbai), Olga Yatskevich (New York), Rémi Coignet (Paris), Niccolò Fano (Rome), Flávia Palladino (São Paulo), as well as Virginie Lamarche and Bastien Desfriches Doria (Vancouver). I contributed to the project with maps for London and Tokyo. Without all the editors contribution, this project would never have seen the light of day.
And here are the Photography Maps in all their glory. Please use and share them widely:
Amsterdam
Antwerp
Athens
Bangkok
Barcelona
Berlin
Brussels
Budapest
Gothenburg
Istanbul
Kraków
Lisbon
London
Madrid
Mumbai
New York
Paris
Rome
São Paulo
Tokyo
Vancouver
This exercise in crowdsourcing is still ongoing. So if you want to contribute to this project, please do get in touch with me (marcus.bohr (at) network.rca.ac.uk). I would be delighted to hear from you.
Also, you might have noticed that I redesigned the blog. I hope you enjoy the new magazine layout. Please do get in touch if you have any feedback or suggestions for the new design.
Like this Article? Subscribe to Our Feed!