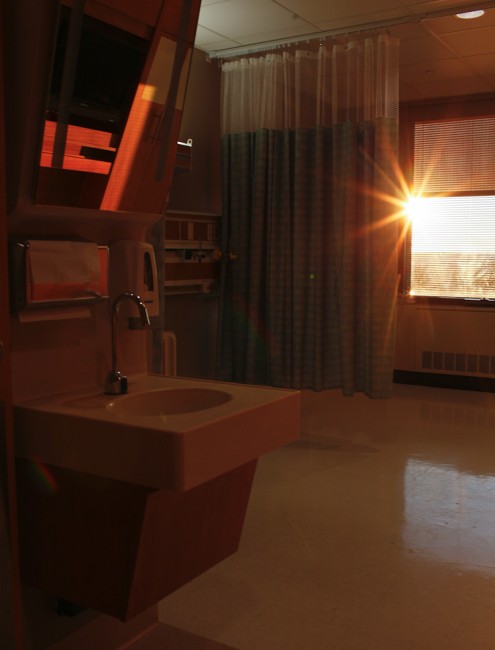 Joshua Lutz, Sunrise over Saint Francis, 2012
Marco Bohr: In September 2012 you published a photobook titled 'Hesitating Beauty' which I reviewed in a previous blog post. The book is a haunting collection of photographs, text and family snapshots that, in sum, deals with your complex family history. More specifically, the book explores your mother's battle with psychological illness. It is a deeply personal body of work that by extension also explores your own sanity in relation to those who raised you. When did you first think about producing this project? Can you elaborate on the title of this work?
Joshua Lutz: The title comes from a Woody Guthrie song. I had been working on a project on woody Guthrie, using his songs and poems as kicking off points for making images. After reading his biography it became clear that here was someone thinking about so many of the problems that our country was currently facing-only half a century prior. There was a enormous contradiction between the urgency of what I was feeling about the state of the country and the realization that these problems have been hunting us for so long. It seemed like time was no loner linear and we were stuck in this rollercoaster unable to learn from history. Towards the end of the biography we learn that woody Guthrie had been in a mental hospital. As it turns out it was the same one my mom was in at the time. It was also around that time that my mom's mental state started to shift from psychotic to delusion. I had spent a lot of time with her in these psychotic states but never in delusion, actually it never even occurred that there was even a difference. She was no longer seeing things that were not there but actually taking experiences from her past and making them present. Time collapsed on itself creating enormous confusion. In that same way the two projects collided into one.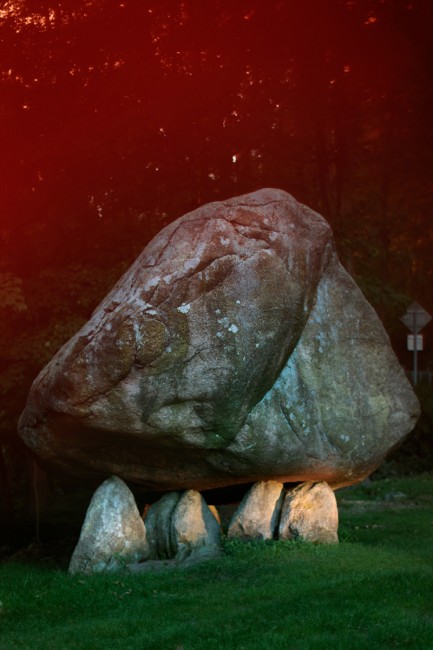 Joshua Lutz, Balancing Rock, 2012
MB: To what extent is the role of photography 'therapeutic' in this specific context?
JL: As far as it being therapeutic, I don't really know. I get asked that a lot. I think I used to say that it is therapeutic but I am less sure about that these days. I do think that there is something about sitting with and leaning into the things that scares you. Somehow it just becomes less scary.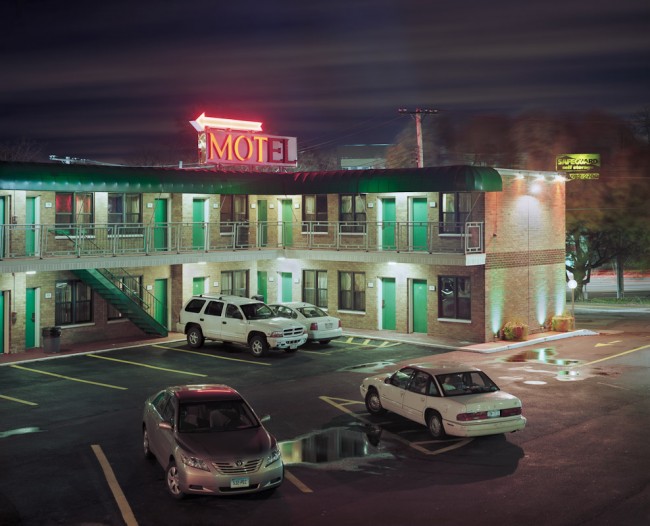 Joshua Lutz, Meadowlands, 2008
MB: In your book 'Meadowlands' from 2008 you photograph seemingly banal spaces on the edge of the city. As a result of focusing on spaces that are essentially traversable (parking lots, motels, gas stations and so forth), some of the people you photograph appear transient and out-of-sync with their environment: a priest standing in knee-high grass, a blind woman walking next to a river, and what appears to be a dead man face down in a creek. Combined with impressions of American industries in perpetual decline, I wonder how all these images are connected?
JL: The transient nature of the portraits was very much on the forefront of my mind when I was making Meadowlands. I was interested in how we pass by things on the way to someplace else and what happens when we look at the thing we pass by. In the end, I don't think anything happens, we look at it and we move on. That is not to belittle the work it is just to say that I don't think photographs do the thing we think they do. Say that ten times fast.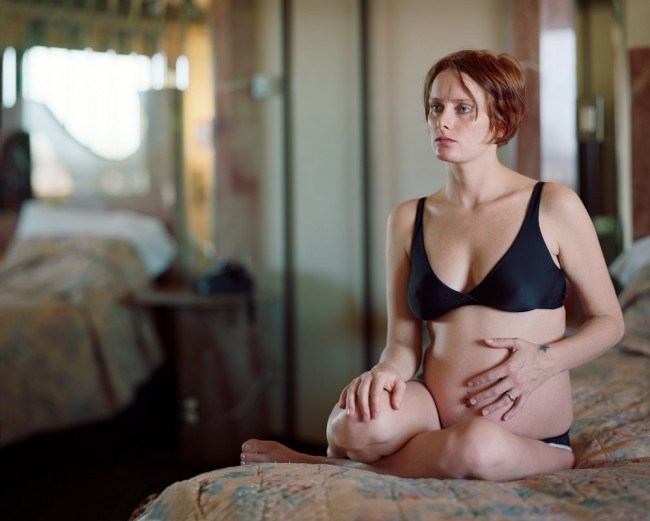 Joshua Lutz, Meadowlands, 2008
MB: What is the impetus for this body of work? What attracts you to this no man's land?
JL: The thing that brought me there was really just the open space and the water. It is so close to New York City and in a few minutes you can be navigating this wilderness that feels completely unexplored. Even though it took me ten years to finish there was something in the original idea about being able to take on a project that was accessible. I often get students (In NYC) that tell me that are interested in things like The American West or some cultural Diaspora far away. I wasn't looking to make my life more difficult.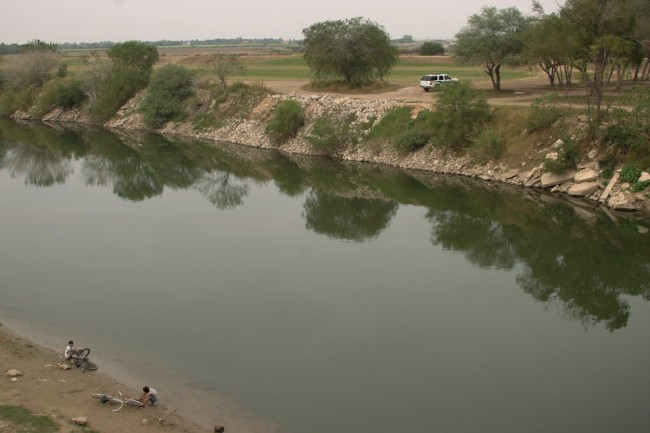 Joshua Lutz, The Border
MB: Looking at your other photographic projects, it seems that you are habitually drawn to in-between-spaces. Your project 'Borders' investigates the fractured social landscape along the US-Mexican border. 'Tent City' depicts how homeless men and women created temporary housing in Fresno, California. Your work produced in the aftermath of Hurricane Katrina represents a landscape that is equally vulnerable, scarred and constantly shifting. Are you consciously drawing a link between these projects? In this context, is the primary role of photography to document places that are influx? Are photographs temporary pausing the transformation of a quickly shifting social landscape?
JL: I am thinking a lot about in between spaces these days. Not necessarily physical spaces but the idea of the space between spaces. The space between projects, the space between photographs, the space between thoughts.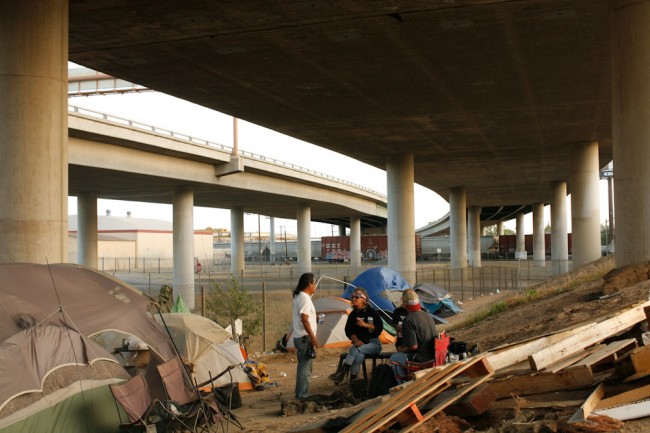 Joshua Lutz, Tent City
MB: It seems that one strand of your work represents the physical scars of late-capitalist America, while the other strand depicts the psychological wounds of the marginalized, the disenfranchised or those withdrawn from society. When it comes to the latter, how do you approach your subjects? I mean this quite literally, how do you photograph what appear to be complete strangers?
JL: I don't have a system that I apply to all given situations but I do think you need to decide that what you are trying to do is more important than anything that may be resisting you. A curator was once going through my work telling me how nice the images were and how nice I was. She went on to say that nice people don't make great photographs that make nice photographs. While I agree with her about that idea I disagree fundamentally with how images function.
MB: Are you working on any other projects at the moment? Is there any specific geographic location or subject matter that you are drawn to?
JL: My next book is about the idea of conceptual overlays.
MB: Thank you for this interview.
______________
This interview is part of a series of quarterly interviews exclusively available to supporters of the blog three months before becoming available to all readers. If you want to become a supporter of the blog and receive quarterly interviews in advance then please follow this link. Email me if you have any suggestions for artists or photographers that could be interviewed.
Like this Article? Subscribe to Our Feed!