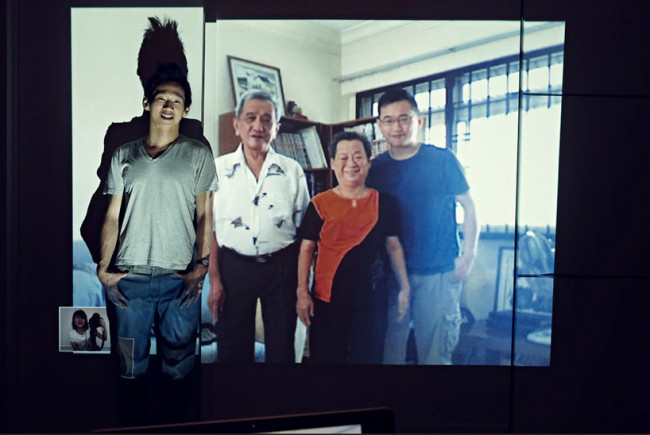 John Clang's photographic project 'Being Together' critically interrogates the family photograph in an increasingly globalized world. As a resident of New York, Clang made a recording of his family in Singapore via Skype. He then projected this recording into his living space, thus cunningly re-performing a classical family portrait. In the photograph titled 'Being Together (Family)', Clang purposefully aligns himself with his parents and his brother, all of whom smile into the camera, to create an image that bears many similarities with a standard photograph from a family album.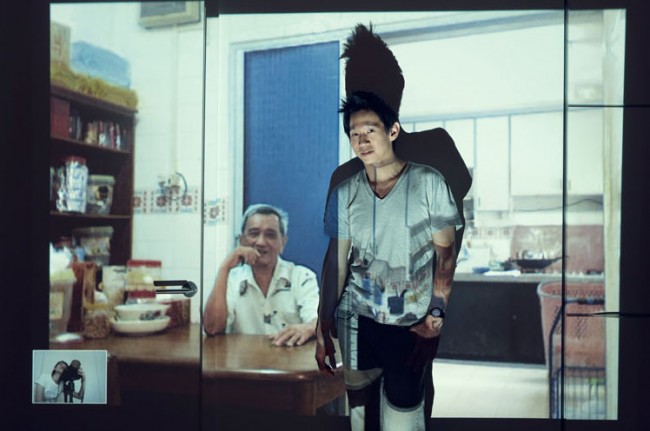 Yet beyond this initial impression, Clang's methods quickly unravel. The projector which projects the Skype image creates a strong shadow: the outline of Clang's spiky haircut thus appears disproportionally large. While the original Skype recording was produced with available daylight shining through the window of his parent's flat in Singapore, the projection in New York was made in complete darkness. This contrast between light and dark further underlines the cultural, geographic and even temporal distance between the two subjects combined in the final image.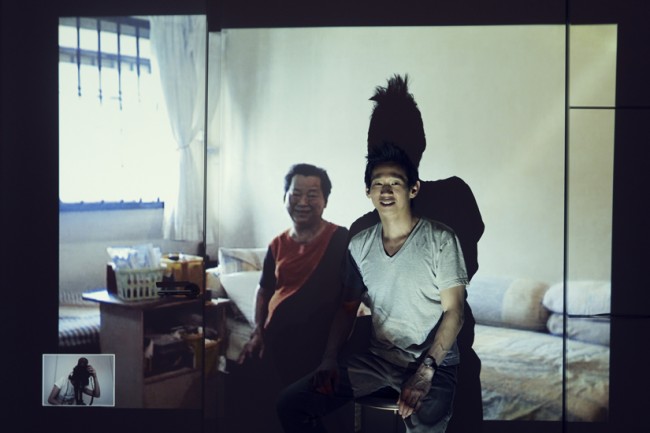 In order to produce these 'family portraits', Clang literally projected an image of his family onto himself. His body and his living space, for the duration of the projection, temporarily become a screen. He performs a version of himself: perhaps a version of how wants to see himself, or even, how his family in Singapore prefers to see him. Yet for the projection to work, Clang's space bears no individual or personal belongings. His grey T-shirt and his minimalistic living space give very little of his personality away. Instead, we meet Clang through the projection of his family, through his relationship with his parents, or through his relationship with his brother.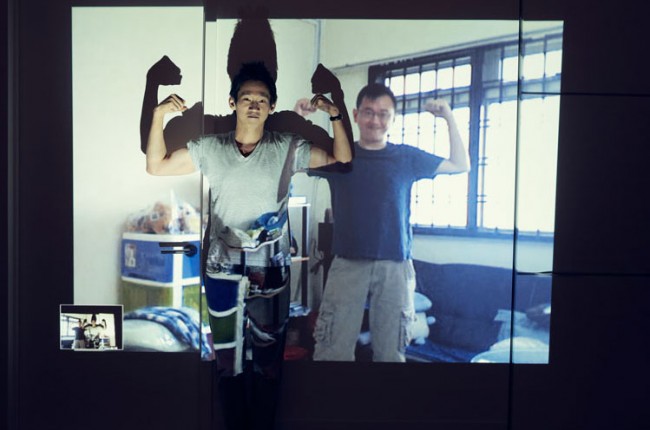 In as much the project bears visual similarities with the classic family portrait, Clang also seeks to go beyond this standard image by positioning himself along his father sitting at a desk, or on a more personal level, by sitting next to his mother on her bed. They are signs that indicate that, in contrast to their physical separation, he seeks to be closer to them. The juxtaposition next to his brother is more playful as they try to establish who has the bigger biceps (the shadow of the projection gives the artist an unfair advantage in that regard).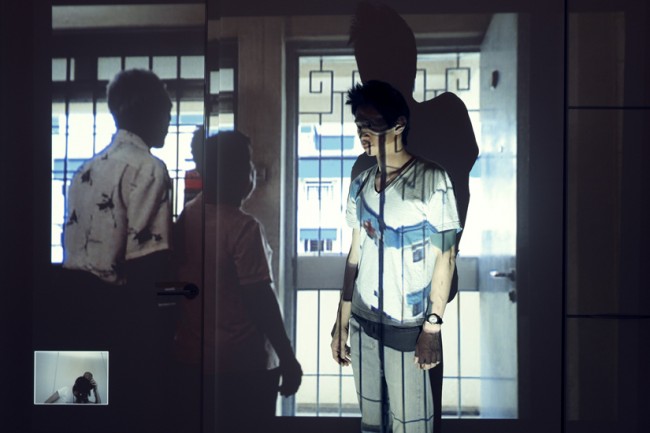 The last image of this series is also the most symbolic. In the projected image, Clang stands in the doorway, seemingly 'looking' at his parents. The parents meanwhile look at an empty doorway the moment the original footage was taken. It's a deeply ambiguous image that references loss, memory and nostalgia. In this project, combining performance, projection, video-link and Internet technology, Clang literally seeks to reach beyond the photographic image. They are portraits at the dawn of a new era in which any understanding of 'being together' is constantly shifting. In this world, spatial distance is substituted by technological proximity.
Become a supporter of the Visual Culture Blog and receive monthly updates and an exclusive interview with Joshua Lutz via email.
Like this Article? Subscribe to Our Feed!