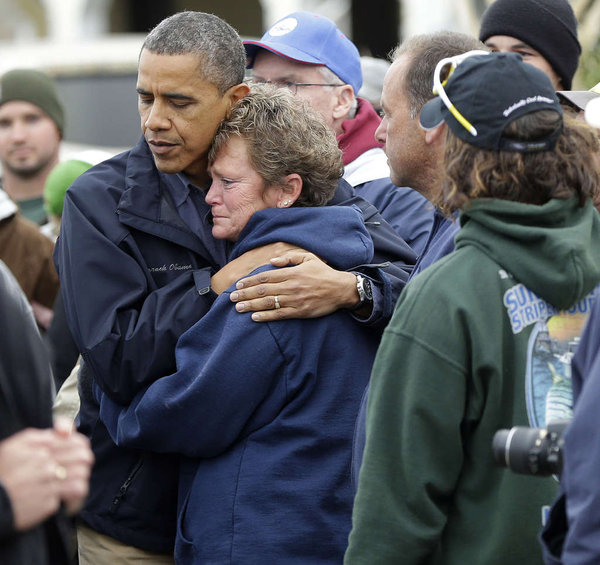 Pablo Martinez Monsivais / AP
The most evocative photograph to emerge from the aftermath of Hurricane Sandy – a photograph meanwhile reproduced all over the world – captures Barack Obama hugging Donna Vanzant, a woman from Brigantine, New Jersey, who lost her livelihood in the disaster. Several different images of that encounter are in circulation, yet the most powerful photograph shows Obama holding the woman's head close to his chest while his eyes are pointed downwards in an apparent moment of compassion and sadness. It's a powerful photograph, representing (to rely on an overused term) the most powerful man on Earth comforting a woman who has lost everything. Here, the image taps into a lineage of iconic photographs that similarly display moments of compassion: Dorothea Lange's 'Migrant Mother', W. Eugene Smith's 'Tomoko Uemura in her Bath', or, most recently, Samuel Aranda's photograph of a woman embracing her injured son in Yemen. These three images have a crucial element in common as they depict women, strong women, caring for the vulnerable, the sick or the injured. In the photograph from Brigantine, Obama momentarily becomes the matriarch, comforting his people in the face of destruction.
Apart from representing a moment of compassion, another important aspect in the image are the people in the fore and background who are looking at Obama and Donna Vanzant embracing each other. Even though other women were nearby, the cropped version of the photograph I have included at the top of the post only shows men looking at the embrace as they are partially stunned by the candidness of the President and partially numbed by their own loss. Their gaze towards Obama and the woman essentially multiplies the significance of their embrace. As they are looking at them, the viewer is compelled to look at them as well. Their gaze reinforces the overall structure of the image, with a moment of compassion at its centre. Obama's flat hand resting on the shoulder of the woman is placed so perfectly that it even evokes religious connotations of a President that gives comfort.
With the presidential election only days away, the photograph of Obama's encounter with Donna Vanzant becomes an extremely valuable signifier of comfort, assurance and security. Equally, it is the antithesis to George W. Bush's absence (and therefore also lack of photographic documentation) in the aftermath of Hurricane Katrina. The image seeks to show that this President is there on the ground when things go bad and that he will try to fix things: that includes Vanzant's marina that was swapped away by Hurricane Sandy. In short, the image is public relations gold dust, and the more it is reprinted by newspapers and magazines, the more dust will be falling Obama's way.
Video footage of Obama's visit to Brigantine clearly situates this event within the context of a photo opportunity, or a photo op in short. I have written about Obama's photo ops on several occasions, yet in this case it appears that a genuine moment of compassion punctuated the rigid structure of usually orchestrated images performed for the benefit of press photographers. Behind the facade of the photo op thus lies another story that relates less to the people of Brigantine than it relates to complex political and seemingly paradoxical dynamics at play.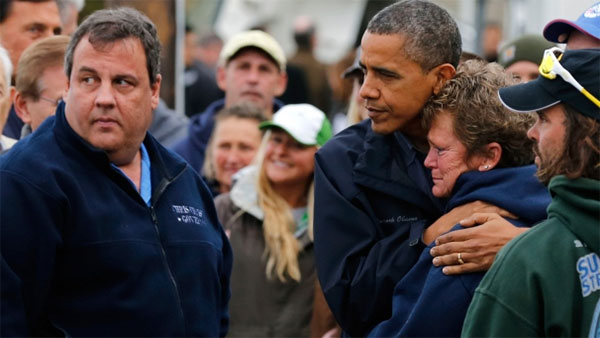 Larry Downing / Reuters
Key to this photo op was the Governor of New Jersey Chris Christie: Christie welcomed Obama when he arrived with Marine One and Christie walked alongside Obama on the devastated shores of New Jersey. As one image shows, Christie stood right beside Obama when he embraced the woman in Brigantine. As Republican and fierce Obama critic, Christie and Obama are not a natural match, yet on this occasion, when people say that politics don't matter, Christie and Obama could not have displayed a more harmonious relationship. Obama said of Christie: "I want to just let you know that your governor is working overtime to make sure that as soon as possible everybody can get back to normal." Christie meanwhile praised Obama on several occasions that his presence on the ground and the support of the federal government is much appreciated.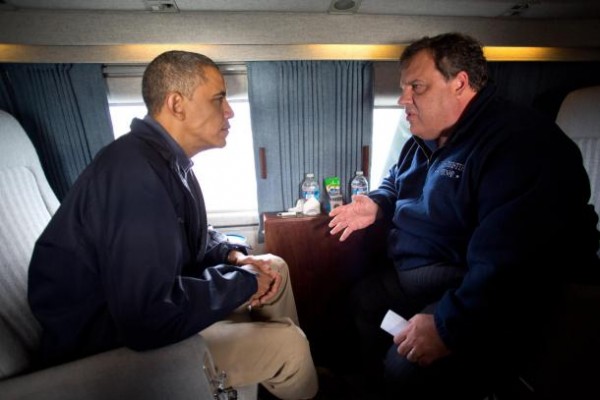 The White House
The question is, why would a Republican and a staunch Obama-critic personally hand Obama a photo op which is so evocative that it will most certainly impact the Democrats' campaign positively. In other words, why is a Republican inadvertently supporting the election campaign of a Democrat? Many believe that Christie benefits from Romney loosing this time around so that Christie himself can stand against Obama in 2016. Others say that Christie is keen to be re-elected as governor in local elections next year. This debate in itself, regardless of whether these really are Christie's intentions, perfectly illustrates that far from only representing a candid moment of compassion, the photo op represents a complex set of power dynamics that go right to the political and ideological agenda of this and potentially also the next government.
Support this blog to help us keep going, and going, and going …
Like this Article? Subscribe to Our Feed!