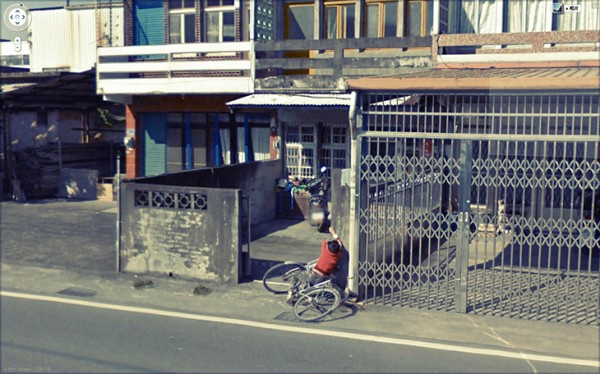 Jon Rafman, Wujie Township, Yilan 268, Taiwan
In reference to a photographic device that has nine lenses and photographs our streets for Google's ever-expanding image and mapping database, Jon Rafman's exhibition The Nine Eyes of Google Street View was recently on display at the Saatchi Gallery in London. Mounted on top of cars that systematically track every road and highway of the industrialized world, the images produced by this camera are then digitally stitched together to produce a realistic representation of our urban and indeed also natural environment. Predominantly used to locate homes or business, or to find the best route from A to B, Google Street View has quickly become not only an indispensable tool for navigation, but also a tool used for the purpose of casual surveillance and voyeurism.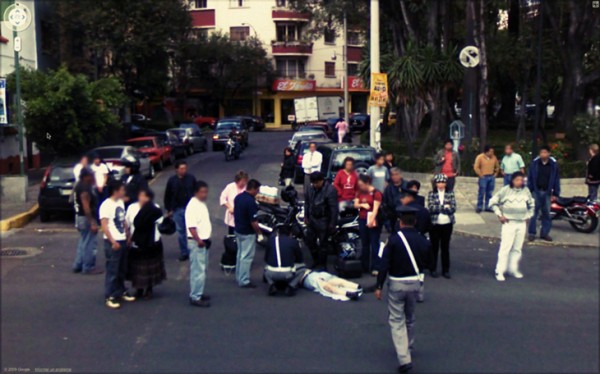 Eje 3 Sur Av. Baja California / Altata, Cuauhtémoc, D.f., México
As Google's cameras comprehensively photograph the streets, it is inevitable that they capture unusual, bizarre, funny, tragic or simply weird occurrences. In fact, it is a mathematical certainty that of the billions and trillions of images available online, every now and then, the camera 'coincidentally' or 'accidentally' captures something out of ordinary. Jon Rafman's work consists of collecting these moments: a child falling of its bicycle in Taiwan, a car crash fatality lying on the road in Mexico or a military tank on a rural road in the Netherlands.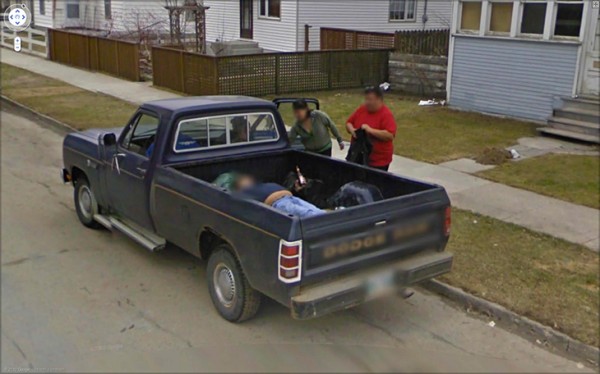 Jon Rafman, 1379 Elgin Avenue West, Winnipeg, Manitoba, Canada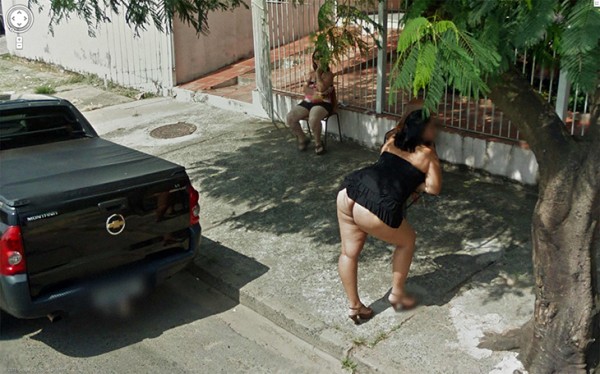 Jon Rafman, 139 Rua Indiaporã, Campinas, São Paulo, Brazil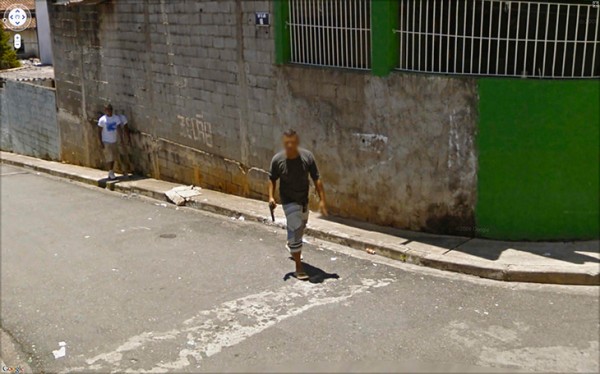 Jon Rafman, 80 Rua Giulio Eremita, São Paulo, Brasil
Although it initially appears otherwise, Google's camera is not 'innocent' in documenting the world. At times the camera makes something visible which would otherwise remain hidden. The beer-drinking drifter hiding in the back of a pick up truck in Winnipeg, for instance, becomes visible because Google's camera is mounted on top of a car thus raising the vantage point for the viewer. In other instances, the very presence of the strange looking Google car actually creates the image: a prostitute provocatively exposes her bottom to the camera in Sao Paolo, a man, also in Sao Paolo, seemingly approaches the camera with a gun, a South African policeman signaling for the car to stop because of a bush fire down the road. Here, Google's camera does not just realistically represent the world as it is, but rather, the camera provokes a human reaction that becomes an integral part of the image.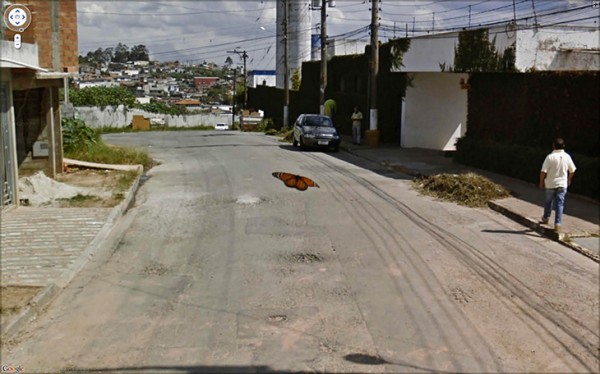 Jon Rafman, 253 Rua Lisboa, Itapecerica da Serra – São Paulo, Brasil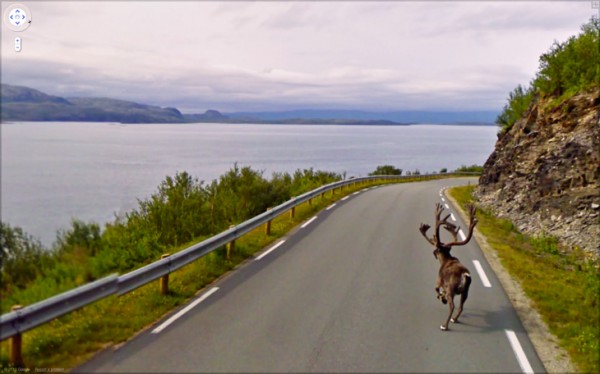 Jon Rafman, Rv888, Finnmark, Norway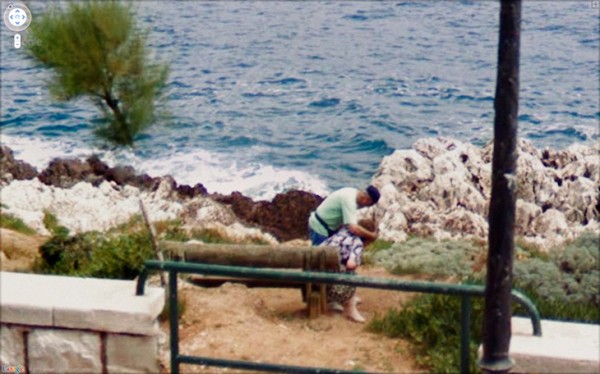 Jon Rafman, 69 Avenue Winston Churchill, Roquebrune- Cap-Martin, France
In this messy and chaotic world, Rafman also finds beauty: the butterfly that flies in the perfect centre of the image, an elk running in front of (or being chased by) Google's car in Norway, or the extremely touching image of an elderly man holding the head of his ill wife on the South Coast of France. Part of the attraction of this body of work is that it represents a global, democratic and unprejudiced depiction of the everyday. Rafman's creation does not lie in taking the image: similar to other artists who appropriate Google Street View images, such as Mishka Henner in the UK, Michael Wolf in Germany or Doug Rickard in the US, Rafman's creation lies in editing and selecting images that create a dramatic narrative throughout the exhibition.

Henri Cartier-Bresson, Liverpool, 1962
The emergence of that type of photography, appropriated from an ever-growing archive of images supplied by internet conglomerates such as Google, marks a remarkable paradigm shift in the history of the photography. In his 1952 book The Decisive Moment, Henri Cartier-Bresson passionately argued that the main skill of the photographer is to recognize and capture 'moments'. Cartier-Bresson wrote: 'To me, photography is the simultaneous recognition, in a fraction of a second, of the significance of an event as well as of a precise organization of forms which give that event its proper expression.' American street photographers of the 1960s and 70s similarly thrived on capturing human gestures and interactions essentially punctuated by moments so eloquently described by Cartier-Bresson. In many ways, as the common saying 'Kodak Moment' indicates, the photographic image is actually synonymous with an understanding that the photographer recognizes and captures moments that are socially, politically or culturally of some sort of value. In this way of thinking, the presence of the photographer is essential.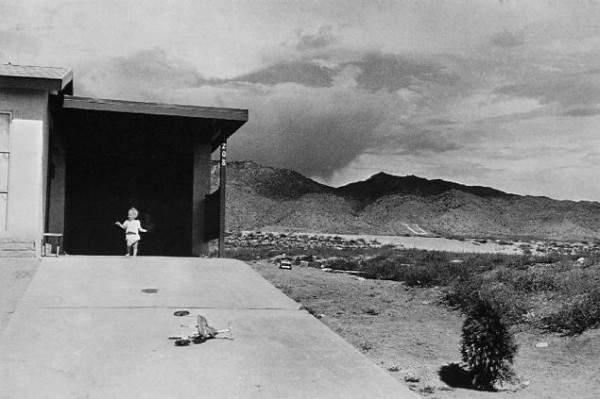 Garry Winogrand, New Mexico, 1957
With the emergence of digital photography, the internet and vast photographic archives such as Google Street View, the notion of a photographer capturing a moment is quickly fading away. In other words, instead of a photographer capturing something unfolding in front of the camera, images can be found and selected retrospectively, long after the moment occurred, by trawling Google's vast image archive. The 'decisive moment' is not captured by the photographer, but rather, it is captured by a machine, while it requires a human intervention to recognize such a moment within the image database. It would be wrong to assume that this marks the death of the street photography genre. Instead, it is perhaps more fruitful to recognize that this is the natural progression of street photography. Rafman's project heralds a future so saturated with images that these moments could easily be lost.
This article was originally published at photomonitor.co.uk.
Like this Article? Subscribe to Our Feed!