Archive for the 'Google Street View' tag
Follow this blog on bloglovin'.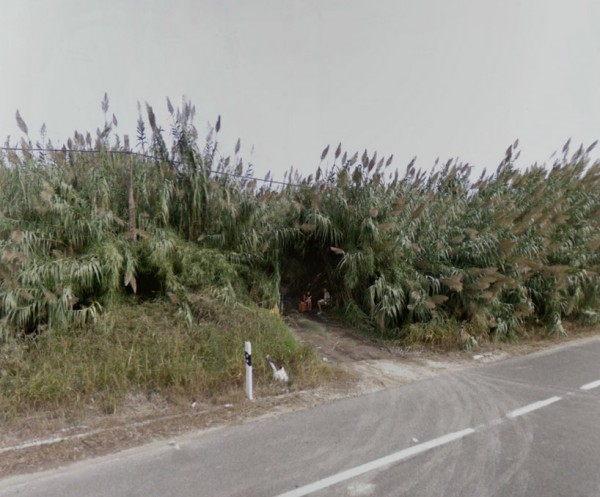 Mishka Henner, 'Carretera de gandia, Oliva, Valencia, Spain', 2011
Mishka Henner belongs to a small but growing group of artists who, instead of purely using the internet as a promotional tool for their work, appropriate photographic images circulating on the world wide web to create innovative artworks that question a clear definition of authorship, ownership and originality. Born in Belgium and based in Manchester, Henner's break-through project is No Man's Land: an eerie collection of images appropriated from Google Street View which depict prostitutes apparently waiting for clientele on the outskirts of Spanish and Italian cities. In contrast to the luscious surroundings of the Mediterranean, the scantily clad women standing at the edge of the road allude to the harsh and repressive conditions of the sex trade. The prostitutes' marginal socio-economic status is cleverly signified by their position in the landscape: on the edge of the road, on the edge of the city and on the edge of society. Perhaps because of the voyeuristic nature of the project, No Man's Land took the internet by storm since it first came out as a self-published book in early 2011. This is one of the characteristics of a new breed of online savvy artists: for them the internet functions both as a source and as outlet for their art.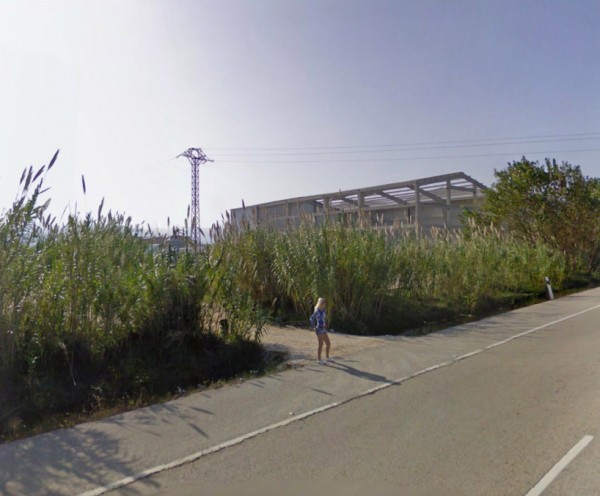 Mishka Henner, 'N-332, Olivia, Valencia, Spain', 2011
Similar to works by the German artist Joachim Schmid or, more recently, the Canadian artist Jon Rafman, Henner's project raises an important question about authorship and ownership. Like Schmid and Rafman, Henner appropriates images which are produced by Google's omnipresent cameras and then made available to the public via the various Google platforms. In other words, the initial production and eventual availability of the image – supposedly for the benefit of Google's economic growth – is a precondition for Henner's appropriation. The image would not exist if it wasn't for Google's investment; photographing, cataloguing and mapping virtually every street, road and highway in the industrialized world. Henner's authority on the subject does not stem from producing the image, but rather, it stems from recognizing a pattern, collecting, assembling and publishing images that, in sum, produce a meaning that would have otherwise been lost in cyberspace. Here, Henner has more in common with a curator whose skill lies in identifying, locating, exhibiting and theoretically contextualizing images.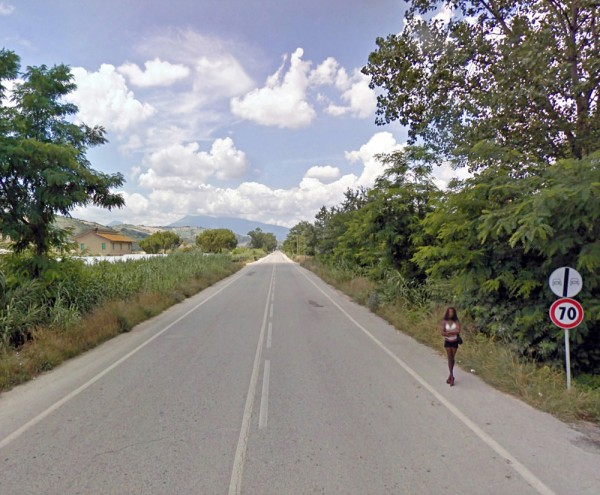 Mishka Henner, 'Strada Provinciale 1 Bonifica del Tronto, Controguerra Teramo, Italia', 2011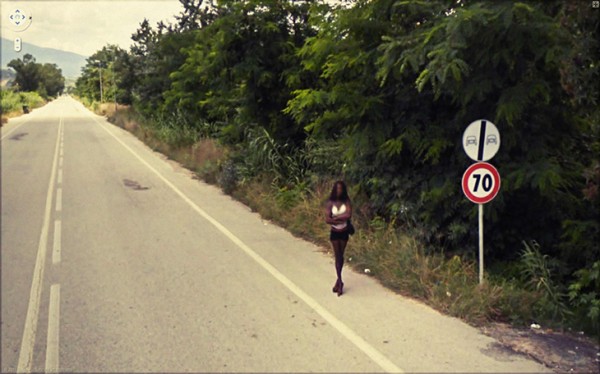 Jon Rafman, 'Strada Provinciale 1 Bonifica del Tronto, Controguerra Teramo, Italia', 2011
Since the images from Google Street View are freely available online to everyone with an internet connection, artists working with such images consistently encounter issues regarding originality. For instance, a photograph of a black woman standing on the side of the road in the Italian countryside appears both in Henner's No Man's Land and also Jon Rafman's Nine Eyes – the title of which refers to the nine cameras mounted on top of Google's cars that traverse up and down the country (I have written about this work extensively in my last post). In spite of slightly different cropping and image coloration, it is unclear whether Rafman borrowed from Henner or vice versa. This case is perhaps less indicative of the universal availability of appropriated images than it is indicative of how these images are sourced. Rather than aimlessly traversing virtual roads and streets online, Henner's methodology partially relies on other internet users making a discovery of the odd, the curious, or, in this case, the deeply voyeuristic image from Google's image archive. In that sense, Henner sources the dynamics of the masses both in the sense that he is searching for individual images amongst an immeasurable mass of images, and also, that this search is facilitated by an anonymous mass of people unwittingly aiding Henner in his project.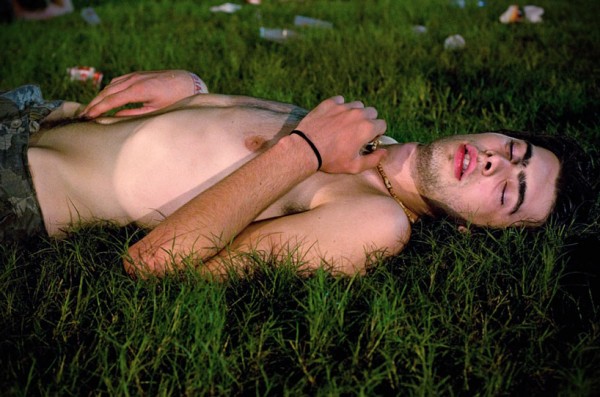 Mishka Henner, from the series In a Foreign Field, 2009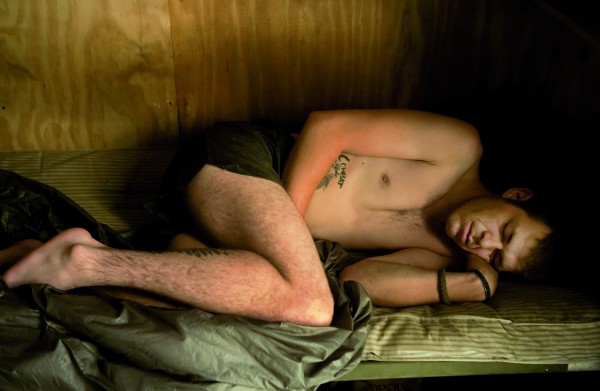 Tim Hetherington, from the series Sleeping Soldiers, 2010
Apart from collecting and appropriating photographs, it is important to note that Henner is a photographer himself. In his series In a Foreign Field, Henner photographed young music fans descending on the Spanish town Benicàssim which hosts the largest music festival outside the UK to target British visitors. Henner writes: 'For four days in July, barren Spanish fields are turned into playgrounds of escape littered with casualties of excess.' The photographs depict revellers passed out on the grassy fields, their physical disposition perhaps fuelled by the consumption of alcohol and drugs. These tranquil and unusually seductive nocturnal portraits are strongly reminiscent of Sleeping Soldiers – a series of portraits of Iraq-based American soldiers by the late war photographer Tim Hetherington. Other projects too, such as a portrait of post-industrial Oldham titled Borderland, pay acute attention to the social, political and ideological agency of photography and its histories.
Forty-Two Portraits by Nobuyoshi Araki from Mishka Henner on Vimeo.
As a result of Henner's knowledge of photographic practices, his work is spiked with references to photography not only as a device to document social conditions, but also, as a cultural practice in constructing social conditions. In Collected Portraits, Henner produced short videos which shows portraits produced by well-known photographers of the 20th century – each video represents the work of one photographer. In these videos, Henner cleverly superimposed portraits so that the eyes, nose and mouth of the subjects match each other resulting in fascinating montages such as 'Forty-two portraits by Nobuyoshi Araki', 'Thirty-two portraits by Sally Mann' and 'Forty portraits by August Sander'. Apart from the different age, gender and race of Araki's, Mann's or Sander's subjects, the project alludes to photography's power in creating cultural stereotypes that inevitably inform historical processes: the submissive Japanese woman in Araki's work, the innocent child in Mann's photographs, or Sander's typological investigation of a cross-section of German society during the Weimar Republic. Henner's work shows that there is little doubt over photography's impact on our perception of others, and, inevitably, our perception of ourselves.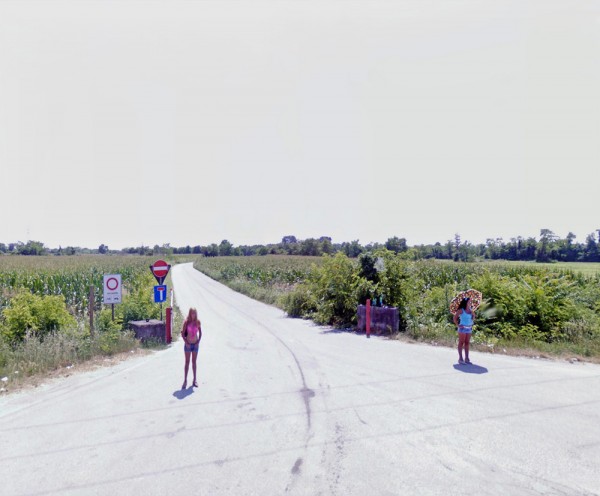 Mishka Henner, 'Via Francesca Ciserano Bergamo, Italia', 2011
Henner's refreshing approach to photography alludes to a variety of related yet also disparate disciplines and methodologies: historical, technological, ethnographical, sociological and vernacular. Here, Henner consciously appears to push against the boundaries of documentary photography asking the viewer to (re-) consider his trust in the camera and modern technology. Looking at No Man's Land, Henner's collection of images thus confronts the viewer with a surprising question. What is more shocking? The crudity of the sex trade on the allegorical margins of our societies, or, the unstoppable invasion of the camera in every aspect of our lives spurred by financial interests. This question is further provoked by the vantage point of the Google camera, looking down on the subjects as they either avoid, not notice, ignore, or act for the camera. These differing reactions, as subtle as they may be, are a powerful reminder that our problematic relationship with photography is, informed by our historical understanding of the photographic apparatus, constantly in flux.
This article was originally published at photomonitor.co.uk.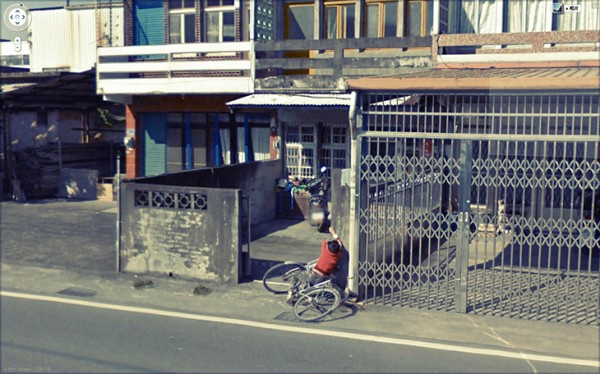 Jon Rafman, Wujie Township, Yilan 268, Taiwan
In reference to a photographic device that has nine lenses and photographs our streets for Google's ever-expanding image and mapping database, Jon Rafman's exhibition The Nine Eyes of Google Street View was recently on display at the Saatchi Gallery in London. Mounted on top of cars that systematically track every road and highway of the industrialized world, the images produced by this camera are then digitally stitched together to produce a realistic representation of our urban and indeed also natural environment. Predominantly used to locate homes or business, or to find the best route from A to B, Google Street View has quickly become not only an indispensable tool for navigation, but also a tool used for the purpose of casual surveillance and voyeurism.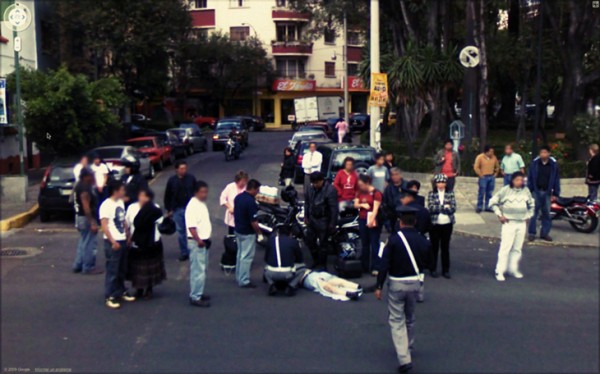 Eje 3 Sur Av. Baja California / Altata, Cuauhtémoc, D.f., México
As Google's cameras comprehensively photograph the streets, it is inevitable that they capture unusual, bizarre, funny, tragic or simply weird occurrences. In fact, it is a mathematical certainty that of the billions and trillions of images available online, every now and then, the camera 'coincidentally' or 'accidentally' captures something out of ordinary. Jon Rafman's work consists of collecting these moments: a child falling of its bicycle in Taiwan, a car crash fatality lying on the road in Mexico or a military tank on a rural road in the Netherlands.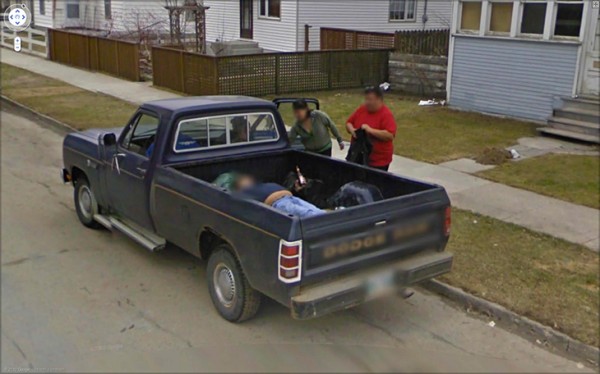 Jon Rafman, 1379 Elgin Avenue West, Winnipeg, Manitoba, Canada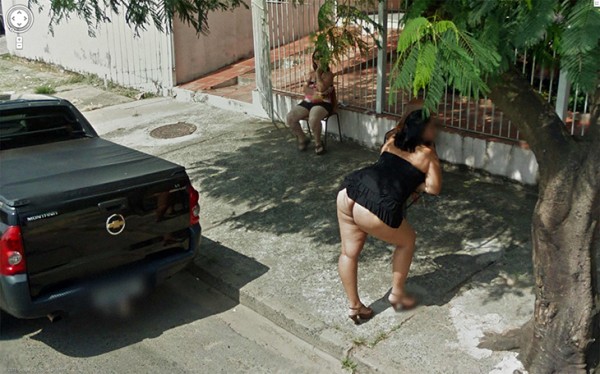 Jon Rafman, 139 Rua Indiaporã, Campinas, São Paulo, Brazil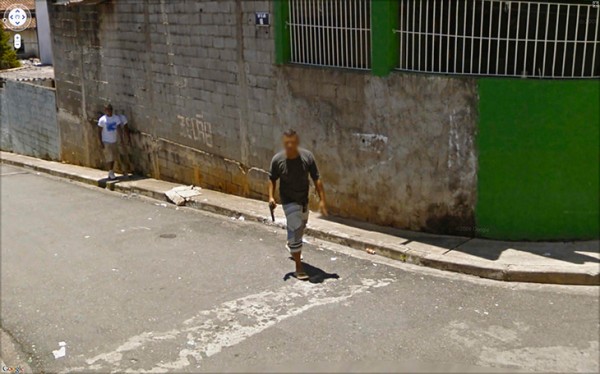 Jon Rafman, 80 Rua Giulio Eremita, São Paulo, Brasil
Although it initially appears otherwise, Google's camera is not 'innocent' in documenting the world. At times the camera makes something visible which would otherwise remain hidden. The beer-drinking drifter hiding in the back of a pick up truck in Winnipeg, for instance, becomes visible because Google's camera is mounted on top of a car thus raising the vantage point for the viewer. In other instances, the very presence of the strange looking Google car actually creates the image: a prostitute provocatively exposes her bottom to the camera in Sao Paolo, a man, also in Sao Paolo, seemingly approaches the camera with a gun, a South African policeman signaling for the car to stop because of a bush fire down the road. Here, Google's camera does not just realistically represent the world as it is, but rather, the camera provokes a human reaction that becomes an integral part of the image.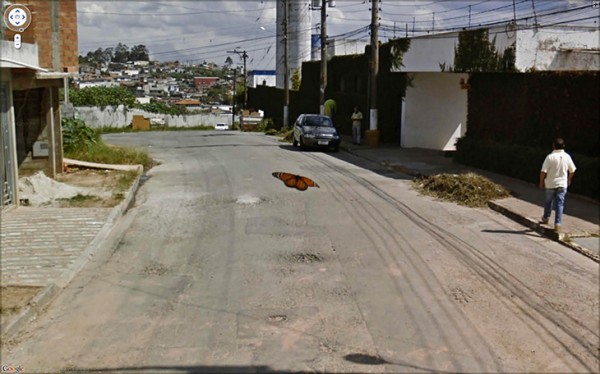 Jon Rafman, 253 Rua Lisboa, Itapecerica da Serra – São Paulo, Brasil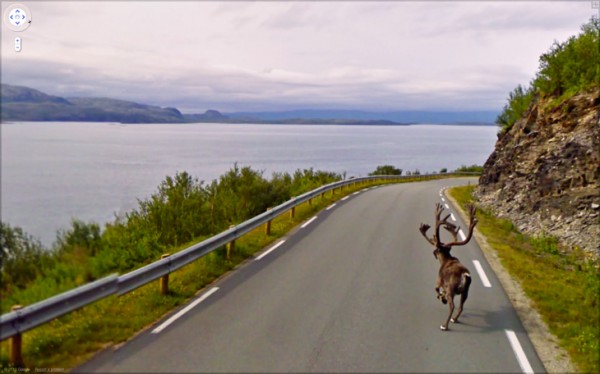 Jon Rafman, Rv888, Finnmark, Norway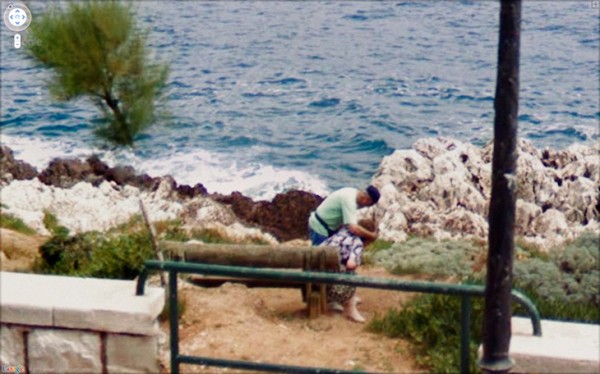 Jon Rafman, 69 Avenue Winston Churchill, Roquebrune- Cap-Martin, France
In this messy and chaotic world, Rafman also finds beauty: the butterfly that flies in the perfect centre of the image, an elk running in front of (or being chased by) Google's car in Norway, or the extremely touching image of an elderly man holding the head of his ill wife on the South Coast of France. Part of the attraction of this body of work is that it represents a global, democratic and unprejudiced depiction of the everyday. Rafman's creation does not lie in taking the image: similar to other artists who appropriate Google Street View images, such as Mishka Henner in the UK, Michael Wolf in Germany or Doug Rickard in the US, Rafman's creation lies in editing and selecting images that create a dramatic narrative throughout the exhibition.

Henri Cartier-Bresson, Liverpool, 1962
The emergence of that type of photography, appropriated from an ever-growing archive of images supplied by internet conglomerates such as Google, marks a remarkable paradigm shift in the history of the photography. In his 1952 book The Decisive Moment, Henri Cartier-Bresson passionately argued that the main skill of the photographer is to recognize and capture 'moments'. Cartier-Bresson wrote: 'To me, photography is the simultaneous recognition, in a fraction of a second, of the significance of an event as well as of a precise organization of forms which give that event its proper expression.' American street photographers of the 1960s and 70s similarly thrived on capturing human gestures and interactions essentially punctuated by moments so eloquently described by Cartier-Bresson. In many ways, as the common saying 'Kodak Moment' indicates, the photographic image is actually synonymous with an understanding that the photographer recognizes and captures moments that are socially, politically or culturally of some sort of value. In this way of thinking, the presence of the photographer is essential.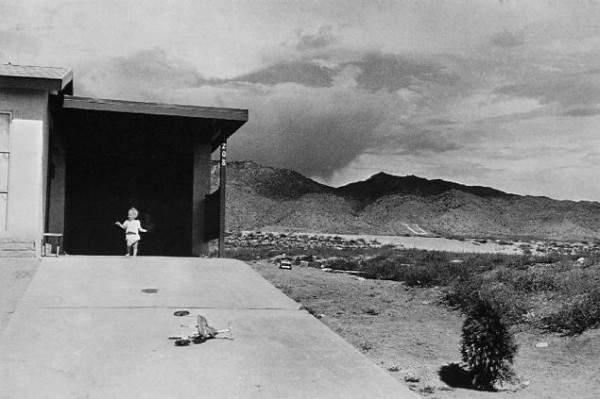 Garry Winogrand, New Mexico, 1957
With the emergence of digital photography, the internet and vast photographic archives such as Google Street View, the notion of a photographer capturing a moment is quickly fading away. In other words, instead of a photographer capturing something unfolding in front of the camera, images can be found and selected retrospectively, long after the moment occurred, by trawling Google's vast image archive. The 'decisive moment' is not captured by the photographer, but rather, it is captured by a machine, while it requires a human intervention to recognize such a moment within the image database. It would be wrong to assume that this marks the death of the street photography genre. Instead, it is perhaps more fruitful to recognize that this is the natural progression of street photography. Rafman's project heralds a future so saturated with images that these moments could easily be lost.
This article was originally published at photomonitor.co.uk.

The city folding in Christopher Nolan's Inception
Throughout Christopher Nolan's Inception, the urban landscape of Paris is used to explore the film's central theme of the imagination and the unconscious. Like in a dream, the fabric of the city is continuously twisted, distorted, fragmented and transformed. One of the most dramatic transformations of the cityscape occurs in a scene near the beginning of the film. Standing on the corner of Rue Bouchut and Rue Pérignon looking south towards Place Georges Mulot in the 15th arrondissement, the main protagonist Dom (Leonardo DiCaprio) tries to convince the young architect Ariadne (Ellen Page) about the power of the imagination. Apparently controlled by both Dom's and Ariadne's subconsciousness, the city slowly starts to bend in front of their eyes.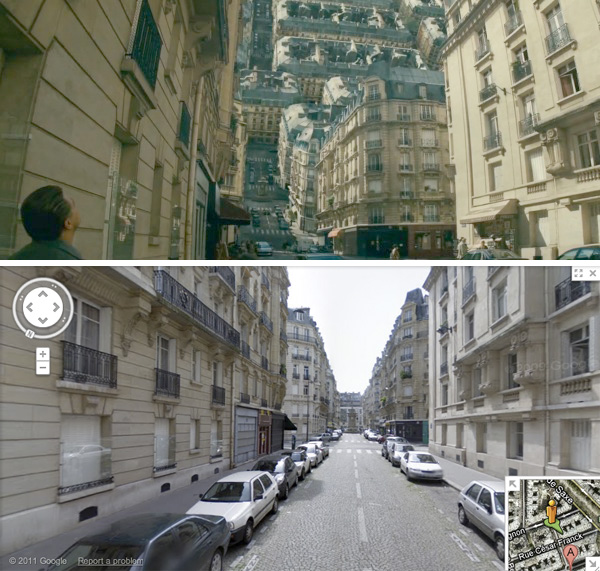 Scene from Inception revisited in Google Street View
The creaking caused by streets and buildings bending 180 degrees evokes the eerie sound of a large steel structure slowly collapsing. The transformation concludes as one part of the city is folded on top of the other. The duality caused by the city on the bottom and on top further emphasizes the duality between the conscious and the unconscious explored as leitmotif in the film. The view of the city as it bends over in the imagination also provokes comparisons with a virtual view enabled by new technologies such as Google Earth. The scene thus functions as a social commentary on the advancements of technology as a tool to explore one's imagination. Just as much Google Street View can be used for a virtual voyage, the protagonists traverse their imagination in a surreal, dreamlike and ever transforming representation of the city.
This scene review was originally published in World Film Locations: Paris edited by Marcelline Block. Other recommendations can be found in our online bookshop.