We are now on bloglovin'. Please follow us!!!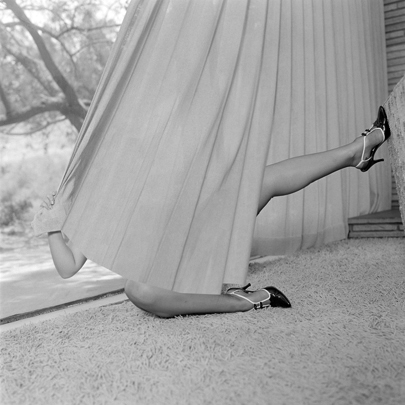 Eva Stenram, Drape IV, 2012
Eva Stenram is a London based visual artist. Incorporating digitally manipulated photographs, found photographs and images from the internet, Eva's work comments on our complex relationship with the photographic image, our relationship with surveillance culture and our relationship with privacy. Eva was recently nominated for the Les Rencontres d'Arles Discovery Award while her newest series 'Drape' is on display at Parc des Ateliers in Arles until 23 September 2012. Her website can be found here: evastenram.co.uk.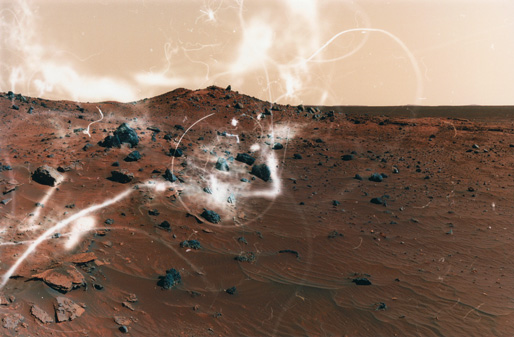 Eva Stenram, Per Pulverem Ad Astra 8.1, 2007
Marco Bohr: A lot of your work incorporates 'found' photographs, appropriated photographs, images from the internet, photographs from family albums and so forth. I am curious to hear whether you regard yourself as a photographer considering that the images you work with are often taken by a machine or by someone else? Are you concerned with appropriating images for your own practice? Who 'owns' these images?
Eva Stenram: I call myself an artist who works with photographs although I realise that might sound a bit ridiculous. I don't know very much about how cameras work and I have no idea about lighting and using flash, so I find it dishonest to claim that I am a photographer even though most of my output is images that look like photographs. Sometimes I do take photographs to make work but it can be a bit hit and miss. I couldn't be commissioned to shoot anything that needs a predictable outcome.
I am very interested in the different functions that photography has in the wider world and am fascinated by the many photographs that surround us. Often I end up directly using these images, but manipulating them in some way. The first time I did this was a reworking of photographs from my parents' family album (fusing these with contemporary pictures of myself); and I found I liked the way that some control was taken away from me. I couldn't decide how my mother was photographed – what she was wearing, how she sat, the look on her face – forty years ago. The image has qualities and quirks that define it, and I had to work with these. In my projects I don't merely want to create photographs, I want to interact with photographic history and culture. An obvious way to do this is to interact with the raw materials.
For me, of course these become my pictures. They become totally different from what they were originally. Whether this would also apply in front of a court, I do not know but I cannot let that worry me. This is the work that needs to be made, so I make it.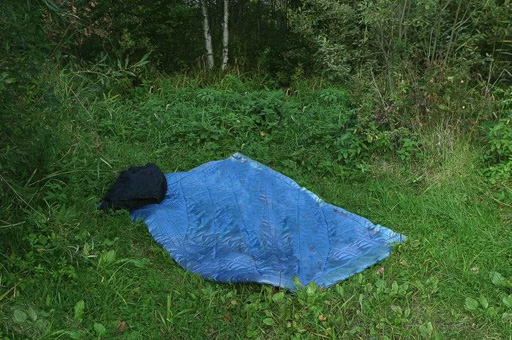 Eva Stenram, pornography/forest_pic_8, 2004-2012
MB: In your project 'pornography/forest_pics' you appropriated images from internet porn sites while focussing on pornographic scenes filmed in a forest or a seemingly natural environment. You then edit out the subjects and the sexual encounter between the subjects on Photoshop. What's left in the images are blankets, mattresses, pieces of clothing and the natural landscape in the background of the image. My first impression when I saw this series is that these places look like crime scenes. Is it perhaps because the images represent an inversion of an intrinsically private activity in a public place? What do you want the viewer to see?
ES: All of the images are set within or around forests – I was interested in the forest because it is simultaneously a very private space as well as a public space. It is a place of beauty and contemplation as well as a potentially dangerous place. Traditionally, the forest has been a metaphor for sexual desires.
When I started working on the series I started to notice that when I removed the 'action' in the photographs, the photographs started to look like they were depicting spaces where something had previously happened. I think this is both because of the way they are shot – the angle of looking at the scene – and the objects that are left behind. They reminded me of police forensic/crime photography too; it was as if these were sites of horrific but unnamed events. But lots of the photographs are very boring too – perhaps they just depict a bit of grass.
In all of the photos I was interested in making the manipulations quickly, so that the new images have some imperfections. There are things repeating within the images and visible cuts in the images. These are not immediately noticeable but I think they unconsciously draw the viewer in – there is something not quite right, a turbulence within the image.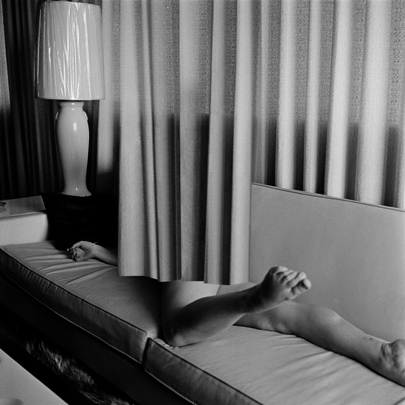 Eva Stenram, Drape I, 2012
MB: In your newest series 'Drape' you digitally manipulate vintage pin-up photos so that the bodies of the pin-up girls are retrospectively covered by curtains you digitally extended from the original photographs. It's a very complex working method while the resulting images are extremely evocative, ambiguous and sexually loaded. As the original photos depict bare feet, legs, shoes and stockings, the work appears to comment on the fetish and our fetishistic relationship with the photographic image. I am interested in your methodology for producing this work. When did you first come across the source material? How did you edit it? What elements where you looking for in the source material? When did the idea for the final art piece emerge? What are you attempting to communicate with this work?
ES: I had been thinking about the curtain or drape as a device for covering up parts of the images for a while and had made some experiments using non-erotic imagery. I then by chance came across a vintage pin-up photograph in which the naked model was posed on a sofa in front of some curtains. This was the first image in the series.
I wanted to use pin-up images because they usually offer the viewer a peek into intimate and private space. The curtain is usually a barrier between private and public space. It's the curtain that I extended in each case, so that they almost completely covered the model, re-enforcing its role as a marker between the public and private. I searched specifically for pin-up images that were set in (semi) domestic sets. I found several medium format negatives from the 50s or 60s but I didn't want to know anything further about the history of the original photographs.
The images that I used are all quite different and have their own characteristics; they all work in different ways. I was interested in blocking out the main areas of interest in the image – making the focal point of the image disappear and instead make the background engulf the foreground. The model slips away, but of course some part of her is left in the picture (usually the lower legs and feet) and the eroticism of these fragments of the body may become heightened. I wasn't specifically looking to make a comment about the fetish in relation to photography, but it is something I am interested in. Metz's 'Photography and Fetish' was one of the first texts I read about photography as a student.
With this series, I was looking to produce quite strange images – images that were clearly manipulated without it being clear to what extent – images that were slightly blurred where they should be in focus – images in which the gaze of the viewer is deflected and redirected, putting an overlooked part of the image in the spotlight. The model still teases the viewer to look at the picture and pay attention.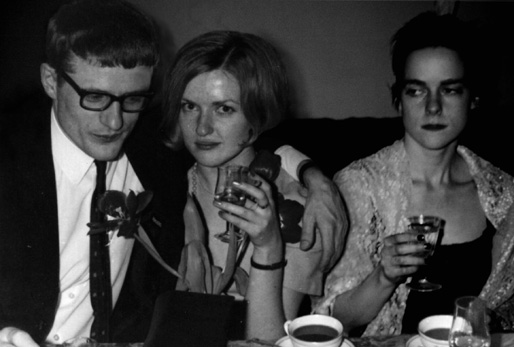 Eva Stenram, with ? and mother, from the series Retouching History, 1999
MB: Looking at your CV, you seem to be very productive. Since graduating from the Slade and the RCA, you consistently produced and exhibited your work. What motivates you to be so consistent? What advice would you give to aspiring artists in that regard?
ES: When I was on my art foundation course I remember one of the tutors saying 'in ten years time only 5% of you will still be making art'. I knew that I would be part of that 5% and it seemed both incredibly depressing and a bit of a relief that 95% would stop. I actually work very slowly, even lazily. But I keep at it. My advice is to just keep at it, even when the work seems to be going nowhere. Everyone has creative highs and lows but you never get back to another high if you just stop working.
MB: I cannot help but ask what your plans are for the future? More specifically, I am curious to hear the direction your work is heading towards?
ES: I never know where my work is heading, but I need to finish a video work called 'Break-In' which fragments footage of two films into each other ('The Birds' and 'Night of the Living Dead'). Footage from one film invades the rectangular space of the other film (and vice versa), mirroring the attack on the domestic house in both films. This piece uses frame-by-frame manipulation to make a short sequence; perhaps this will open up new directions for my work to take.
MB: Thank you very much for this interview.
This interview was originally published at photomonitor.co.uk.
Like this Article? Subscribe to Our Feed!