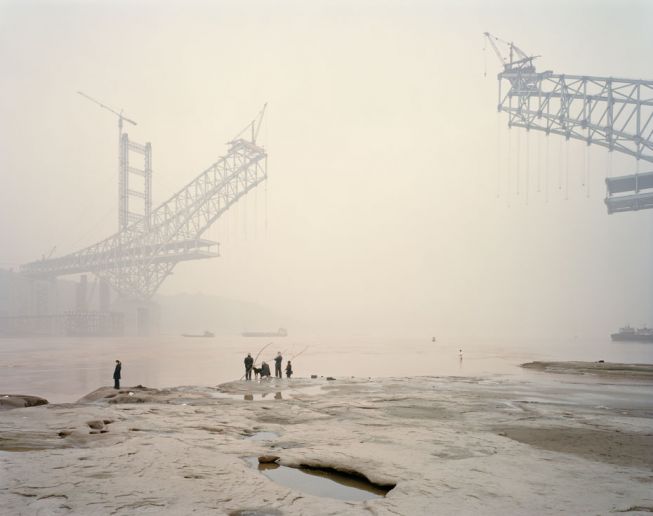 Nadav Kander, Yangtze, 2010
In Nadav Kander's photographic series 'Yangtze, The Long River', depicting China's largest and culturally most important river, bridges are a re-occurring theme. In above photograph the huge but yet unfinished structure of a bridge represents China's economic emergence. The two sides of the bridge also signifies two ideologies, communist and capitalist, the meeting point of which is yet to be discovered. And while the state is seeking for an agreeable convergence for such paradoxical ideologies, it is the people, throughout Kander's work, that appear overwhelmed by the (state) structures they are surrounded by. Here, Kander also appears to focus on an encounter between 'new' and 'old' China: the wires hanging off the giant bridge are mirrored by the fishing lines held by the people below.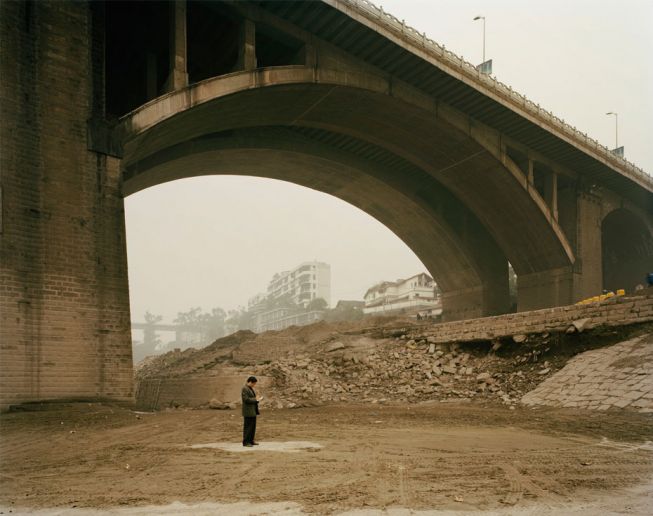 Nadav Kander, Yangtze, 2010
The structure of the bridge also evokes the proscenium arch located above a theatre stage. Following this visual allegory, the people standing below become performers to Kander's camera further underlining the dominant trope of grandeur explored in the photographs. The Long River, as the Yangtze is called, requires structures that can cope with the unpredictability of nature. The bridge thus appears to represent the desire of the state to control nature, but also, to control its people. The most extreme form of such control can be seen in the construction of the Three Gorges Dam, the largest electricity producing dam in the world. The Canadian photographer Edward Burtynsky already photographed the surroundings of the Yangtze in his photographic series 'Three Gorges Dam Project' in 2002. While Burtynksy concentrated on the destruction of communities and the subsequent displacement of people caused by the building of the dam, Kander, on the other hand, chooses to depict a landscape that is yet to be completed.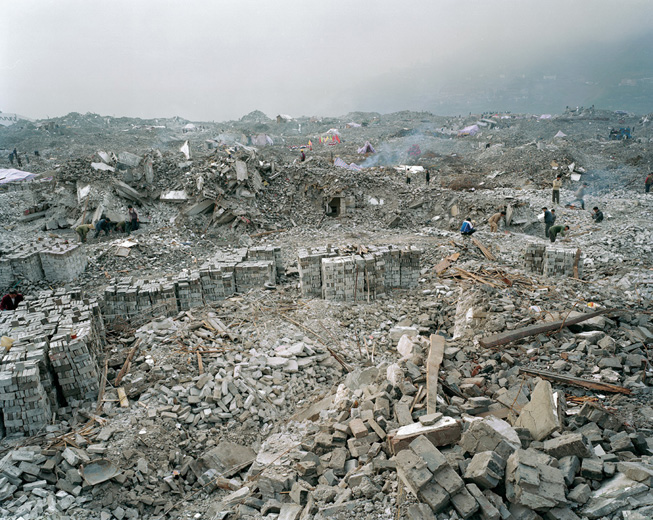 Edward Burtynsky, Three Gorges Dam Project, 2002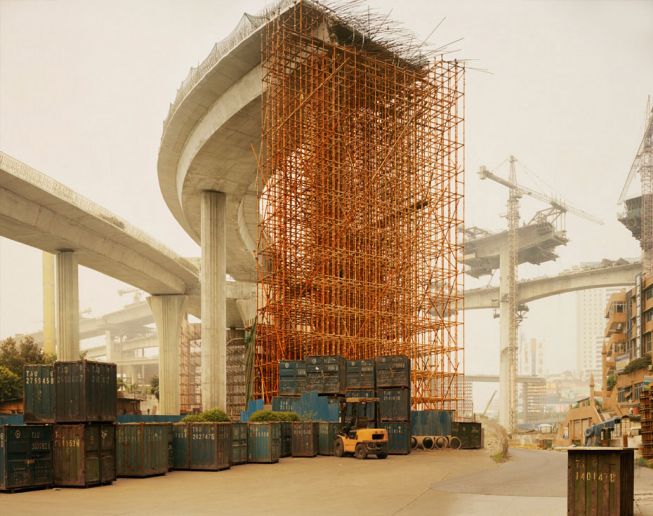 Nadav Kander, Yangtze, 2010
Despite Kander's fascination with the built environment which, in turn, vigorously expresses China's economic might and aspirations, the photographs represent a fragile world. In above photograph, a bridge segment appears to balance precariously on a single pillar at a few hundred meters altitude. The scaffolding similarly suggests that these structures, as enormous they might be, are built on fragile ground. The folkloristic powers ascribed to the Long River threaten the very structures built by the state. It is perhaps a pessimistic interpretation of Kander's Yangtze, that the bridging of ideologies will require more than concrete and steel.
Nadav Kander: Yangtze, The Long River is available as a book. Other recommendations can be found in our online bookshop.
Like this Article? Subscribe to Our Feed!