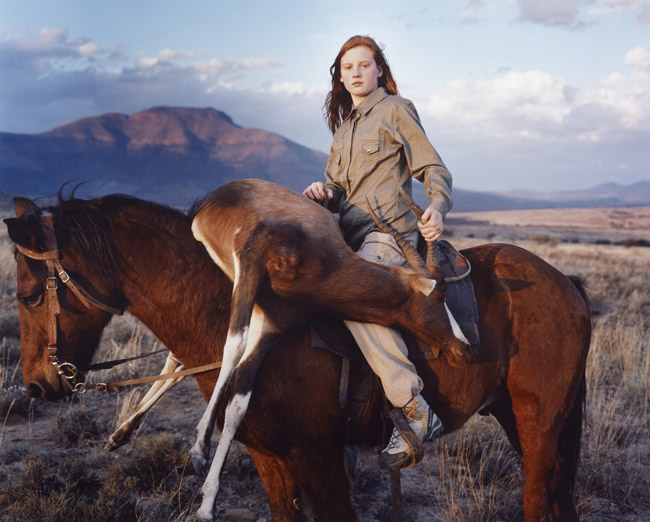 David Chancellor, Huntress with Buck from the Hunters series.
This year's Taylor Wessing Photographic Portrait Prize at the National Portrait Gallery has been awarded to the British fine art photographer David Chancellor and his photograph Huntress with Buck. In the photograph we can see a young woman sitting on a horse looking down into the camera. The photograph appears to be slightly manipulated, as the area near the head of the main subject seems to be brightened to increase her aura. The low vantage point of the camera and the elevated position of the huntress have the effect that she looks grand and statuesque. In his photograph, Chancellor evokes the iconography and visual culture of equestrian statues depicting knights, gods and military leaders. The central relationship is not between the huntress and her horse, but between the huntress and the buck lying dead across the horse's back. The symbolism here is pretty clear: the horse is alive, the buck is dead, their bodies crossing each other where the huntress is sitting. The huntress is portrayed as killer as much as a nurturer.
In a sense, the huntress is at a crossroad herself: she is neither girl nor woman. Without the caption provided, the androgynous looks of the subject also fail to indicate a clear gender identity. It is perhaps an ungendered performance that is possible in the 'wild' settings the photograph was taken in. This notion of inbetweeness in the representation of gender is further emphasized by the lighting: photographed when the sun was kissing the horizon, it is neither day, nor is it night. The low sunlight has the effect that all elements in the photograph come visually together as, for a brief moment, everything is steeped in a deep red colour.
To subscribe to this blog, please enter your email address here and check your inbox for the verification email.
Like this Article? Subscribe to Our Feed!