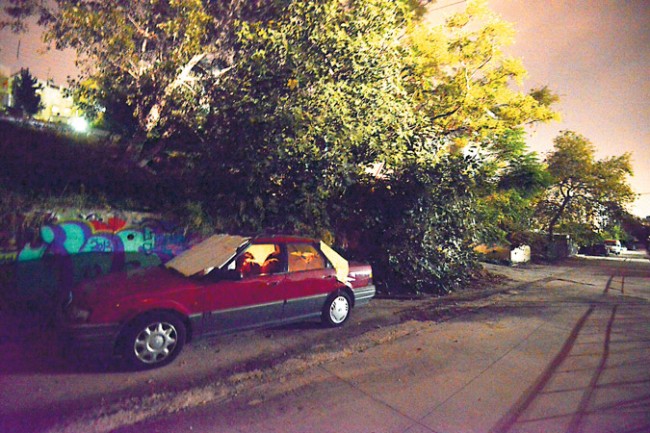 A family of four living in a car on a side road of Irakleio, suburb of West Athens. Originally reported by Proto Thema
When put under too much stress, every system will eventually encounter its natural breaking point. In this blog post I want to make the argument that we are currently witnessing such form of systemic breakdown in a wide variety of social, economic and political contexts. I purposefully use the word "witnessing" because what I am about to describe is not just documented or represented by images, but the breakdown is actually manifested through images such as photographs, TV footage or other forms of visual communication.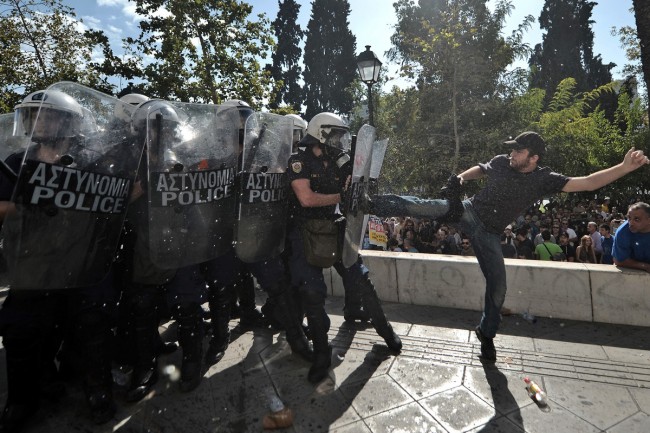 A demonstrator clashes with riot police during a 24-hour strike in Athens on October 18, 2012. (Aris Messinis/Getty Images)
As a starting point for this argument I refer to the recent elections in the cradle of European democracy Greece. The Greeks have spoken loud and clear that enough is enough. Failed monetary policies, government corruption, pillaging of state assets by the oligarchy, a brutal austerity agenda and the subsequent destruction of the economy have left the country broken: 25% unemployment, 50% youth unemployment as well 175% debt to GDP that is still growing despite all the pain. Today, more than 60% of the country's population lives either in poverty or is at risk of poverty. In Alexis Tsipras passionately written open letter to the German people, the new Prime Minister of Greece describes a country that is not as much suffering from a financial deficit as it is suffering from a dignity deficit.

Press conference by Finance Minister Yanis Varoufakis and Eurogroup Chief Jeroen Dijsselbloem
The new government's desire to renegotiate the terms for their debt to the so-called Troika (IMF, ECB and EU) clearly puts them on a confrontation course with the power structures of the Eurozone. The meeting between Greece's new finance minister Yanis Varoufakis and Eurogroup Chief Jeroen Dijsselbloem inadvertently signified the ideological clash that is currently unfolding in Europe. This clash is evident in the brief handshake that followed a press conference after the meeting: Varoufakis smiles and appears relaxed as he stretches out his hand while he waits for Dijsselbloem to listen to the translation (see footage above). Dijsselbloem on the other hand withdraws his hand as quickly as possible while looking not too pleased about the affairs. The two men briefly whispered something into each others ear and according to one media report Dijsselbloem said: "You just killed the Troika."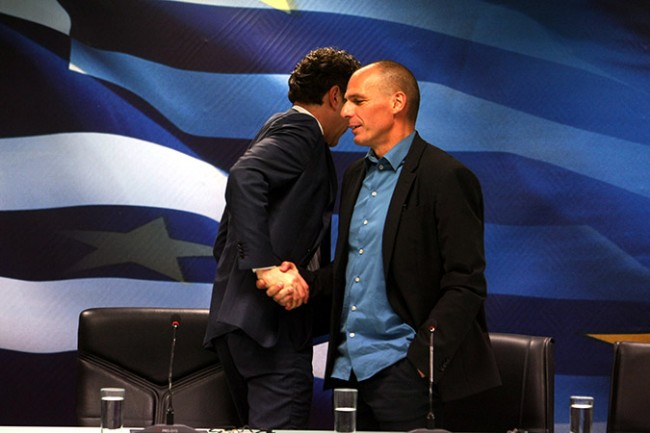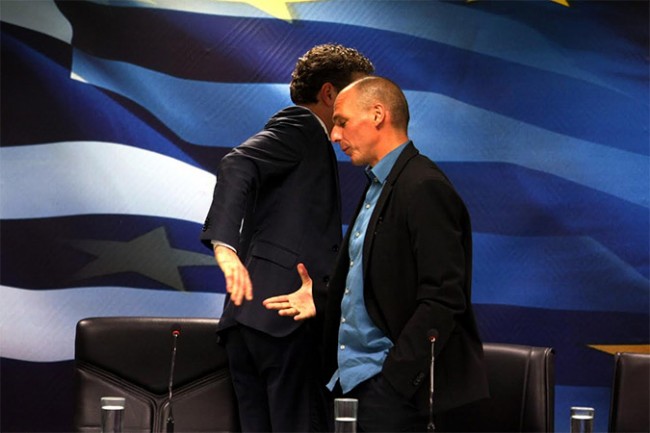 The visual spectacle of Varoufakis' meeting with Dijsselbloem, as incidental it might appear, tells us that the power structures in the EU are turning at a dramatic pace. It is not Goliath, but rather, it is David equipped only with a sling that is starting to set the agenda. From the minute the new Greek government was in power, it has shown an amazing appreciation of the power of images to set the stage for this clash. Tsipras' very fist act as prime minister was a visit to Kaisariani where 200 Greek resistance fighters were slaughtered by the Nazis in 1944. The symbolism of this visit – widely televised and photographed – cannot be underestimated: Tsipras is ready to stand up to the powerful even if this means more pain.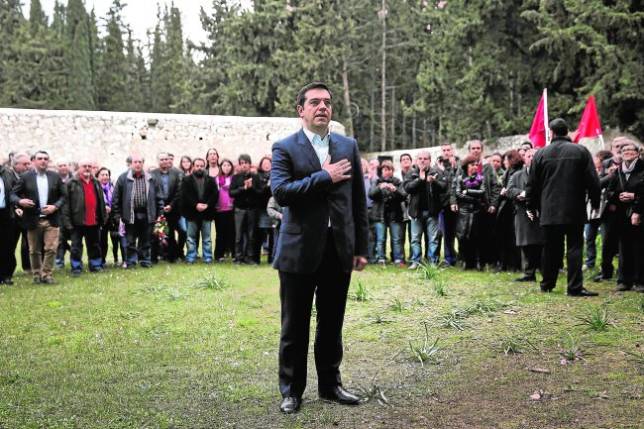 Alexis Tsipras in Kaisariani where 200 Greek resistance fighters were slaughtered by the Nazis in 1944
Thousand miles away in South Korea, albeit in a completely different context, another visual spectacle that signifies a systemic breakdown is occurring. Commonly referred to as the 'nut rage' incident, the story began when Heather Cho, the Vice President of Korean Air, forced a plane to return to the gate because nuts she was served in First Class were not delivered on a plate. The supervising flight attendant of the Korean Air flight was duly ordered off the plane and it is currently being investigated if he was physically assaulted by Cho. Apart from her senior position in Korean Air, Cho also happens to be the daughter of the CEO. Fully aware of the potential public relations disaster, Korean Air initially tried to hide the details about the incident. Their efforts were in vain.

Heather Cho's first public apology December 11, 2014
The public backlash against Heather Cho as well as her father for his role in bringing up a woman perceived as a spoilt brat was absolutely huge in South Korea. People expressed their anger and frustration via social media and other forms of communication. The global media soon picked up the story and soon the 'nut rage' incident became world news. Ever since that moment the Korean Air management was on the back foot as it unsuccessfully tried to grapple with the public fallout. The visual spectacle of Cho's subsequent apology to the assembled media is one of utter public humiliation. In the televised footage, Cho, whose head is bowed to the extent that her face is barely visible, can be heard to faintly utter the words "I'm sorry." (see footage below) She has since resigned from her role as Vice President of Korean Air and by all accounts she has become persona non grata in South Korea.
Like the images currently emerging out of Greece, the public humiliation of Heather Cho is a visual spectacle that signifies a breaking point in the system. Judging by the huge public outcry about Cho's behavior, the Korean people – those that actually use Korean Air or indirectly support it through their taxes – have said that enough is enough. They do not wish to support a company that treats their staff and their customers in that way. Yet on a bigger scale, as reported by the Wall Street Journal, the backlash is against South Korea's system of family-run conglomerates known as chaebol: "Ms Cho's tantrum is being held up as an example of the problems that arise when corporate power is passed down family lines." Since their inception in the 1950s, the chaebol enjoyed tremendous support from government for their role in establishing the country as an economic power house. It is however also a system that breads corruption and collusion in the highest echelons of power. Frustrated with this state of affairs, where government connections and family ties have protected South Korea's oligarchs for decades, the system has finally reached a breaking point as signified by the public humiliation of Cho, her father and even government officials who were dragged into the crisis. Heather Cho is currently in jail awaiting a trail for breaking air safety rules. The maximum sentence is up to ten years.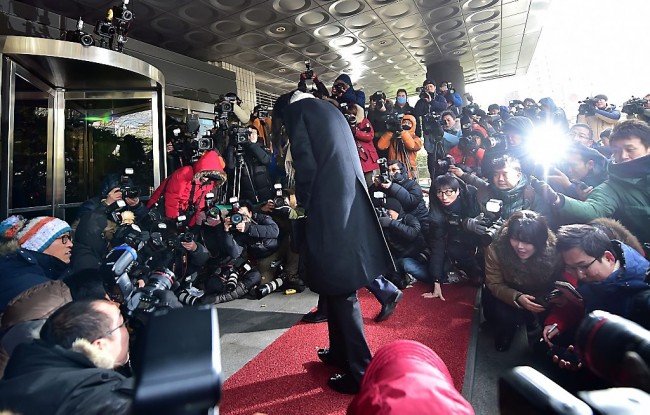 Heather Cho at one of many perp walks in front of South Korean media. December 17, 2014. (Getty Images)
All over the world we can witness such instances of a systemic breakdown: where the power structures are changing or where the status quo is overthrown. These changes can happen rather quickly. Photography and video are not simply documenting these changes so that they can be studied in the future, but they are part of the very change. The more we open our eyes to this phenomenon, the more we can recognize that we live in an era of dramatic shifts in our globalized society as the old systems are overcome by new ones.
Like this Article? Subscribe to Our Feed!