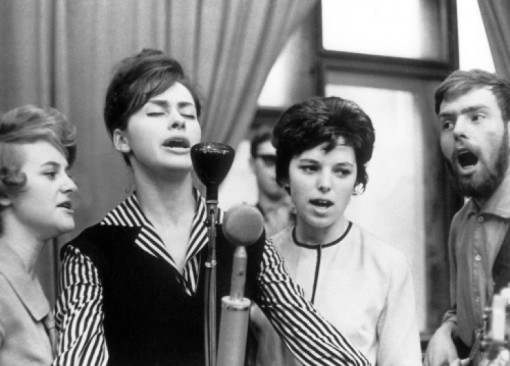 The Semafor Theatre at Dejvická 27 in Prague is the central location for Miloš Forman's classic film Konkurs (Audition) generally cited as the first film of the Czech New Wave for its realistic depiction of youth culture. Forman is a man of the theatre: before he entered FAMU, the Prague Film Academy, and perhaps inspired his brother who was a set designer, he initially planned to study drama. Forman's affiliation with Semafor, literally 'traffic light', began when he lodged with members of the their cabaret troupe at the Brussels Exposition in 1958. In 1963 he was approached to produce a 15-minute documentary of the Semafor theatre as a central hub for music, youth and counter culture. Fascinated by the audition of a seemingly endless number of young women who long to be 'discovered', the project turned into a 47-minute faux documentary which, combined with the short film If There Were No Music, would become the feature length film Konkurs.
Much of the film is dedicated to the charisma and beauty of Vĕra Křesadlová (Forman's future second wife), who, despite her talents suffers from stage fright and leaves the audition in haste. Although the overriding narrative about two young women failing the auditions is entirely fictional, long takes, extreme close-ups, and a focus on subtle gestures and body language clearly evoke the aesthetics of realism and the cinematic language of the nouvelle vague. The setting of the theatre lends itself to Forman's nuanced observations: the performance of gender roles, the relationship between the observer and the observed, or the role of the individual in the community. In spite of replicating a patriarchal power structure in the film (the audition judges are all men), Semafor fulfills the crucial function of establishing and promoting a platform for the youth. Particularly in relation to the ideological and political restrictions that would eventually lead to the Prague Spring in 1968, Semafor can be seen to provide a counter cultural and counter hegemonic space for expression and thought.
This scene review was originally published in World Film Locations: Prague edited by Marcelline Block
Like this Article? Subscribe to Our Feed!