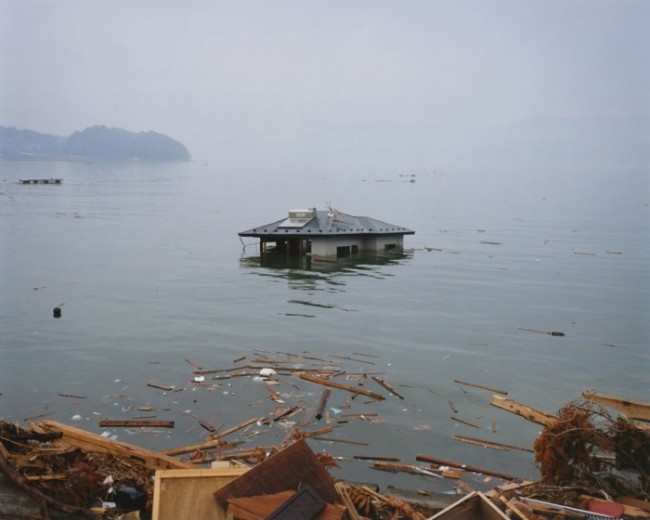 Naoya Hatakeyama, Yoneasaki-cho 2011.5.1, from the series Rikuzentakata, 2011; chromogenic print; courtesy the artist and Taka Ishii Gallery, Tokyo; © Naoya Hatakeyama
The renown photographer Naoya Hatakeyama recalls a strange and unsettling experience on the day that Japan was hit by a triple disaster. At the moment the earthquake struck Japan, Hatakeyama attended a pre-arranged meeting with various other photographers in Tokyo. As news broke that the earthquake triggered a massive tsunami, Hatakeyama recalls that one of those attending the meeting pointed out that the disaster will be an opportunity to produce, literally, 'good photographs' (ii shashin). Troubled by this reaction, Hatakeyama asks openly, what exactly is a 'good photograph' in the context of a disaster of such magnitude. It is quite clear that here Hatakeyama is less concerned with the visual aspects of photography which inform whether or not a photograph can be considered as 'good', but rather, he is concerned with the ethical dimension of producing photographs of the disaster as personal artistic work.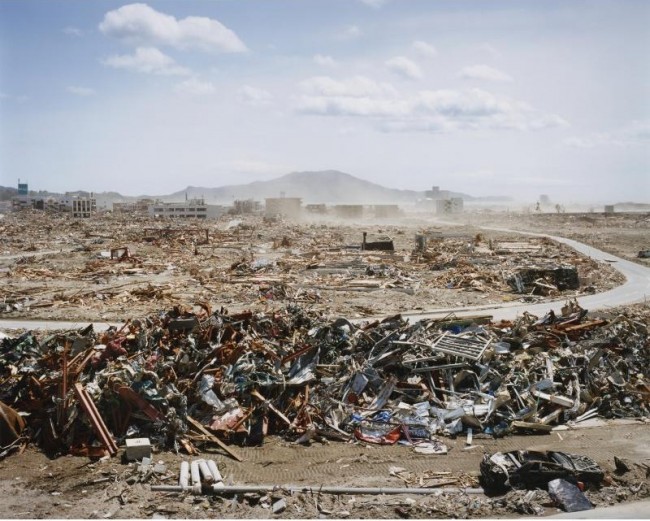 Naoya Hatakeyama, 02 May / Takata-cho, © Naoya Hatakeyama
Navigating the complex relationship between disaster, ethics, representation and photography is a quest that was seemingly forced on Hatakeyama more than other Japanese photographers. Hatakeyama is from a town called Rikuzentakata on the east coast of Japan and one of the places most badly affected by the tsunami. Concerned for the well-being of his mother and sister, Hatakeyama returned to his hometown to witness the destruction and sadly also mourn the loss of his mother. It was his sister who initially urged him to photograph the damage to her home as a semi-official record. In other words, in this context the production of photographs was not for the aesthetic value of 'good photography' but rather, it was to produce a record, a document or a representation of an entirely new situation for Hatakeyama and his family.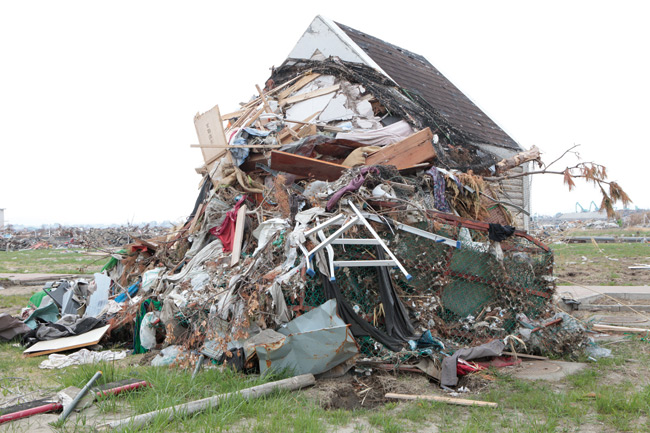 Kishin Shinoyama, from the photobook Atokata, 2011
When I began my research I described a small and select group of artists who have produced photographs of post-tsunami landscapes. Yet as my research develops, it is quite clear that the representation of such areas is, in fact, a very popular subject for photographers in Japan – even for photographers who have no personal reference to the area nor whose work is otherwise concerned with social or ecological concerns in Japan. For instance, Kishin Shinoyama was drawn to represent the destruction of the tsunami, producing a body of work which stands in complete contrast to photographs of celebrities and nudes for which he is best-known for. In the epilogue of his photobook Atokata he describes his bewilderment encountering a totally new landscape for the very first time. Shinoyama's photographs and his concern for photographing a 'new landscape' situates the post-tsunami landscape into the realm of a visual spectacle more commonly associated with frontline photojournalism.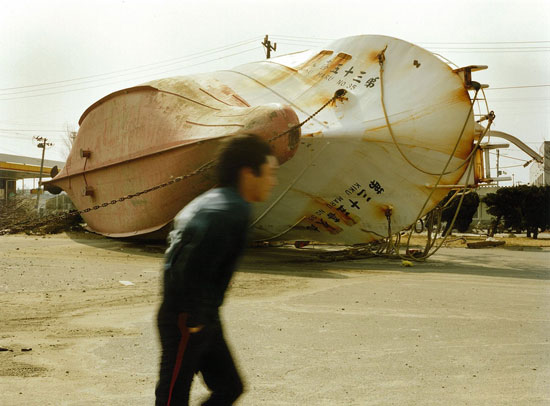 Naoki Ishikawa, from the series 'Grass will grow thick in the place where I am before long' exhibited at 'Remembrance 3.11' Nikon Salon, Tokyo, 2011
Yet the question of ethics is not unique to photographers from the areas affected by the tsunami, nor is it unique to photographers who ended up photographing these areas. In a question unrelated to the tsunami posed at a talk at the Japan Society in New York, Daido Moriyama was asked whether he feels that as a photographer he has a social and moral responsibility to which he replied that he feels he has none. Yet another question from the audience, wondering why he has chosen not to photograph the tsunami-stricken area, reveals that Moriyama consciously turned away from this subject as it goes against his 'moral code'. Moriyama's response, delivered in a typically casual manner, points to the crucial difference between ethics and morals that must be considered in this context. In other words, even though the ethical concern over photographing post-tsunami landscapes can perhaps be superseded by the social benefit of producing a lasting visual record of this area, the production of the photograph relies, in the last instance, on the personal morality of the photographer. (Any recommendations for literature on this subject would be greatly appreciated).

Daido Moriyama at Japan Society in New York. Please go to 48:30 min.
In any cultural context the question of ethics is complex and difficult to define. Nevertheless, ethics cannot be simply equated with the law. A lawful photograph is not necessarily ethical, whereas, vice versa, an ethical photograph is not necessarily lawful. In most circumstances, a philosophical definition of ethics is discursive and depends on historical, social, cultural, political, ecological and religious factors. This is also true for the ethics of photography which continually morph depending on the social setting they are considered in. Henceforth, sometimes it is 'right' to photograph, and sometimes it is not 'right' to photograph. The judgment of what is 'right' and what is not does not lie with the photographer (nor a judge or lawyer for that matter) but rather with society by-and-large. In other words, the ethics of photography are considered through continual debate.

Masaki Yoshino, from the series 'Road 2011 -Iwate・Miyagi・Fukushima' exhibited at 'Remembrance 3.11' Nikon Salon, Tokyo, 2011
Such a debate on the ethics of photography also appears to have emerged in Japan as two years after 3.11 a small but distinguishable divide has been created in the photographic community amongst those photographers who have produced work on post-tsunami landscapes and those who have not. This debate, which can be observed in public talks, magazine articles, journals, blogs and day-to-day conversations, indicates a high degree of visual and social awareness for photography in an otherwise saturated image economy. The point of this debate is perhaps less to consider whether it is ethically justifiable to photograph post-tsunami landscapes than it is a reminder that the representation of a disaster is inextricably linked to a consideration of non-representation. The ethics of photography is therefore also the ethics of an photographic image that has not been made.
_______
Thank you to Dan Abbe whose feedback on a previous article has greatly shaped this new blog post.
This post belongs to a series of articles I am writing on the photographic representation of post-tsunami landscapes. As I am preparing a journal article on this topic, please feel free to contact me if you know of any other photographers or important references on this topic. I just returned from a Japan Foundation Fellowship in Tokyo in order to conduct this research project.
Like this Article? Subscribe to Our Feed!