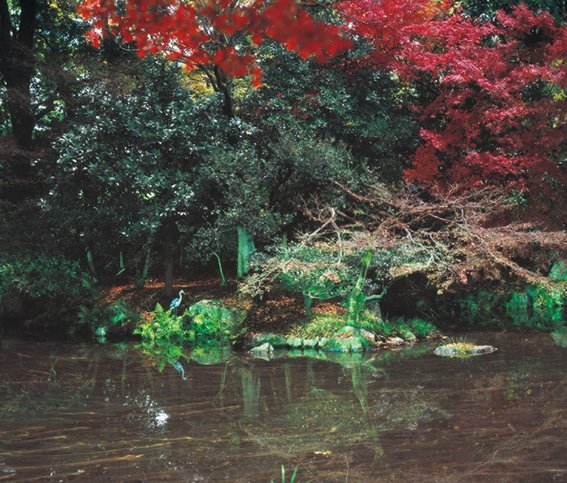 Justin Coombes, Hokkaido Postcard, Artist's book, 2011,
The exhibition Moments of Reprieve: Representing Loss in Contemporary Photography is, in collaboration with Paradise Row, currently on display at the David Roberts Foundation on Great Titchfield Street in London. By connecting photography with the manifold meanings of loss, the curators Louisa Adams and David Birkin dig into an intellectually and philosophically dense subject matter. The photographs, produced by ten different artists, were intelligently chosen for representing various notions of loss invoked by conflict, crime, disaster, war and ultimately death. That the scope and scale of this exhibition could easily be expanded is testament to a timely and well-conceptualized curatorial approach.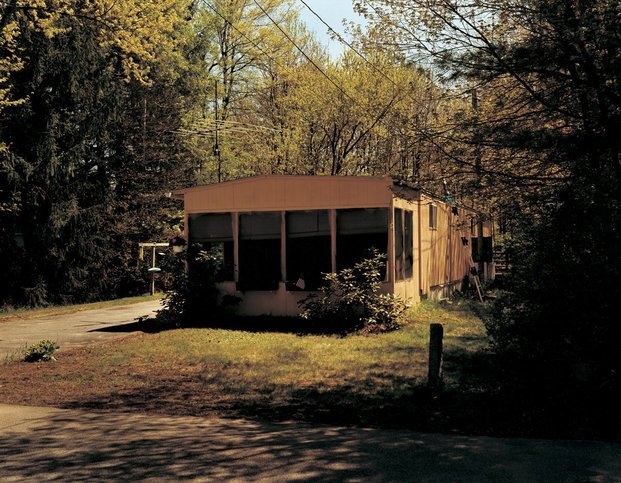 Taryn Simon, Kenneth Waters, Scene of the Crime, Ayer, Massachusetts. Waters died in an accident 6 months after his exoneration. Served 18 years of a life sentence for Murder and Robbery, 2002
In stark contrast to the potentially invasive, even pornographic visual language of photojournalism, the artists chosen for this exhibition approach their subject matter with subtlety and care. Taryn Simon's contribution, a rather banal photograph of a rundown house in Ayer, Massachusetts for instance, predominantly hinges on reading the caption to the photograph: serving 18 years of a life sentence for murder and robbery, the occupant of the house died from an accident six months after his exoneration. Jane and Louise Wilson's super large and detailed photograph of a gym in Pripyat, located within the 30km wide Exclusion Zone to Tchernobyl, functions as an eerie architectural post-mortem of a manmade disaster. The paint crumbling off the wall signifies the physical and indeed psychological wounds incurred by those who survived. A photograph of books on a library bookshelf is slightly more ambiguous: rather than the aging books themselves, it is the dust they have collected that underlines the trauma of loss – the loss of an entire community and all the infrastructure associated with it.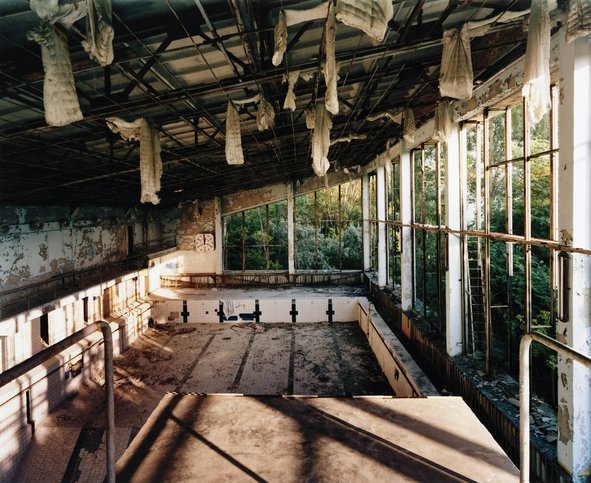 Jane and Louise Wilson, Atomgrad (Nature Abhors a Vacuum) #4, 2010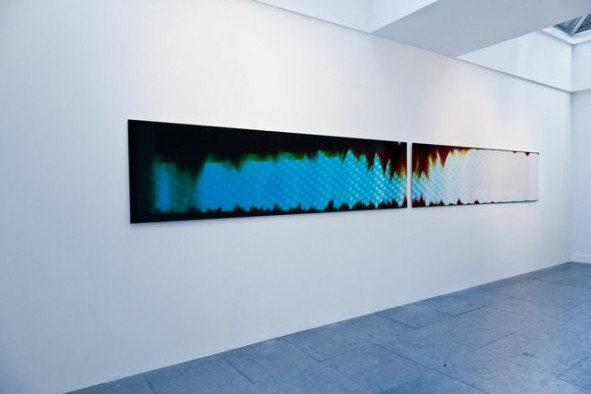 Adam Broomberg & Oliver Chanarin, The Day Nobody Died III, 2008
Adam Broomberg and Oliver Chanarin's dramatically titled piece Day Nobody Died III consists of a 6-meter long strip of colour photographic paper, haphazardly exposed to the Afghan sunshine. While being embedded with British troops in Helmand province, the artist duo exposed the paper to represent a short reprieve from constant news of death and fatal injuries amongst soldiers and civilians. David Birkin's own contribution to the exhibition, displayed directly opposite to Broomberg and Chanarin's piece, is a small AP wire photograph from 1992 depicting mourning Afghan women. The artist covered the photograph with the ultramarine pigment from lapis lazuli – a pigment more valuable than gold. The manipulated image can be read as an allegory for one of the many paradoxes of war: beyond any ethical concerns for those who suffer, the camera (e.g. the media) also has an economic interest in the representation of loss.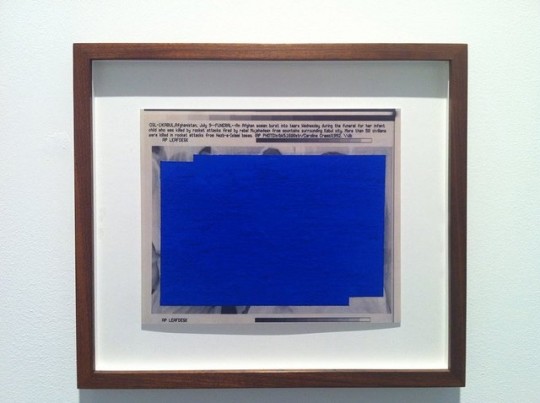 David Birkin, Pieta, 2012, AP wire photo (1992) overlaid with ultramarine pigment from lapis lazuli mines in Badakhshan province, Afghanistan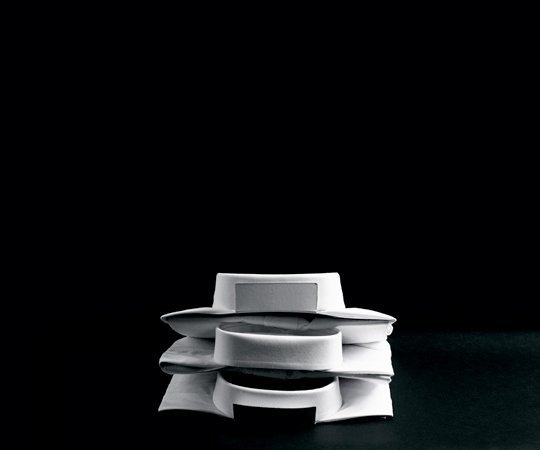 Indre Serpytyte, Untitled 2 from A State of Silence, 2006
For some artists, the notion of loss is rather more personal. Indre Serpytyte's monochromatic photographs depict tightly folded shirts or three neat stacks of paper – the photographs are strongly reminiscent of photography's capability to document artifacts. Consistently photographed on a black background, the images inadvertently also glorify the banality of these subjects. The viewer wonders, why am I being presented with these shirts or these papers? A visit to Serpytyte's homepage reveals that this series of photographs, titled A State of Silence, is a response to the sudden and unexplained death of her father who died in a 'car accident' in 2001. At the time, Albinas Serpytyte was the Head of Government Security of Lithuania.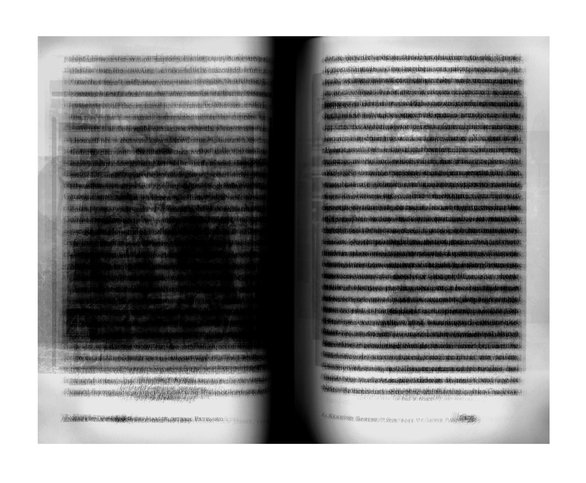 Idris Khan, Every page…From Roland Barthes 'Camera Lucida', 2004
Idris Khan's piece, in which he individually photographed and superimposed every single page from Roland Barthes' classic book Camera Lucida, alludes to the historically, culturally and socially complex relationship between photography and death. Writing about a photograph of his deceased mother a few months before his very own death, in the book Barthes' came to the conclusion that death is the 'eidos' of photography. In other words, photography operates on the commonly perceived notion that the photograph will, eventually, outlive the subject photographed. While analysing various different photographs reprinted in the book, Barthes' cherished photograph of his mother, ironically, was not reproduced. As Khan photographed and superimposed the pages from the book, the subjects in the photographs turn into faintly visible ghosts, hovering in between the pages and coming to the surface of the print.
For more on the relationship between mortality and photographic representation, please read Audrey Linkman's book Photography and Death. Other recommendations can be found in our online bookshop.
This article was originally published at photomonitor.co.uk.
Like this Article? Subscribe to Our Feed!