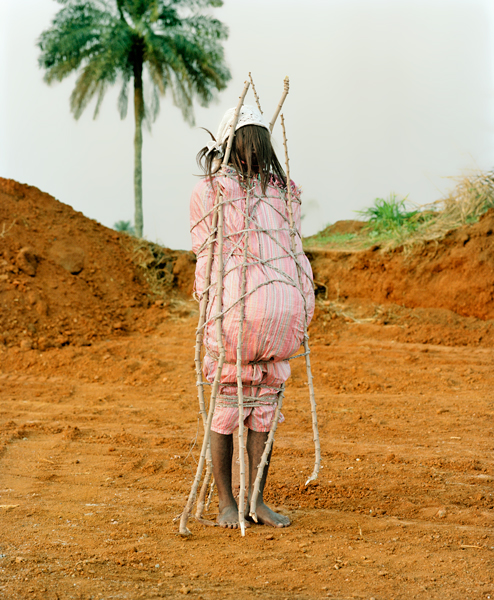 Namsa Leuba, Statuette Ndoki, Saleou, Guinea, 2011
Last and First Men. Towards a New Anthropology is the title of a group exhibition currently held at The Library Space in Battersea which explores the relationship between contemporary art practice and anthropological discourse. The exhibition is organized by Armsden, a new art venture dedicated to promoting emerging and mid-career artists through an ambitious programme of off-site exhibitions. The all-wood antique bookshelves of The Library Space provide an intriguing backdrop to the eclectic, colourful and intellectually challenging works on display. Rather than being weighed down by the historically dense relationship between anthropology and art practice (Surrealism for instance), the exhibition provides a fresh interpretation of how contemporary artists tackle cultural differences, myth and ritual.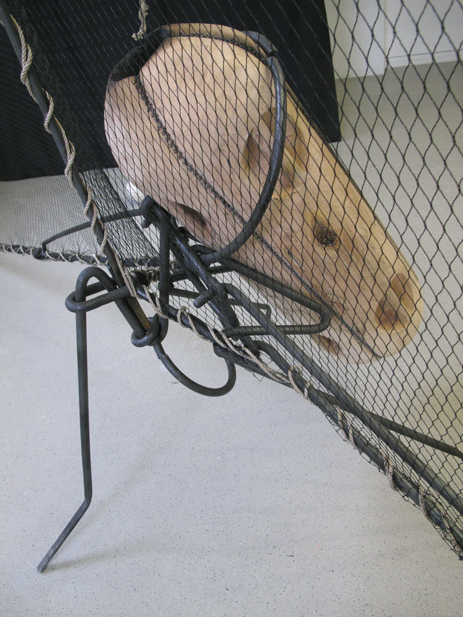 Vincent Chevillon, Moonfleet's Matriarch (Spermwhaler's Dream), 2012
Sculptures, perhaps because of their size and intricacy, appear to dominate the exhibition. Jan Crombie's series of works produced from found objects, for instance, function as a metaphor for the act of collecting, archiving and categorizing so central to the task of the anthropologist. Likewise, Vincent Chevillon's sculpture Moonfleet's Matriarch (Spermwhaler's Dream), in which the smooth surface of natural wood stands in contrast to a harsh, even menacing-looking iron construction, evokes a clash between nature and culture. Many works in the show similarly reference the centrality of the binary opposition in anthropology as made popular by Claude Lévi-Strauss' classic study, The Raw and the Cooked. The exhibition is, however, no reductive juxtaposition of cultural differences, but rather, the work appears to comment on the validity of such juxtaposition between cultures in the first place.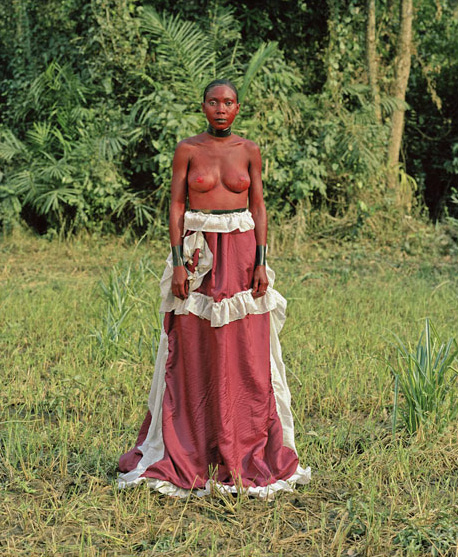 Namsa Leuba, Statuette Sorsorne, Oumou, Guinea, 2011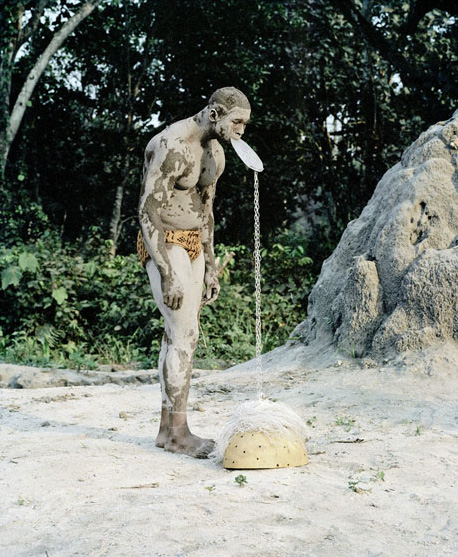 Namsa Leuba, Statuette Vodun, Alim Marmadou, Guinea, 2011
This refreshingly new approach is perhaps most evident in a series of photographs produced by the artist Namsa Leuba. Born and raised in her father's Switzerland, Leuba travelled to her mother's homeland Guinea Conakry to produce a striking set of images, each of which depict an individual dressed, draped, wrapped, or painted in an unusual way. The series taps into rituals, cosmology and ceremonies practiced in Guinean culture. In the photographs, Leuba consciously appears to 'construct' a representation of her subjects by not only producing the photograph, but also, by constructing the way the subject represents him- or herself. Even the titles of the photographs on display, each beginning with the francophone term 'Statuette', imply that the artist makes no secret of literally objectifying the individuals that she photographs. In that sense, the various 'statuettes' that Leuba photographed establish a cunning aesthetic and conceptual link to the sculptures on display in the context of the gallery.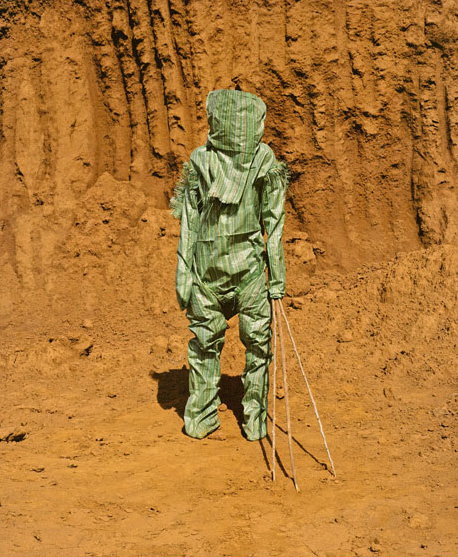 Namsa Leuba, Statuette Kafigeledio, Prince, Guinea, 2011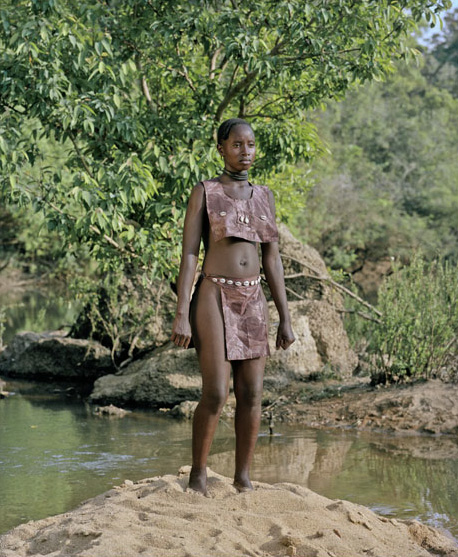 Namsa Leuba, Statuette Zoo, Foret, Guinea, 2011
One aspect in Leuba's impressive body of work requires particular attention. Straddling the cultural gap between a country she has biological roots to and a country she grew up in, the photographs clearly decontextualize the 'sacredness' of the rituals not only in the act of photographing, but also in the act of exhibiting the work (not least in this very exhibition). Yet rather than pretending to produce a representation of a 'real' ritual in Guinea, Leuba's constructed photographs allude to a Western construction of 'Africa', a construction of the 'Other', a construction of 'that which is not me'. Here, Leuba's photographs refer to far more than ritualistic practices in Guinea; rather, they depict a construction of a Western discourse that historically equated 'Africa' with myths and rituals.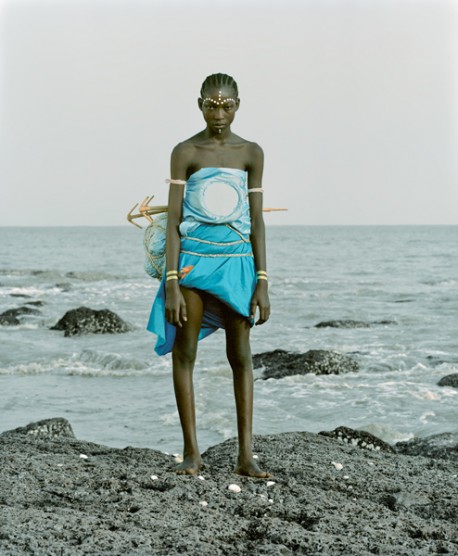 Namsa Leuba, Statuette Vili, Fanta, Guinea, 2011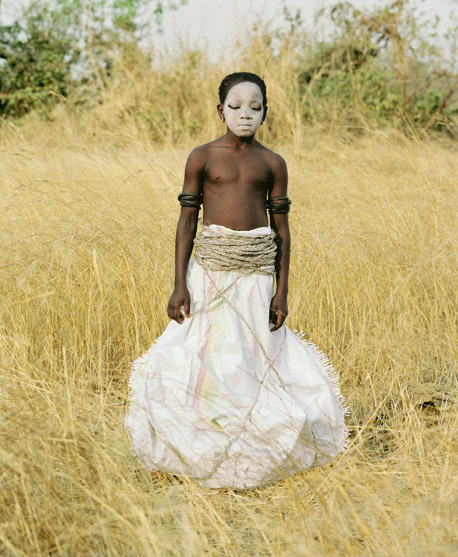 Namsa Leuba, Statuette Punu, Bintou, Guinea, 2011
The photographs are therefore also noteworthy for aspects of modern Africa that are clearly excluded from the photographs. Leuba's highly subjective interpretations of Guinean rituals puts into question the fallible notion – historically embraced by anthropologists in particular – that photographs produce 'truthful' and 'accurate' representations of cultural artifacts. If anything, Leuba's photographs are evidence of a visual game in which the artist also questions the viewer's expectations of an imagined 'Africa'.
For those interested in the complex relationship between photography and anthropology, please read Christopher Pinney's Photography and Anthropology. Other recommendations can be found in our online bookshop.
Like this Article? Subscribe to Our Feed!