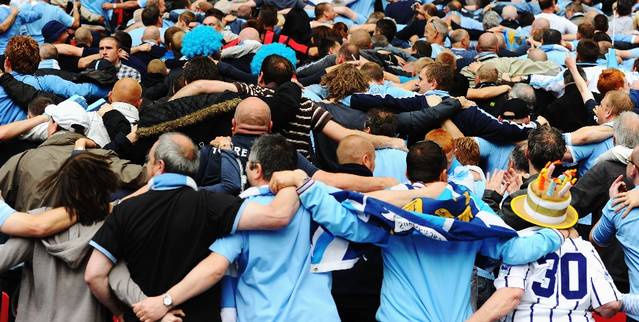 Manchester City supporters performing the 'Poznan'
It marked a bizarre moment in the nail-biting final match of the British Premier League season. Adopted from the fanatical supporters of the Polish football club Lech Poznań, Manchester City fans started to do the so-called 'Poznan': a type of dance in which fans hold on to each others' shoulder and bounce on the spot. Though crucially, rather than facing the extraordinarily eventful match unfolding on the pitch, the 'Poznan' is performed with the back turned to the game. The rarity of these celebrations (usually reserved for finals, calls of honour, or a derby), is matched by the sheer spectacle that these celebrations create.

Lech Poznań supporters at Manchester City, 21 October 2010
From a distance, as the supporters frantically jump with their back turned to the game, the supporters create the effect of a cascading waterfall. Unlike the Mexican Wave, or the 'La Ola', in which supporters raise their hands to create a human wave moving 360 degrees through the interior of the stadium (a celebration that always ends with disappointment as the wave 'dies'), the fascination with the 'Poznan' lies in the fact that it has to be performed by nearly everyone in the respective part of the stadium for it to work.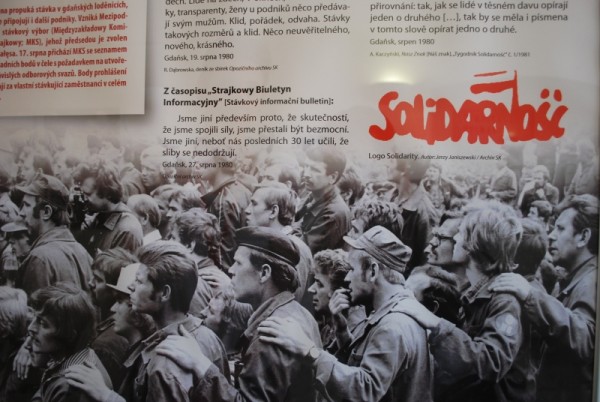 Workers holding each others shoulders as part of the Solidarity movement Solidarność in Poland
As much as football is a team sport, the 'Poznan' becomes the team sport equivalent for supporters. It is a collective undertaking that is, perhaps, meant to be a collective signal to the team that their efforts are appreciated. This notion of collectivity in the 'Poznan' can be traced back to the Polish roots of the dance: Lech Poznań is well-known for its close ties to the Polish State Railways and the trade unions who were a crucial force in the democratisation of the country in the late 1980s under the banner Solidarity, or Solidarność. Transferred into the context of the modern game, the 'Poznan' signifies an appreciation towards the players, the manager, the team owner, but also, it signifies an allegiance and literally a physical bond with fellow supporters. For a brief moment, the dramatic spectacle of the game is superseded by the spectacle – a spectacle within a spectacle – created by the supporters.
To subscribe to this blog, please enter your email address here and check your inbox for the verification email.
Like this Article? Subscribe to Our Feed!