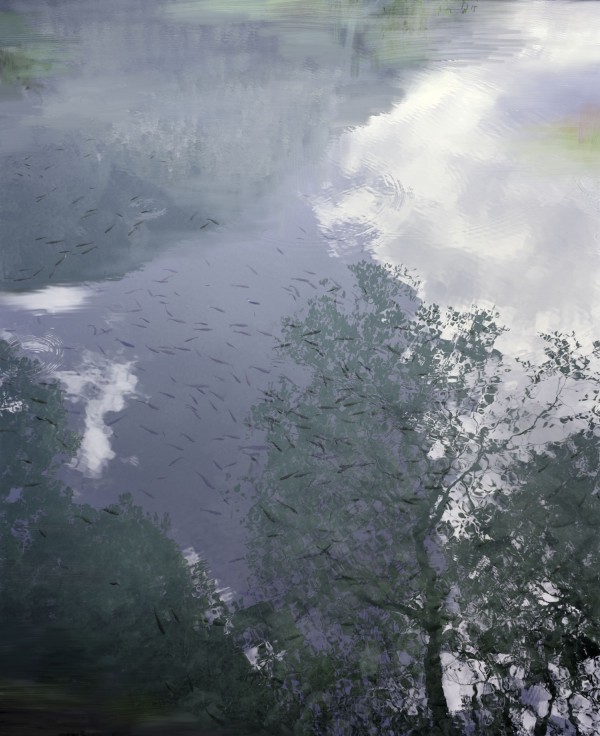 Sandra Kantanen, Untitled (Lake), 2011
The Finnish artist Sandra Kantanen currently has her first UK solo exhibition at the Purdy Hicks Gallery. It is somewhat ironic that the exhibition has the matter-of-fact title 'Photographs 2009 – 2011′, while the works on display are so much more than just photographs. In fact, Kantanen evidently experiments with the medium of photography to create visually complex and multi-layered digital montages.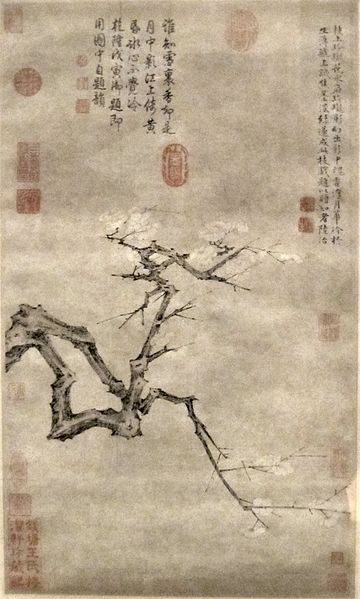 'Plum Blossoms', ink and color on paper by Lu Zhi (Lu Chih), China, Ming dynasty, mid 16th century
Informed by her experience of studying at the Central Academy of Fine Art in Beijing in 2001, Kantanen's montages apparently reference traditional Chinese landscape paintings. The visual reference to Chinese art is attempted by representing landscapes with minimal aesthetics, by using toned down and pastel colours, even the vertical format of Kantanen's works mirror landscape scrolls which are, much like Chinese writing, read from top to bottom. Kantanen's images represent a lush flora and fauna: green tree branches reaching into the image, fish faintly visible in a lake, clouds in the sky reflected on the surface of the water. The multitude of reflections and distortions creates a topsy-turvy world in which the difference between earth, water and sky becomes increasingly blurred.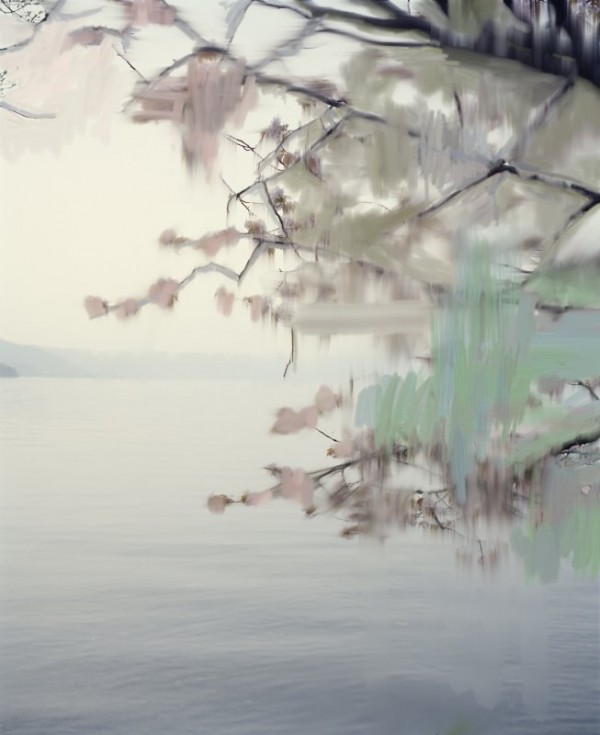 Sandra Kantanen, Untitled (Sakura 3), 2011
It would, however, be disingenuous to overstress this relation to Chinese art as Katanen's works are quite obviously a hybrid product informed by a multitude of diverse cultural sources. For instance, while in Chinese art depictions of the plum tree blossom are more common, in 'Untitled (Sakura 3)' Kantanen refers to the cherry blossom – a signifier of seasonality (and patriotism) specific to traditional Japanese art. The unusual method of foreshortening the landscape by titling the camera downwards rather than into the distance also creates a visual contrast to the deep perspectives which tend to parallel intricate narratives in East Asian art. As such, Kantanen's works probably have more in common aesthetically with the paintings of the French Impressionist Claude Monet. Particularly those works that include water are strongly reminiscent of Monet's celebrated series 'Water Lilies'. Some of Kantanen's works even include, what appear to be, patches of colours applied by a brush (digital or analogue) thus reinforcing a link to Western traditions of art that use thick paints rather than inks.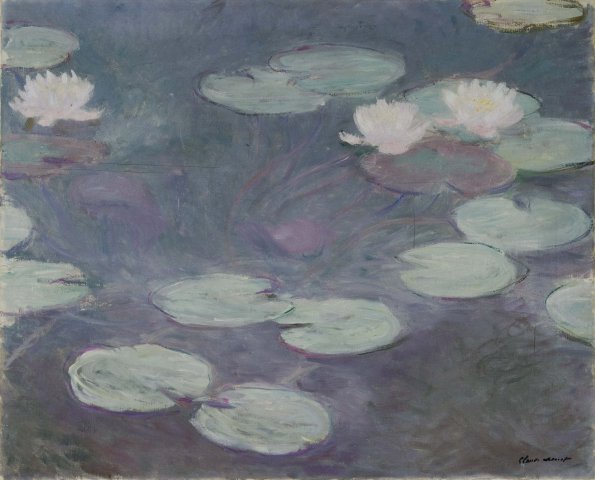 Claude Monet, Water Lilies
In this cultural mix, Kantanen's own background, having graduated from the celebrated Helsinki School of Photography, must also be considered. Unlike artists from the so-called Düsseldorf School of Photography, renowned for producing formal, objective, and technically precise photographs, the Helsinki School is far less easily defined in terms of a common style. Perhaps conscious of being defined by her education, Kantanen produces works that seek to break a mold, that evade easy definitions, that question the integrity of the image. At the same time however, perhaps as a result of evading definitions and categorizations, the works on display appear to be conceptually suspended: they are neither a critique of Asian art, nor Western art, nor, in fact, photography. Rather, Kantanen presents the viewer with a dreamlike and eternally foggy world, a world in which nature blossoms during all seasons, a beautiful yet also alienating world which can only exist as a montage.
Sandra Kantanen: Landscapes is available as a book. Other recommendations can be found in our online bookshop.
Like this Article? Subscribe to Our Feed!