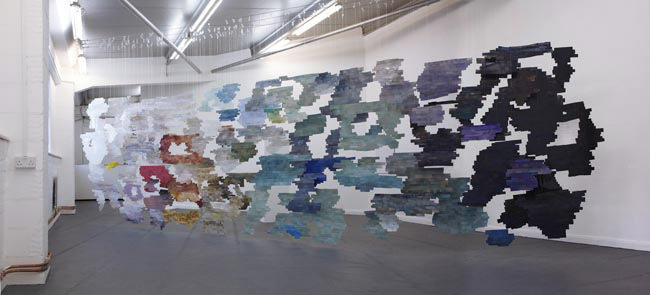 Anouk Kruithof, 'Wall of fading memory', 2012
Tucked away at the back of Hewett Street in Shoreditch, B&N Gallery, which opened its doors in October last year, was the venue for Dutch artist Anouk Kruithof's first solo exhibition in the UK. Kruithof, better known for her innovative photographic portraits and limited edition artist's books, made full use of the new gallery space by installing artworks from various mediums: photographs, video art, photomontages, posters and colour copies. The source for this eclectic body of work is an archive of C type prints that Kruithof has collected since she began working as a photographic artist. The most visible work in the gallery is 'Wall of fading memory', an assemblage of cut outs to create a 'wall' of photographs diagonally stretching from one side of the gallery to the other. Despite the monumental connotations of the artwork's title, this wall of prints is floating in mid-air and is permeated by empty spaces. Within this huge montage, these holes (for the lack of a better word) can be analyzed in a number of ways, yet to me they signify photography's ongoing struggle to fully and accurately capture the real.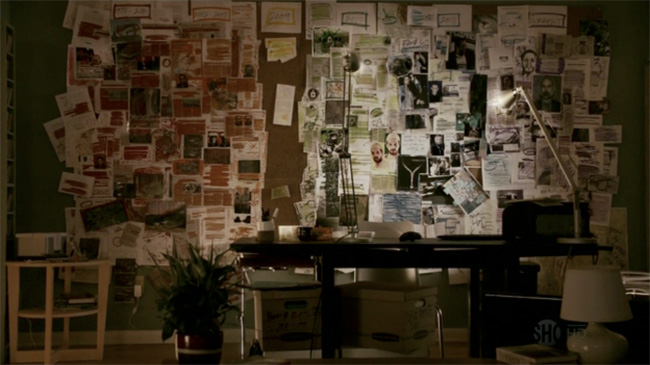 Film still from Homeland, Series 1, Episode 11
In trying to find an order within a potentially overwhelming amount of visual information, Kruithof assembled the prints according to colour thus somewhat recreating the spectrum of the rainbow that metaphorically stretches through the width of the gallery space. By deconstructing and then re-assembling visual information by colour, Kruithof engages in the very same activity (likely by sheer coincidence) as a CIA agent played by Claire Danes in the new TV series 'Homeland'. Struggling to comprehend the timeline of a notorious terrorist cell, Danes' character colour codes classified documents, news reports and photographs, only for her colleague to recognize an emerging pattern and put together the information on a pin wall. Described by the cultural critic Alberto Toscano as 'cognitive mapping', a similar desire to deconstruct, order and re-assemble information on a wall or a map can also be seen in other examples of popular culture such as the acclaimed TV series 'The Wire'. Kruithof appears to tap into precisely these emerging practices, perhaps popularized by TV, yet also evident in every day life: trying to find an order in an age in which information is abundantly and overwhelmingly available.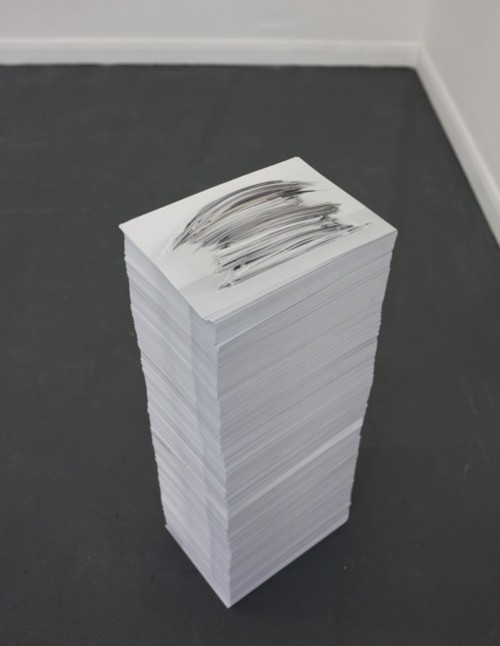 Anouk Kruithof, 'Never ending pile of a past', 2011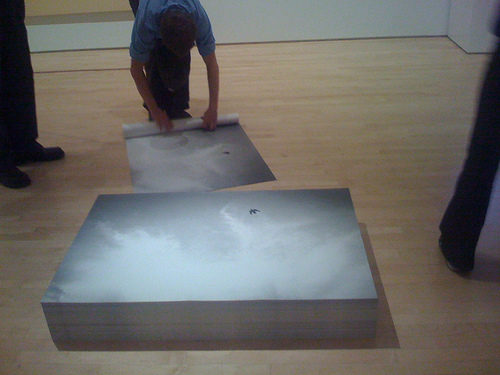 Félix González-Torres, untitled, date unknown
Located near the entrance of the gallery is an artwork with the title 'Never ending pile of a past'. In its original condition it consists of 10.000 colour copies, neatly stacked upon each other, which, in turn, depict a stack of photographic prints photographed from the side. This piece, much like Kruithof's body of work as a whole, is deeply self-referential, ironic, even dryly humorous: a stack of copies depicting a photograph of a stack of photographs. With this work, Kruithof seeks to reach out from the narrow confines of the gallery world by making the work free of charge, allowing the viewer to become the collector and take a print away. Comparable to the iconoclastic photography projects by the late Félix González-Torres, Kruithof thus appears to challenge the notion of the photograph as unique and treasured artifact. In the context of the commercial gallery system, such a gesture is rarely found considering that the gallery partially depends on the artwork being of some value. With this exhibition Kruithof continues to establish herself as a provocatrice who challenges the viewer, the medium photography, and even the very format in which photography is consumed.
Anouk Kruithof: Becoming Blue is available as a book. Other recommendations can be found in our online bookshop.
Like this Article? Subscribe to Our Feed!