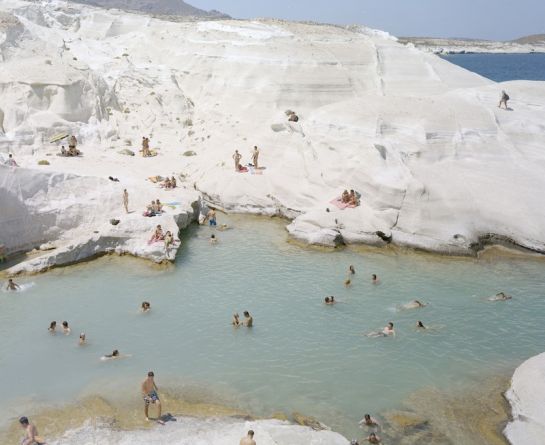 Massimo Vitali, Sarikiniko, 2011
If there is a dominant colour in Massimo Vitali's photographs recently on display at the Brancolini Grimaldi Gallery it would have to be turquoise – the colour of the Mediterranean Sea. Water is the common denominator in the ultra-large scale photographs floating in the space of the gallery. While many images depict people in their bathing suits, lying in the sun or swimming in the sea, the viewer too, seduced by the beauty of Vitali's photographs, is metaphorically surrounded by water.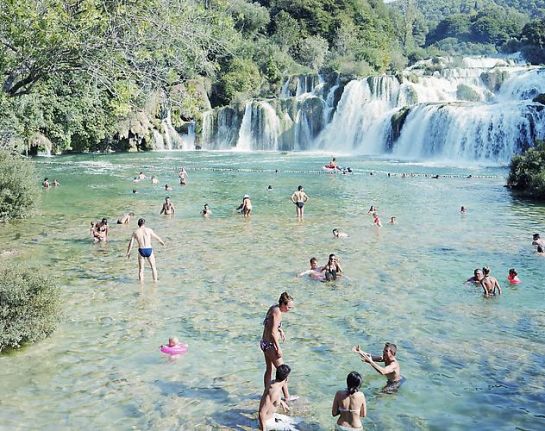 Massimo Vitali, Krka Waterfall Pink, 2009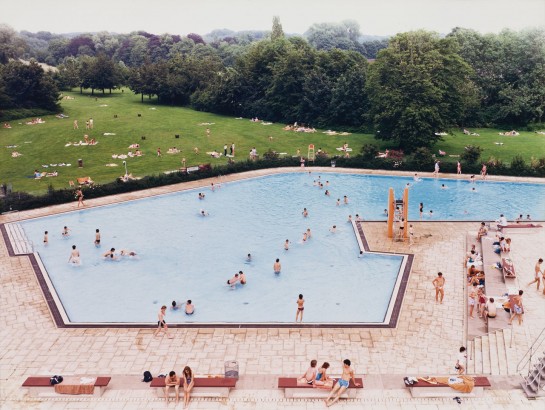 Andreas Gursky, Ratingen Schwimbad, 1987
Vitali works with a large format camera which has the effect that even though the photographs are printed extremely large, they are also extremely detailed. Added to that, Vitali appears to prefer to photograph on bright sunny days and from a high vantage point. This carefully considered methodology, comparable to that of Andreas Gursky, has the effect that the viewer is given a god-like perspective on the various people exploring well-known beaches, natural rock formations, water falls or other sites of natural beauty.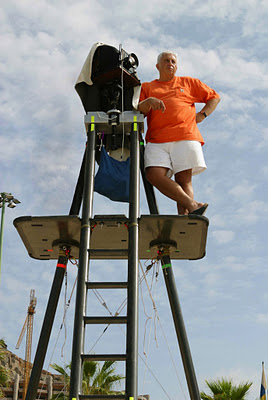 Massimo Vitali at work
Vitali's photographs are so detailed that even though the camera is several dozen of meters away from the people that are in the photograph, their clothing (or lack of clothing), their bodies, even their facial expressions can be analyzed while standing up close to the photograph. Amazingly, Vitali appears to go about his business unnoticed, as the various people in his photographs don't look back at the camera. Only one image showed a young woman sunbathing on a boat in the distance, perhaps confusing Vitali with a Paparazzo, and looking towards the camera with suspicion. From that 'perspective', Vitali's work greatly differs from Weegee's iconic photograph of Coney Island taken in 1940. While Vitali magically appears to avoid the unwanted attention of his subjects, in Weegee's image the very gaze towards the camera (with people squinting and shielding their eyes) actually becomes the subject of the photograph itself.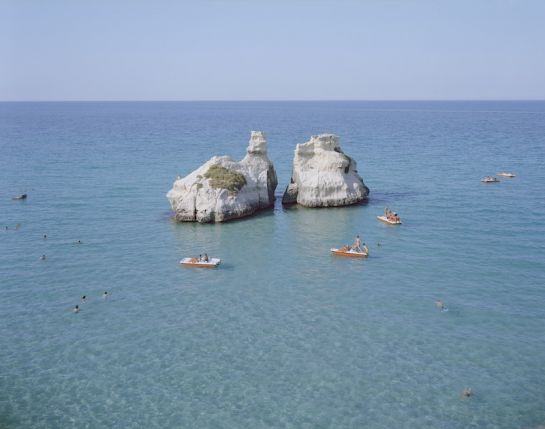 Massimo Vitali, Due Sorelle Motor Boats, 2011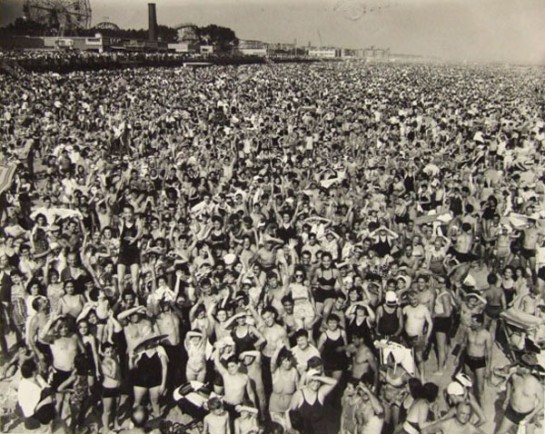 Weegee, Coney Island, 1940
Much like the sun loving bathers depicted, in Vitali's photographs almost everything is laid bare. His images are sharp, clear and in focus. As such, it would be difficult to define Vitali's work as landscape photography since within each photograph there are smaller narratives unfolding: a young couple making out in the water, a proud father videotaping his family, a muscled man exhibiting his body. Vitali's photographs are thus also deeply voyeuristic. In order to fully contemplate his photographs, the viewer is almost forced to go up close and deconstruct the image as a whole. This activity can be compared to dissecting the photograph into various smaller photographs. The viewer him or herself thus turns into a voyeur, perusing the seaside to uncover subjects that are already exhibiting their bodies. The dialectic between voyeurism and exhibitionism in Vitali's photographs is thus deeply unequal: the photographer, and by extension the viewer, is free to visually explore the subjects beneath, while those beneath (the bathers, the swimmers, the sun lovers) are mostly unaware that they are being observed.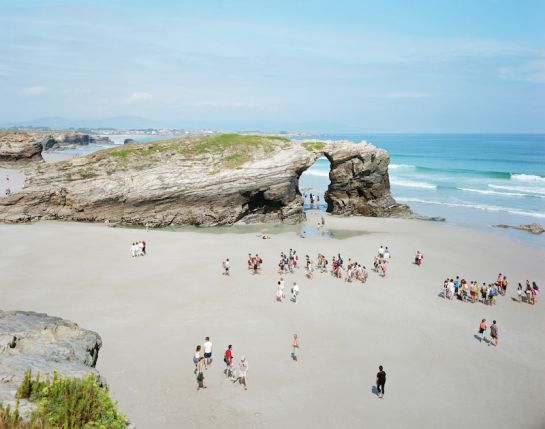 Massimo Vitali, Las Catedrales Arch Low Tide, 2011
Yet those beneath are not simply just people. They are mostly young, good-looking Europeans with the economic and social freedom to go on holidays to places such as Las Catedrales in Spain, Le Due Sorelle in Italy and Sarakiniko on the Greek Islands. The press release alerted me to the fact that Vitali himself seeks to situate his work into a political dimension as he began to photograph in 1994, the year that Berlusconi came to power, in order to "look into the faces of the people that voted for Berlusconi". In this exhibition, simply titled 'New Work', Vitali has evidently ventured beyond his initial starting point, quite removed from any political agenda, to catalogue his fellow men frolicking in the sun in idyllic natural settings. In spite what it says in the press release, there are no industrial buildings, factories or warehouses visible in the photographs. In other words, there are no visual markers that allow the viewer to understand that the people depicted have a life beyond the brief moment of joviality depicted by Vitali's camera – they appear stuck, forever enjoying themselves in the water, unaware that they are being watched like a goldfish in a bowl.
Massimo Vitali: Natural Habitats is available as a book. Other recommendations can be found in our online bookshop.
Like this Article? Subscribe to Our Feed!