"I am in Tripoli and not in Venezuela." These words uttered by Muammar Gaddafi late in the night on Libyan state television will be remembered as a key moment in the downfall of an autocratic and ruthless regime. Western media pundits were quick to point to the bizarreness of the TV footage, referring to Gaddafi's 'eccentricity', implying that few elements in this artifact of visual culture made any sense. Some have even compared Gaddafi's appearance with the surrealist art of the spanish painter Salvador Dali. At the same time, conspiracy theories emerged almost immediately. Gaddafi is holding a large umbrella, but did it actually rain that evening? Rain is so rare in that part of the world that it is a valid question.
Yet a more careful reading of Gaddafi's short but memorable TV appearance shows that a number of elements are likely very deliberately planned and executed. Ever since the footage was screened, there has been a huge amount of curiosity regarding the vehicle that Gaddafi is sitting in. Here, it is important to point out that Gaddafi is sitting in the driving seat, clearly signifying that he is in charge of determining the direction his country is heading towards. Gaddafi's TV appearance is reminscient of propaganda billboards erected throughout the country, which depict the dictator driving a Volkswagen Beetle.
The message is clear: he is the 'driving' force in running the country. Unlike the Volkswagen Beetle however, the vehicle depicted in the TV footage is, importantly, a car with only one seat. While the propaganda billboard shows Gaddafi driving without passengers, the single seated vehicle even negates the possibility of any passengers. In other words, Gaddafi is depicted running the country, without any interference, all by himself. The single-seated vehicle in the TV footage signifies precisely the type of state Gaddafi is leading: autocracy is defined as a system government by one person with absolute power.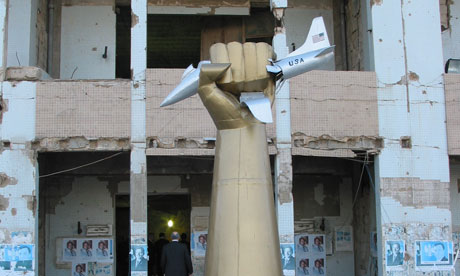 Gaddafi's compound in Bab Al Azizia in Tripoli, bombed by American Forces in 1986.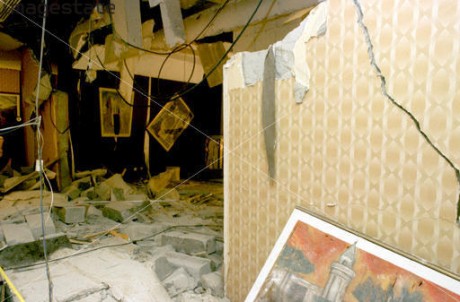 Gaddafi's bombed home at Bab Al Azizia, Libya, 1987, by Peter Arkell/Impact Photos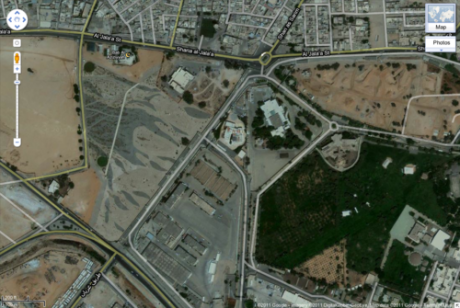 Google Earth image of Bab Al Azizia, location of Gaddafi's compound in Tripoli, 2011
The most important aspect of the footage is the location where it was made. Gaddafi says, "I am in Tripoli". More precisely, Gaddafi is located in front of his compound in Bab Al Azizia which was heavily bombed by the Reagan administration in 1986. Instead of rebuilding the shattered compound, Gaddafi chose to leave it as it is. The skeletal structure of the building acts as a powerful message of defiance and resilience. In 2003, just as Libya's relationship with the West was thawing, Gaddafi even held a beauty pageant with international contestants, including British and American women, at this historically important site. The British photographer Muir Vidler produced a strikingly surreal series of photographs that depict the proceedings. The Bab Al Azizia compound would also become the backdrop to Nicolas Sarkozy's state visit to Libya in 2007. The photograph clearly depicts Sarkozy's discomfort for being turned into a strategically placed pawn by Gaddafi's propaganda apparatus.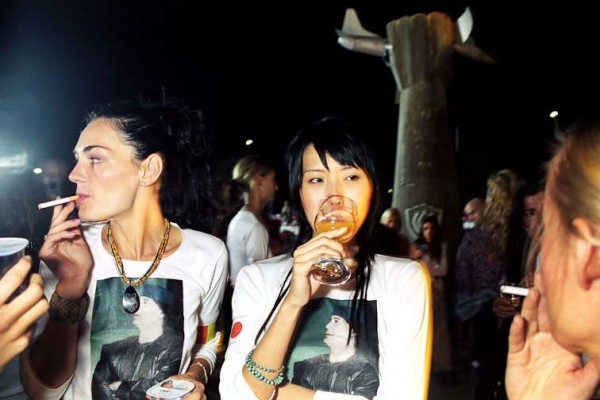 Muir Vidler, Libyan Beauty Pageant, 2003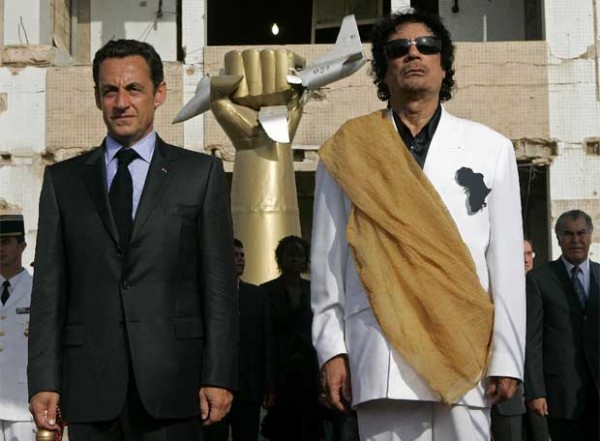 Nicolas Sarkozy state visit to Libya in 2007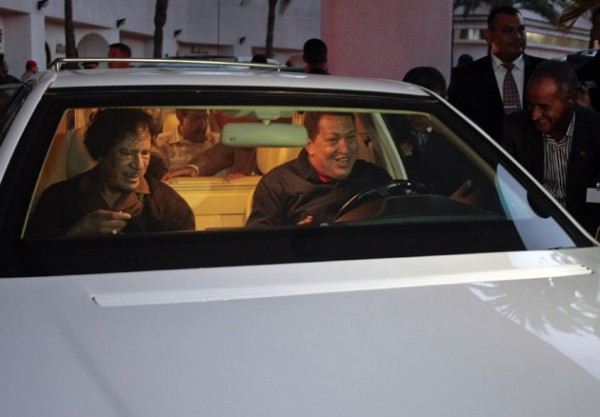 Hugo Chavez state visit to Libya in 2006
Gaddafi's late night TV appearance thus sets up a fairly complex web of signifiers that might not be immediately determinable. By depicting himself in a single-seated car, Gaddafi wishes to communicate that it is still him, who is leading the country. The location is carefully chosen as a site of historical importance, signifying Gaddafi's assumed resilience and defiance vis a vis the most powerful nation on earth. Gaddafi portrays himself as David standing up against Goliath. But the message is also directed at Britain, as it was the British Foreign Secretary William Hague who initially speculated that Gaddafi was on his way to Venezuela. A photograph of Hugo Chavez and Gaddafi in a luxury car is an ironic symbol for Venezuela's close ties with Libya. Unlike the TV footage however, it showed Chavez in the driving seat. In his very brief TV appearance, Gaddafi thus sets up a geopolitical web of international relations that spans the whole globe. Similar to my blog post on the final speech by the former Romanian president Nicolae Ceausescu, the signs and symbols used in Gaddafi's TV appearance are a desperate attempt to cling on to the steering wheel.
For more on cultural production in the Arab world, please read Arab Cultural Studies: Mapping the Field edited by Tarik Sabry. Other recommendations can be found in our online bookshop.
Like this Article? Subscribe to Our Feed!