The analogy between giving birth and the rescue operation of the Chilean miners was self-evidential. The Chilean president spoke about the miners being released from the 'belly' of the earth. Commentators also made the parallel to the biblical figure of Jonah reborn from the belly of a whale. These parallels might have been further provoked by the constant reference to the miners' deeply held Christian beliefs. Mario Gomez, the eldest of the 33 Chilean miners, dropped to his knees in prayer after exiting the rescue capsule. The Pope himself sent the miners his best wishes when they were rescued.
The story of the Chilean miners cannot however be reduced to a single belief system or religious visual culture. It was after all a global news event. It was a story that transcended cultural particularities and religious beliefs because it grappled with fears that are universal: the fear of being trapped, claustrophobia, being buried alive. The analogy of birth also transcends the specificities of the news story itself. Fully aware of the power of the televisual medium, the Chilean President Sebastián Piñera stood by the relatives of the first miner released from the belly of the earth. More significant in terms of the birth analogy was the presence of Health Minister Jaime Mañalich, a trained physician, who personally checked the condition of the first few miners. Similar to the figure of a midwife, his white coat signified to the global TV audience that his main concern was the condition of the patient. The miners were subsequently brought to a stretcher, emphasizing the message that the Chilean state is not taking anymore risks with these men, as they have been categorically denied to simply walk the few meters into the makeshift medical centre.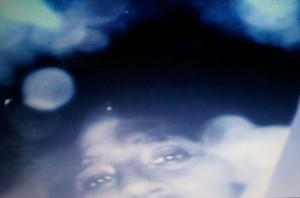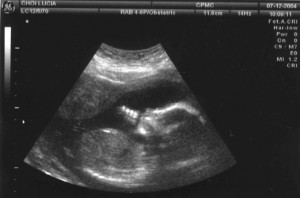 First visual contact with the miners and a baby in an ultrasound image.
On a visual level, the birth analogy was there almost from the very beginning. That eerie image of Florencio Avalos looking into the stethoscope camera confirmed that the miners were alive and well – an image that is also reminiscent of an ultrasound image of a baby. The men too were, due to the heat underground, almost entirely naked. Then there were the predictions when the miners would be rescued – a date more and more anticipated the closer it came. Finally, emerging from the belly of the earth under the gaze of the worldwide press, the story of the Chilean miners became the feel-good story of 2010 in the mass media. It was a story that thrived on its photographic and televisual representation so analogous to that of a mother giving birth to a child.
To subscribe to this blog, please enter your email address here and check your inbox for the verification email.
Like this Article? Subscribe to Our Feed!