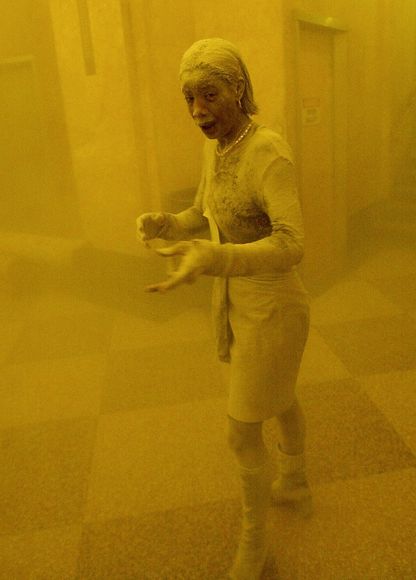 Stan Honda's photograph of the 'Dust Lady'
It is often the representation of witnesses to traumatic events that the true scale of these events can be determined. If you conduct a image search for 9/11 you will most likely find images of the planes crashing into the World Trade Center. Yet these photographs, as accurate they may be, they do not and cannot represent the horror unfolding. Photographs and video footage of the planes crashing into the Towers might aid engineers in determining the scale of destruction, yet they say nothing about the human cost involved.
Stan Honda's photograph of an office worker covered in dust is an exception. Here, the woman's face and gesture become signifiers of trauma. Her horror becomes the viewer's horror. The fact that she alone occupies the frame of the image further emphasis a sense of alienation. At the same time however, the woman also appears to reach towards the photographer beyond the frame of the image. Her left hand is almost begging him for help. The viewer cannot help but feel directly addressed here.
The tiles on the floor resemble a maze while the strong universally recognizable gesture of a raised hand asking for help or directions is giving the impression that the woman is desperately seeking for a way out.
The sense of disorientation and the surrealness of this moment is further highlighted by the thick dust that is covering the woman's body. As the photograph became one of the most circulated images of 9/11, the woman became known as the 'Dust Lady'. Yet I believe it is the orange colour that might alter our perception of this image the most. It was a bright blue sky that day yet here, the subject has descended into a darkness. The interior of the lobby is barely visible and the woman, Marcy Borders is her name, is engulfed by an allegorical fire. In this reading the dust on the woman's body turns into ashes. Alienating, disorientating, hot and dark – the photograph alludes to nothing other than hell on earth.
Marcy Borders survived this hell on earth. After ten years of coping with the trauma of 9/11 – like a phoenix rising from the ashes – she is on the road to recovery.
Eyewitness: Stan Honda (Reflections of a Photojournalist) is available as a DVD. Other recommendations can be found in our online bookshop.
Become a supporter of this blog.
Like this Article? Subscribe to Our Feed!